Gabi Ogulin Počrvina: knowledge as a tool of greater inequalities?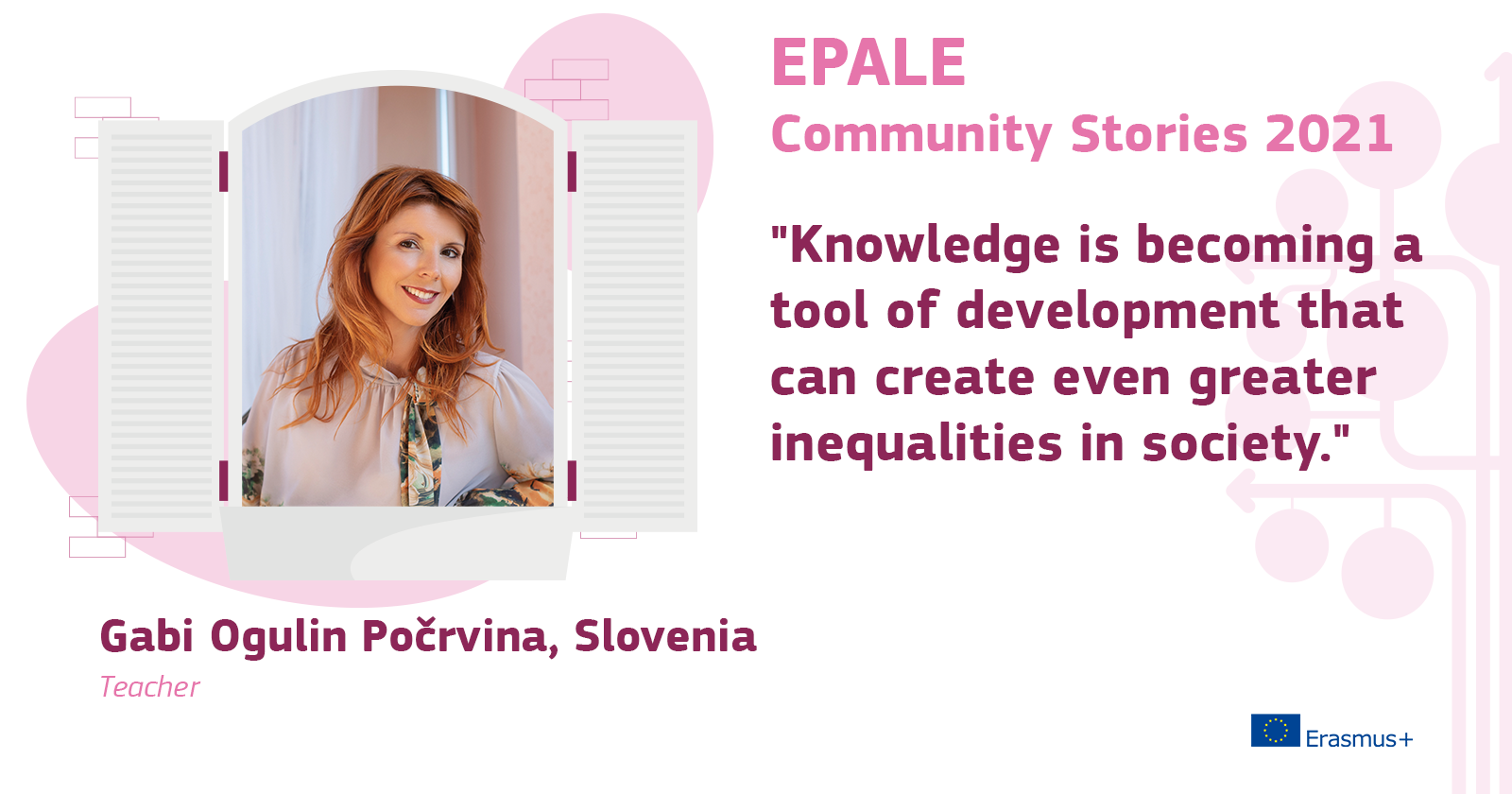 Short Bio
I am a teacher with a Master's degree in Human Resource Management. I have been working at RIC Novo mesto for almost 20 years. I enjoy working with people and helping them in their personal or professional development through counselling, development and education. I have extensive experience leading national and international projects recognised as good practice examples. I have worked with other Slovenian organisations as an external expert by developing programs, materials, and teaching different target groups.
My EPALE
I have been using the EPALE platform since it was first launched. In 2018 I attended an online meeting aimed at improving the platform. That same year I received an invitation from EPALE to attend a regional conference in Budva where we discussed the topic of research and research practices in the field of adult education. I routinely publish project presentations and share my thoughts on the EPALE platform. In 2020, I also participated in an online discussion dedicated to programs for the development of adult literacy and basic skills.
My story
Knowledge is becoming a tool of development that can create even greater inequalities in society. Can we talk about justice, equality, and democracy resulting from lifelong learning?
System-based regulations and financing are essential for the development of an effective informal education offering. In the last five years, fifteen multigenerational centres in Slovenia have made a huge contribution to providing equal educational opportunities for the elderly, children and young people with fewer opportunities, as well as families with poorer parental competencies, the unemployed and job seekers, immigrants, people with special needs or disabilities and Roma families etc.
In 2017 I was assigned to manage the large scale Multigenerational Centre Together project (VGC Together). We connected eight municipalities in southeast Slovenia - Novo mesto, Šmarješke and Dolenjske Toplice, Straža, Škocjan, Kočevje, Sodražica and Kostel, as well as nearly 100 institutions and the partner organisation LU Kočevje. We immediately set up two daily centres, so-called "public living rooms", in Novo mesto and Kočevje. These rooms were equipped with all the necessary equipment for socialising, providing information and counselling, reading magazines, and watching TV shows.
We made learning as close to home  as possible. In all the above-mentioned municipalities, we set up free activities which ran a few times a week or weekly in the following areas; personal growth, family and digital literacy, preventive health topics, cooking and creative workshops in the local cultural centres and the premises of RIC Novo mesto and Adult Education Centre Kočevje. Over the years, we have extended our offer with photography courses, lectures on sustainable development, dance workshops, foreign language and Slovene language courses, programs to support women in maintaining health and beauty etc. In five years, we have taken more than 172 bus loads of eager learners on a trip. The choice of topics was based on the project guidelines, but at the same time we listened closely to the views of the citizens and, together with them, we chose interesting topics and contents. Over 3,600 hours were implemented annually, totalling 18,000 educational hours. We provided learning assistance to students, the unemployed and the Roma. During the holidays, we organised free holiday activities and hosted over 800 children annually.
The beginning was challenging, it took a lot of work to get the participants onboard. By offering a variety of content, we wanted to contribute to raising the quality of life, improving understanding of different generations and differences, expanding the participants' social network, and improving their psychophysical health, self-esteem and self-initiative to solve common problems. I am especially proud of the network of volunteers (50- 60 people a year). In total we have collaborated with 150 different people, from veterans to those from the Z generation.
Some young unemployed people got a job through volunteering and with our recommendation. This was a joy to see. Every year, 70 or more collaborators from various fields have participated in the project. Last spring, our activities were stopped by the pandemic.
When we returned to in-person activities, after a year of working online, we were all eager to get back to normal life and work, to have that closeness and direct contact once again. We improved our offer with exceptional events such as painting and photography exhibitions and by participating in the Festival for the Third Age in Cankarjev dom and the Children's Bazaar in Tivoli. At the end of September 2021, the financing of VGCs by the MDDSZ and the ESF ended.
We want to maintain the work of VGC Together in the future, currently with the help of municipalities, which have already supported the operation and recognised the benefits of the project for both individuals and the local community. In the future, we hope for co-financing by the state and the ESF.
I am grateful to be able to talk about so many satisfied participants and the benefits of the project.
---
Did you get inspired by this story? Let us know below in the comments and get the chance to win an EPALE unique gift!
5 users per month (May-November 2021) from those commenting on a 2021 Community Story will be picked at random and will receive a gift. Comments must be relevant and related to the topic to be eligible.