Focus week: art, creativity and culture in lifelong learning
Discover this original initiative organised by the EPALE teams from Germany, Hungary and France! It will take place in two stages. In May, on the occasion of International Museum Day, the focus and call for contributions will be launched. In September, the second highlight will be the European Heritage Days.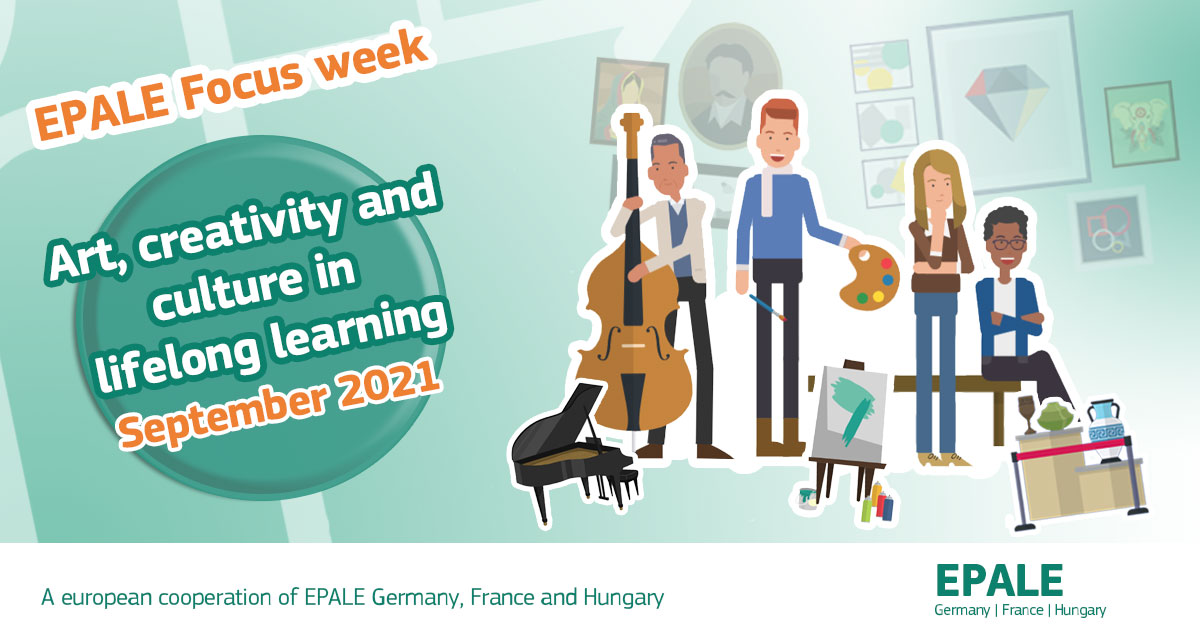 How do culture, art and creativity contribute to our general satisfaction and to social cohesion?
Experiments combining art, culture and adult education are being carried out across Europe. A call for complementary proposals to the Erasmus+ programme was launched in August 2020, seeking to encourage the development of partnership projects (Key Action 2): "partnerships for creativity".
To echo the richness of these initiatives, particularly in Germany, Hungary and France, the EPALE teams in these three countries have decided to launch this joint, multilingual and collaborative focus. What projects are being carried out in these countries? What teaching methods do they use? How can culture become a vehicle for civic values? How can we develop the creativity of the most disadvantaged groups? 
On the occasion of the International Museum Day, on 18 May 2021, we invite you to discover articles on EPALE that present the links between culture, creative development and adult learning. We would like to take advantage of this day to highlight concrete initiatives and innovative projects, not only in the museum sector, but also in the creative arts, performing arts, heritage, cinema, digital technologies, etc.
This first event will be followed in September by a thematic week on "Creativity and culture". It will take place from 15 to 22 September 2021 on EPALE, on the occasion of the European Heritage Days (18 and 19 September 2021).
If you are working on these issues or know of an inspiring initiative, share your experiences with the EPALE community!
To do this, register on EPALE and write a blog post, news item, resource or publish an event on the platform.
Please contact us if you have any questions about the focus. We are here to help you publish your content.
EPALE France: epale@agence-erasmus.fr
EPALE Germany: epale@bibb.de
EPALE Hungary:  epale@nive.hu
Go on a journey of discovery and explore exciting contributions on the topic of art, creativity and culture on EPALE:
MUSEUMS
Over the last decade, the museum as an institution has set out to adopt an increasingly visitor-friendly format, with community-building and the integration of social approaches and methods in museum education programmes as one possible course. A fine example of this is the new series of events hosted by the BTM Budapest Gallery Imre Varga Collection, which provides an opportunity for encounters and cooperation between kindergarten and retirement age groups.
---
 The Open Air Museum is the first museum in Hungary that has set out to call society's attention to dementia and the method that can lead to the wide-scale improvement of the life quality of those living with dementia. The activities aren't merely attended by the elderly people living with dementia, but their caretakers and next-of-kin are also an integral part of the experience. Usually, the escorts and the patients are one or two generations apart, therefore the programme also assists intergenerational communication.
---
The European Museum Academy has just published a report on how museums were doing in Europe last year. 2020 was like no other year in recent decades because of the COVID-19 pandemic which has swept over Europe and the world since early in the year, and which has shown little sign of ending when these words are written in the second month of 2021.
---
How can culture be brought to the elderly? Anja Hoffmann reports from the LWL Industrial Museum on how museums are managing the interplay between memory, imparting knowledge, and accessibility.
---
In January 2018, a private initiative appeared in Hungary to dedicate one day of the year to these industrious animals. Universities, national parks and libraries have joined the initiative. Museums sought out connections between the fields of ethnography, local and art history, crafts and industrial history in a highly creative way while dealing with the stars of pollination: flowers and insects.
---
PERFORMING ARTS 
Dance in times of digitalization: This article takes a leap into the future of dance and dance pedagogy.
---
Many cultural, social, youth and popular education associations look at information on European and/or international cooperation projects and say to themselves: "that's not for me! Europe would never finance one of my association's projects". Denial by Hamza Medkouri, director of a cultural NGO and Erasmus+ project coordinator.
---
ARCHEOLOGY AND HISTORY
The goal of the project is to find a way to reach young adults and adult lay persons through archeology and our cross-border history in an age when everything is dominated by smart devices. Tangibility is the key.
---
THIRD PLACES
David Lopez, EPALE France ambassador, presents a "third place" created in 2016, in Arcueil (close to Paris). It is a project intended as a model close to sociocracy, or dynamic governance.
---
With the second wave of COVID in France, alternative uses of third places took root throughout the country. This was particularly true in rural areas. Report by Antoine Burret, EPALE France ambassador. 
---