Everyone is talking about media competence. Who is taking responsibility?
18.06.2021, Text: Tania Napravnik, COMMIT, Editing: Helmut Peissl, COMMIT
The conference provided an opportunity for (inter)national exchange and policy learning in the field of media and information literacy concepts and strategies.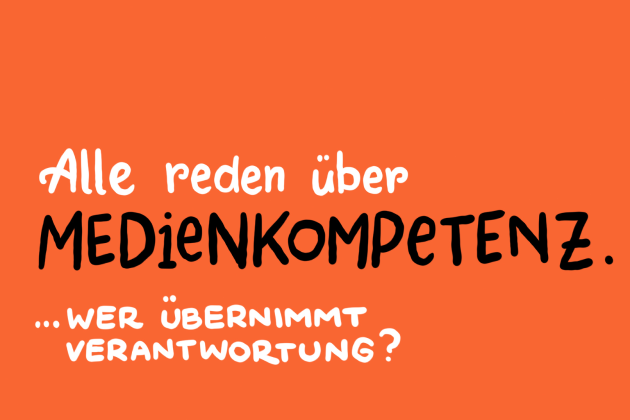 The title of the conference that was held from 19 to 21 April 2021.
Media and information literacy (MIL) networks in Belgium, Ireland, Norway, the United Kingdom, and other countries are playing a key role in creating connections between interest groups, generating awareness for the need for corresponding educational offerings, and raising the profiles of these organisations. This multiplicity of media competence concepts and activities was presented and discussed in a webinar in April. The conference provided an opportunity for international exchange and policy learning. Respected experts presented UNESCO's MIL concept, the critical media literacy concept, and experiences and strategies of national MIL networks.
UNESCO's MIL concept
This approach addresses the central role of information and media in democratic societies. As producers and consumers of information and media content, citizens should be enabled to understand the function of information and media, critically assess the content they consume, and thus make well informed decisions. In his presentation, UNESCO expert Alton Grizzle also noted that the MIL concept is needed more urgently now than ever given the constant stream of changes to digitalised media and information dissemination, to which various actors have unequal access.
Media competence as a key challenge in education and media policy
Martin Ritter from Thüringer Landesmedienanstalt (TLM) provided some insights into practical MIL efforts in Germany. He pointed out that there has no longer been a strict separation between education and media in Germany since the introduction of the State Media Treaty (previously the State Broadcasting Treaty) in 2021. Among other things, this brought important initiatives together. In Thuringia, TLM provides information and gives an overview of the various media competence actors. According to Ritter, all that is needed to gather this information is time. "This is not something that happens overnight. Resource support for citizen media through advertised funding would help a great deal."
Ritter also stressed that successful MIL mapping (a virtual map of MIL initiatives) is not possible without someone who is responsible for the undertaking: "It is important to have someone who is in the relevant working groups and who knows and discusses the guidelines." By filling this role, TLM now enjoys broad acceptance among all stakeholders in Thuringia. The current challenges lie in the project funding sources that are not really sustainable. The goal is to find institutional funding for four to five years to move away from the precarious annual project funding extended to many media organisations. The MIL mapping in Thuringia was facilitated by the two-pronged funding architecture. This consists first of basic funding for the establishment of an office, which lays the foundation for being able to work and apply for operational funding. Then there is targeted project funding that is similar to federal funding that can be extended for special projects and small initiatives.
Need to combine MIL initiatives and activities in Austria
After the presentation of the many concepts and strategies that contribute to MIL in Austria and abroad, small groups were formed to discuss the potential for an MIL network for Austria. A key conclusion of these discussions was that the establishment of an MIL network in Austria seems to be sensible and urgent, but that this can also be realised in part by engaging existing sub-networks. After the presentation of the further findings of the experts, namely that complete MIL information needs to be collected and structured more transparently in Austria, common fundamental principles for the establishment of an MIL network in Austria were drawn up. Not only media and education policy actors but also adult education actors must play an active role in implementing MIL concepts and strategies.
Next steps
A communication platform is to be set up for the seminar participants and other interested parties. According to the participating experts, the Irish MIL network model also offers great potential for Austria. A separate online event is to be arranged with the initiator in Ireland, Martina Chapman, to discuss experiences and the establishment of an MIL network in Austria. The design and implementation of an MIL mapping process is also planned to document all active and potential organisations and partners for an MIL network. This can be based on the current work of the platform mediamanual.
The next in-person event, the Media Literacy in Adult Education conference on 4 and 5 October 2021 at the Federal Institute for Adult Education (bifeb), shall be used for discussion and further work. The next meeting of the Critical Media Competence in Adult Education think tank is also planned at this conference.
Topic-specific days and weeks including the Media Competence Week from 18 to 25 October 2021, the annual Internet Day, and the Political Education Week are also to be used for joint activities.
Key facts about the recent conference
The conference was held from 19 to 21 April under the title "Everyone is talking about media competence. Who is taking responsibility?". The online seminar was designed and run by Gerhild Schutti (bifeb) and Helmut Peissl (COMMIT) and moderated by Jeffrey Wimmer (University of Augsburg). The following experts were invited: Alton Grizzle (UNESCO, Paris), Maria Donde (OFCOM/EPRA, London), Martin Ritter (Thüringer Landesmedienanstalt, TLM), Martina Chapman (Media Literacy Ireland, Dublin), Isabelle Courtney (Training and development subgroup of MLI), Elaine King (near tv, Dublin).
Further information:
CC BY 4.0 Tania Napravnik (Text) and Helmut Peissl (editor) / COMMIT, at erwachsenenbildung.at, subsequently translated into English by EPALE Austria.