eVejledning - eGuidance in Denmark: How to leverage experience in a new online age
Author: Jannie Meedom Nielsen
On 3 January 2021, eVejledning celebrated its 10th anniversary. Since its beginning in 2011, the offers, methods, and technical solutions of eVejledning have constantly evolved. The Danish Ministry of Children and Education set up eVejledning to ensure that it is possible for all citizens across the country to contact a guidance counsellor, even in the evenings and on weekends.
Our guidance service is open to everyone, but our main target groups are:
Youngsters/pupils in primary school and their parents: counselling about choice of upper secondary school and long-term education prospects
Youngsters in upper secondary school, their parents, and young adults about choice of higher education or a new upper secondary education/vocational training
Adults about courses, certificates, further education, secondary school, and higher education
Professionals (teachers, counsellors, etc.) at educational institutions or job centres and colleagues at the ministry
Private and public companies
We use various media:
Telephone
Individual chat
E-mail
Skype
Webinars on different topics
Multiple live chats leading up to application deadlines
Social media to communicate with targets groups: Facebook, LinkedIn, and Twitter
Since the beginning in 2011, four types of media have been used: telephone, chat, e-mail, and text messages. After a short period, we stopped using text messages because they are limited as a communication channel and users expect an immediate response.
We started developing live chats as a counselling service for those facing higher education application deadlines. In these periods, we often had a long line of people waiting for a quick answer to technical questions. We still offer live chats, also in English for foreign applicants. In the chat room, a counsellor is present with a webcam and a microphone. The participants write their questions and the counsellor answers orally. Later, we developed a wide range of webinars for different target groups. The webinars have headlines such as: Be prepared for applying for high school or vocational education, Be prepared for applying for higher education, How to write a motivational essay, and Lifelong learning for adults. The webinars consist of a combination of presentation and Q and A.
The newest addition is guidance via Skype. Counselees can book an appointment. Both the counsellor and the counselee are present via webcam and microphone. For some counselees, it is helpful to be able to see the person they are talking to.
We use social media as a platform to communicate with different target groups about our offers, opening hours, webinars, and deadlines. Especially on Twitter, we have featured some of our colleagues with a brief summary of their story and background and made the case for continuing education and career change.
The staff consists of 18 full-time counsellors and 10 part-time counsellors. We have offices in Copenhagen and Aarhus. The part-time counsellors mainly work from home. The full-time counsellors usually work from home in the evenings and on weekends. Therefore, we are fully equipped to work full-time from home during the pandemic.
We have a wide range of tools to help us:
A digital communication platform (Puzzel) to handle incoming calls
A team chat where we can communicate, ask for help, and distribute work
A knowledge sharing system (confluence) with background information and suggestions for approaches to different target groups and useful information to support our work
Common guidelines
Supervision and knowledge exchange sessions
Seminars twice a year
Work groups: work focusing on our different target groups
Networking: other guidance professionals, educational institutions, interest groups, and organisations
eVejledning was born digital. It was the first digital guidance service in Denmark as well as in Europe and perhaps even worldwide. In our approach to the counselees, we needed new methods and guidelines. The digital contact means that the counsellor and the counselee are on more equal footing than they would normally be if the counselling session took place at the counsellor's workplace in a centre or an office. In the digital session, the counselee can choose when and from where to ask for help and decide to end the chat or telephone call at any time. The counselee has the responsibility to be active in getting help. However, the guidance counsellor still has the biggest responsibility when it comes to contact with users. We therefore developed a communication model with four phases: Contact, Contract, Communication, and Conclusion, also called the 4C Model (in Danish: 4K-modellen). The model helps us in our contact with the counselee and gives us ideas about positions, questions, etc. An English description of the model is available at: https://www.ug.dk/sites/default/files/4k_model_uk_final_3.pdf
Later, we worked on an extended model combining the 4C Model with a career-learning model. The goal is to assist the counselee in choosing an education and career. How can we include easing the counselee's path to find information in the four steps of communication: consider the pros and cons; visit schools and workplaces; talk with family members and friends; and make other considerations. The goal is also to help the counselee play the most active role in the process.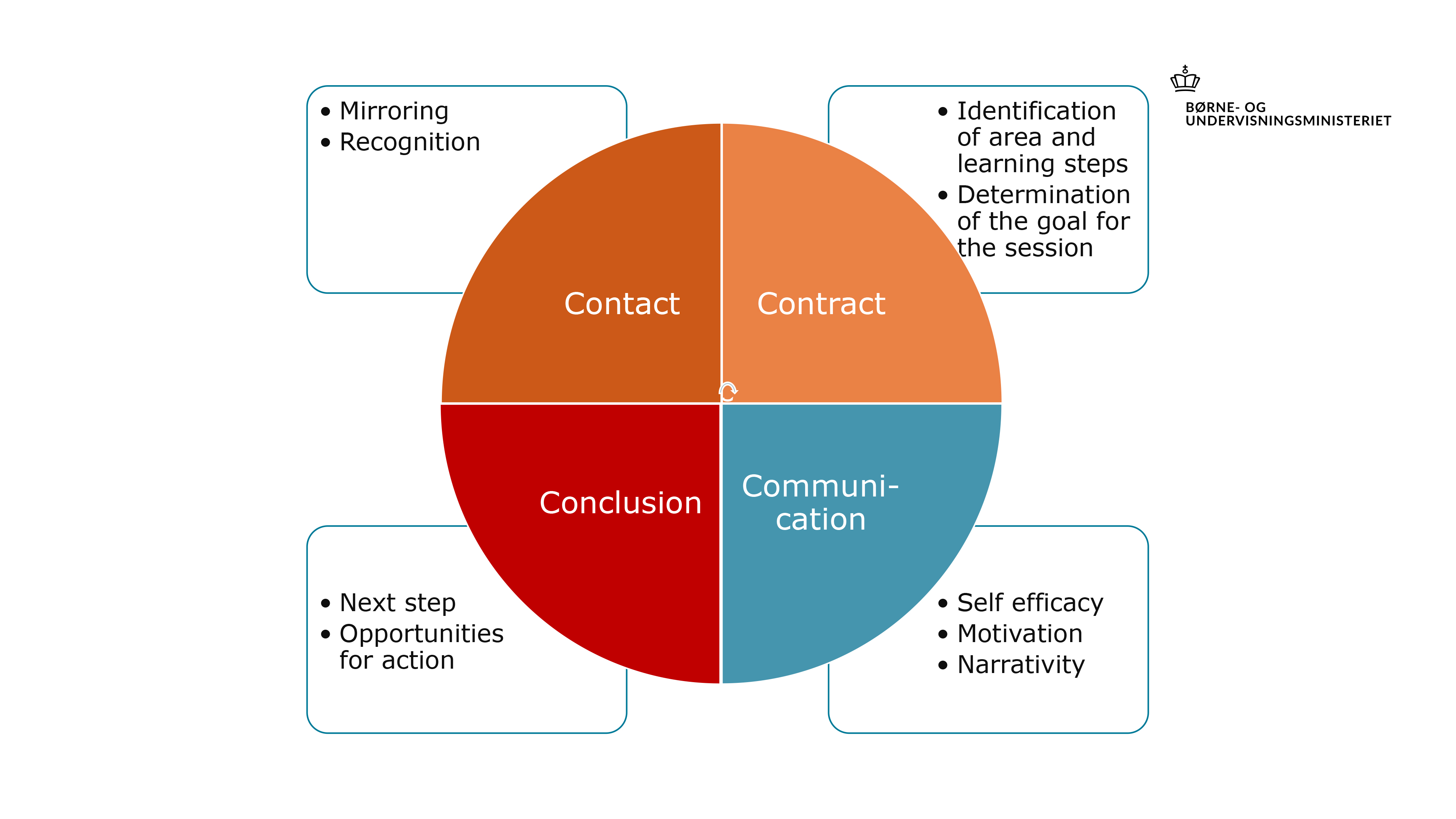 The 4C Model
eVejledning was born as a digital service. Even before the COVID-19 pandemic, we offered all our services digitally. During the pandemic, we have remained digital. And of course, we will be digital even after the pandemic. Other guidance services have developed temporary digital services rather than providing their normal service with an open guidance service. A great deal of experience has been gained during the pandemic and some services may wish to continue offering online guidance as a supplement. Some of the benefits of having online guidance as an option among other services are that an online option can be helpful for:
People who live far away from guidance services
People who do not have the time to come to a centre or office
People with physical or mental disabilities
People who find it easier to talk about their problems at a distance
Thus, it can give a guidance service the opportunity to reach a wider audience or to reach a possible residual group. Having online guidance as an additional offer does not necessarily mean investing a lot of money in additional equipment. A simple technical solution for a chat may be all you need. However, you do need a program to offer face-to-face communication online.
About this article:
This article is based on a workshop held by the author at the Austrian Euroguidance Conference 2020 and Austrian Europass Portal Launch.
About the author:
Jannie Meedom Nielsen was trained as a teacher but changed careers to work as a guidance counsellor. She started her counselling career at a job centre in Copenhagen, while at the same time taking a course in guidance.
After having worked in different positions as a guidance counsellor, she was part of the group that founded eGuidance in Denmark in 2011. Ms Meedom Nielsen has worked there since the beginning and is responsible for sharing relevant information on different topics with guidance counsellors across Denmark.