European cooperation on work-based learning
Reading time approximately 7 minutes—read, like, comment! Original language: German
---
Work-based learning as Erasmus+ programme objective
Since the beginning of the Erasmus+ programme, work-based learning (WBL) has been a key priority in vocational education and training (VET) and is also becoming more important in the areas of adult learning and continuing education. The topic is thus a component in all three Key Actions of the programme in which Erasmus+ projects can be implemented. At the National Agency "Education for Europe" at BiBB (NA at BiBB), Key Actions 1 and 2 are being implemented for both VET and adult learning and continuing education. Key Action 3 is being implemented at the EACEA, and the NA at BiBB provides advice.
WBL in the various "key actions"
Key Action 1, Mobility of Individuals, offers VET and adult learning institutions the opportunity to send learners and teaching staff abroad. These mobility projects aim to support the testing and implementation of WBL. The stay abroad is also intended to have a positive effect on the personal development of learners and on the quality of their work.
Key Action 2, Strategic Partnerships, aims to develop approaches and methods for promoting work-based learning and to facilitate the exchange of good practice. Support is given to collaborative projects between organisations, companies, authorities and initiatives which aim to promote innovative developments on specific topics, including WBL, in transnational strategic partnerships.
---
"Developing partnerships aimed at promoting work-based learning in all its forms, for both young and/or adults (…). These partnerships can also aim at developing new training content and joint VET qualifications that integrate periods of work-based learning, opportunities to apply knowledge in practical workplace situations, and embedding international mobility experience whenever possible."
 The emphasis on WBL in the current Erasmus+ programme guide
---
In Key Action 3, financial support is provided to a diverse range of various actions. These actions are intended to encourage the development and implementation of innovative policy ideas, policy-related dialogue, and the exchange of knowledge in the areas of general and vocational education and training and youth work. The calls for proposals also address the issue of funding for work-based learning.
---
Good Practice: Outstanding Erasmus+ projects on the topic of WBL
Erasmus+ promotes European cooperation in the field of work-based learning. In Germany, the National Agency Education for Europe (NA at BIBB) not only implements Erasmus+ projects in the field of VET and adult education. It also presents successful projects that show how cooperation between institutions from different European countries works successfully.
Below we present two Erasmus+ projects from the vocational education and training field on the topic of work-based learning. Both were chosen as good practice examples. These "good practice projects" are characterised not only by exemplary project management but also by innovation and transferability of their results. The aim of the EU projects is to achieve the greatest possible impact with the innovative methods developed.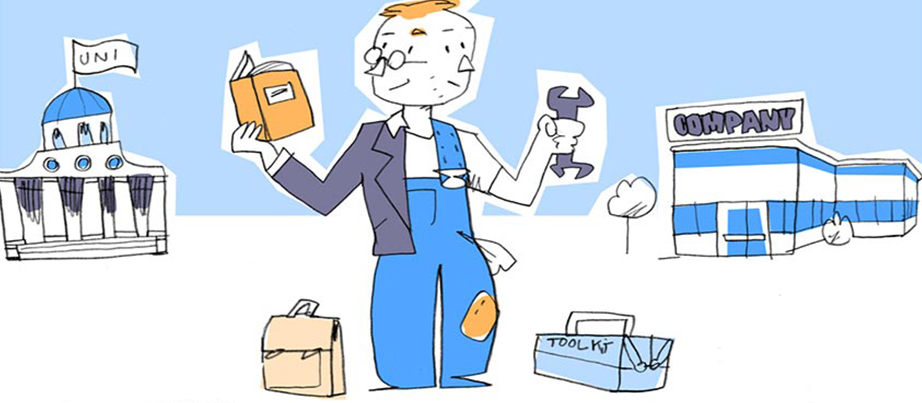 Picture: © Till Lassmann, Hanse-Parlament
# 1 - "Tackling youth unemployment using the dual training system"
Many young people see vocational education and training as a dead end. At the same time, companies lament the lack of well-trained graduates. The result is very high youth unemployment, especially in countries with school-based training. Due to demographic change, the number of school leavers is falling significantly in all members states apart from Sweden. By 2030, the number of people aged 15–44 in the workforce will fall by 25%. Most countries are already facing a shortage of skilled labour. In the future, this will have an increasingly negative effect on economic development.
By introducing work-based learning in VET, a strategic partnership coordinated by the Baltic Sea Academy aimed to improve the integration of young people in VET and reduce youth unemployment. The project wants to help provide trained staff for small and medium sized enterprises (SMEs). SMEs benefit particularly from this project because sufficiently well-trained workers boost innovation, competitiveness and growth among such companies.
SMEs shape the future with new forms of VET
As part of the strategic partnership, seven partners from four countries developed tailored solutions. On the one hand, this involved the development of specific concepts for putting work-based learning into practice. For Poland, Lithuania and Hungary – countries whose VET system is primarily school-based – the basis for these concepts was provided by the German dual VET system. Another approach involved the introduction of a dual VET system adapted to the specific circumstances of the respective country, using the example of the occupation "finisher". In addition, tailored curricula for the training of trainers in SMEs were developed and implemented.
Also, 17 universities and 50 chambers from 13 countries helped to promote the further dissemination and long-term support for work-based learning in the four participating countries.
You can learn more on the project website.
Picture: © FA-Magdeburg
# 2 - "IV4J - Innovative methods in VET"
In the "Innovation in VET for Jobs and Employment" (IV4J) project, seven partners from five European countries joined forces to develop new learning possibilities in the area of VET. The goal was to provide trainers and teaching staff with the right instruments so that they can create an attractive learning environment adapted to present-day needs. The intention is to impart knowledge and competencies in a way that meets the needs of the labour market, and for VET to become a more attractive option throughout Europe and one which provides better employment opportunities. 
Learning while teaching
In order to achieve the goal of developing, testing and implementing innovative practices and approaches, existing methods and new, innovative ideas were combined and jointly assessed. Learning from one another while teaching – that was and is the path to achieving the project's goal.
The results were summarised in guidelines on various topics. These guidelines are intended to help trainers and teaching staff to integrate these instruments in their daily work.
Topics include:
Entrepreneurship education
Work-based learning
Creative problem solving
Web 2.0 tools for VET
Gamification, simulation and digital storytelling
Open educational resources (OER)
Implementing ECVET.
The guidelines are available in the five languages of the institutions which participated in the project (German, Italian, English, Dutch and Finnish). They are open source and can be downloaded from the project website and put to further use.
An online WIKI was also created which offers a collection of highly diverse digital instruments (software, tutorials, applications, etc.). The tools are easily accessed and regularly added to and updated.
Social media, in the form of Facebook, was used to reach, in particular, target groups from outside the project consortium. The dissemination activities also included seven multiplier events and diverse teaching and learning activities, in which in addition to the seven partner institutions more than 800 persons participated, including teaching staff at VET schools, trainers and trainees. Throughout the duration of the IV4J project, the teaching staff and trainers learned to adapt their methods and to use the technologies in their lessons.
---
"IV4J opened my eyes as to just how many digital possibilities can be integrated into the VET process. When I look at what our partners and institutions are doing, I see lots of ideas which I can take and then put into practice with the teaching staff in my company."
Ralf Sachsenmaier, FA Magdeburg
---
---
---
Would you like to learn more about Erasmus+?
In Germany from 2014 to 2019, funding was provided to more than 40 strategic partnerships in the area of VET with a focus on WBL. Details can be found in a booklet.

You can find detailed information on the KA3 projects with a focus on WBL which received funding in a booklet with 42 projects from the European Commission's Erasmus+ Project Results Database.