#ErasmusDays2019 digital exhibition

For the #ErasmusDays2019, the EPALE teams wished to raise awareness about the European Union commitment in adult lifelong learning. They created a digital exhibition with 28 different projects, demonstrating the variety of practices across Europe.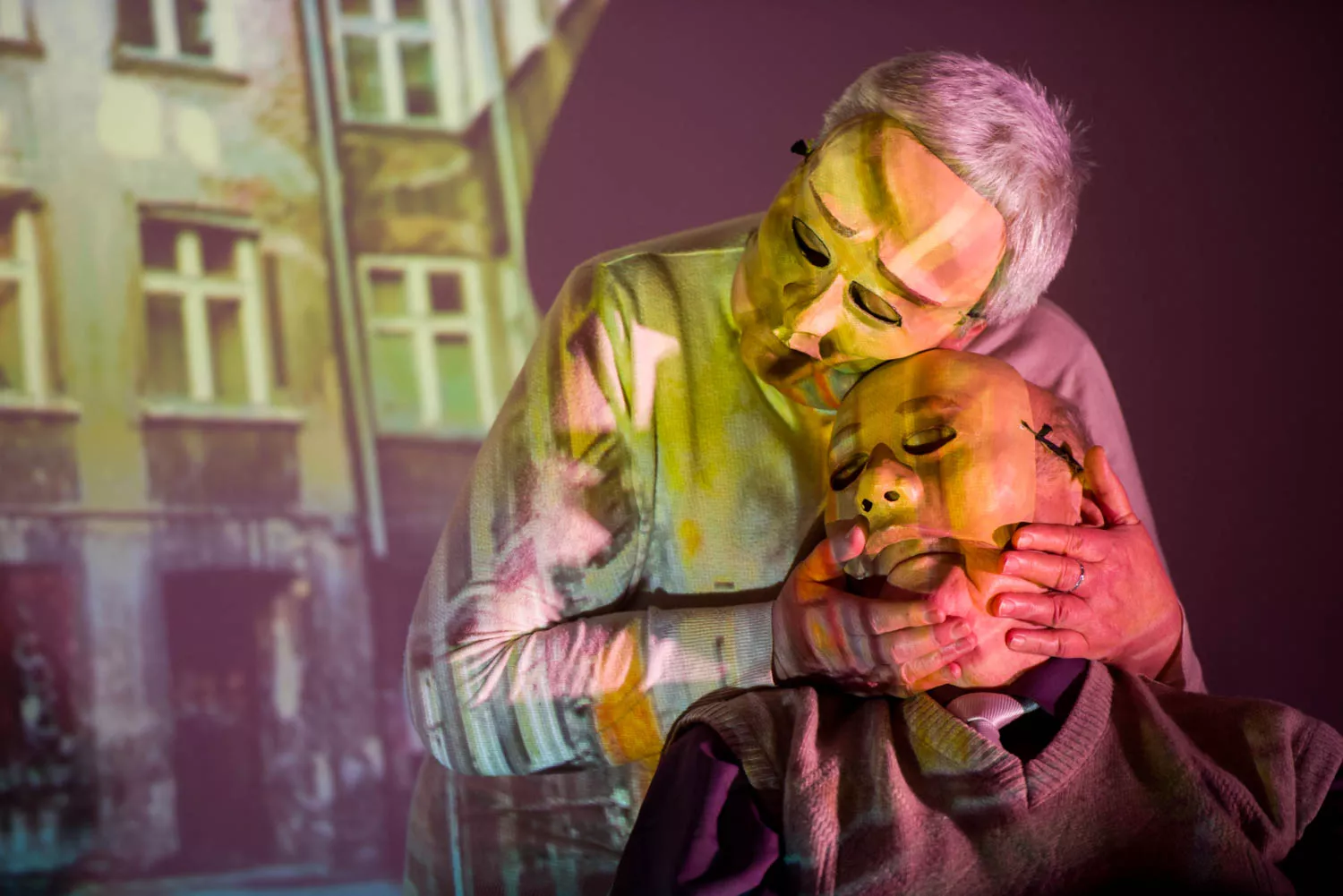 POLAND We learn lifelong to serve others @ Szymon Łaszewski
THE ADULT LEARNING EUROPEAN EXHIBITION
This exhibition brings together 28 european projects about adult learning in different countries across Europe. These projects aim to ensure the well-being of any individuals by giving the chance to acquire skills and knowledge no matter their social backgrounds.
Integration of refugees, use of new technologies by teachers, transfer of knowledge, know-how and expertise on childbirth education, educational integration of prisoners, emergence of ecological solutions in construction… Here are just some samples of the many projects that teachers, trainers, researchers, academics, volunteers are carrying out all over Europe to develop sustainable and inclusive skills among adult beneficiaries.
For the 2019 #ErasmusDays edition, 28 countries gathered photos along with a description of one of their national adult learning projects to create the Adult learning European exhibition: Albania, Belgium, Croatia, Cyprus, Czech Republic, Estonia, Finland, France, Germany, Greece, Hungary, Iceland, Ireland, Italy, Latvia, Lithuania, Luxembourg, Malta, Netherlands, Norway, Poland, Portugal, Serbia, Slovakia, Slovenia, Spain, Sweden, United Kingdom.
The Adult learning European exhibition is a unique opportunity to make Erasmus+ project about adult learning visible to all citizens, professionals, and policy makers. Indeed, on the occasion of the #ErasmusDays the 10, 11 and 12th of October 2019, this exhibition is published
-          online here on the EPALE platform
-          on A3 posters : Any organisation in Europe can easily download, share, print, display this exhibition and organize its #ErasmusDays event . Upload the exhibition here : https://epale.ec.europa.eu/en/
-          Last but not least, an English compendium will be published to present these adult learning projects( like the 2018's exhibition  and soon available on EPALE ressources )
This exhibition will enable you to learn more about Erasmus+ opportunities, find European partners to build your project, and get inspiration from good practices.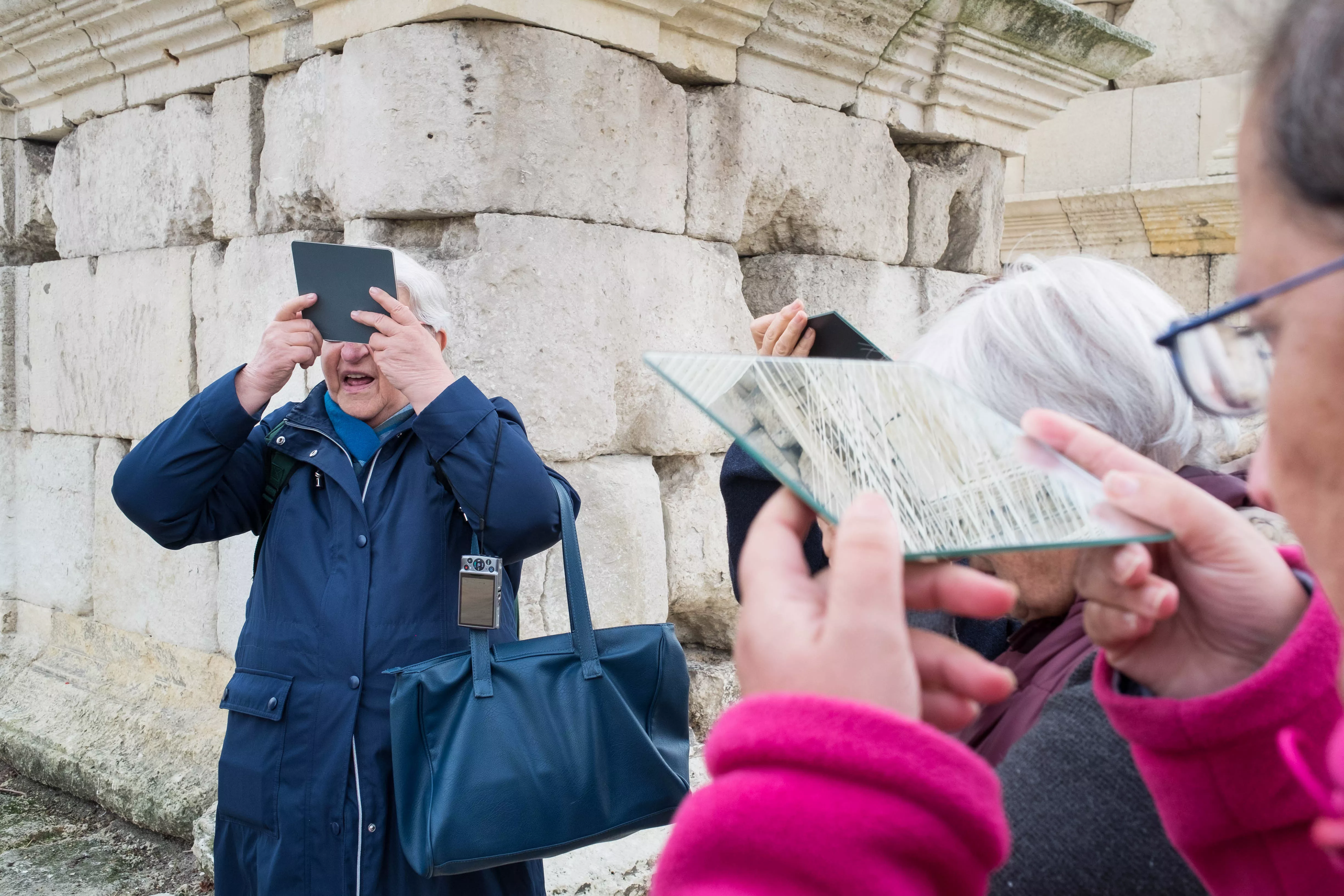 FRANCE Heritage Interpretation & Innovative Practices @ Eugénie Baccot
JOIN THE #ERASMUSDAYS
Initiated by the French Erasmus+ Agency/ Education & Training with the aim to be valued within the #ErasmusDays, the Adult learning European exhibition was made possible by the National Support Service of 28 countries. The #ErasmusDays take place on the 10, 11 and 12th of October all over Europe and beyond. This celebration is based on a very simple idea: communicate mobility's benefits, international cooperation and Erasmus+ projects results over three specific days in order to be visible by citizens, professionals, media and policy makers. Erasmus+ project holders from all over the world can organize a physical or digital event to disseminate their mobility results and cooperation impacts. It is the best time of the year to showcase your project, find new European partners, and share your international experience on social media using the hashtag #ErasmusDays. For this special occasion, the actors involved in adult learning Erasmus+ projects have access to different communication tools to highlight the diversity of projects carried out across Europe.
Read more about the exhibition process and find the table of contents with all the projects : https://epale.ec.europa.eu/en/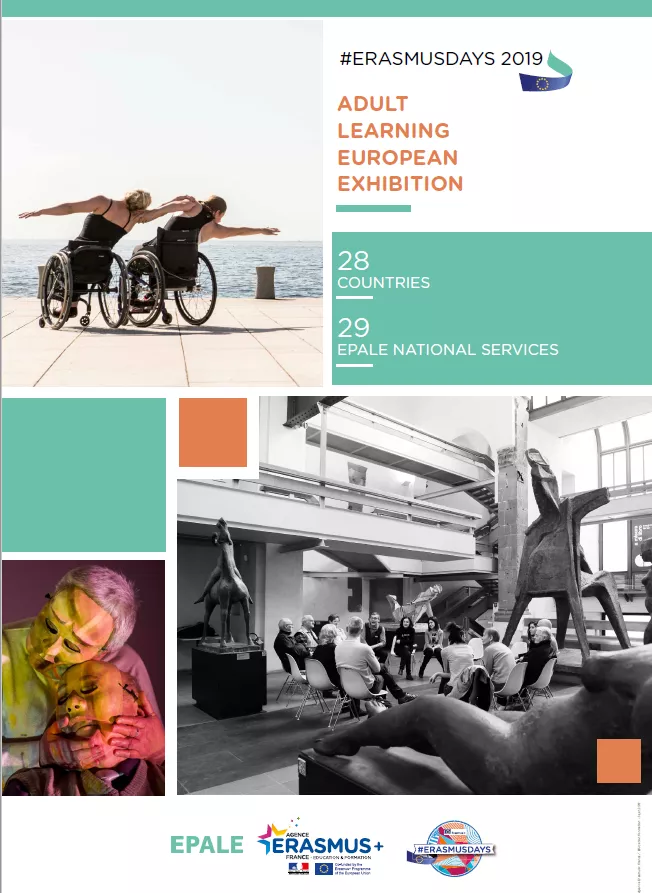 ALBANIA | International Tourism Fair
https://epale.ec.europa.eu/en/blog/albania-international-tourism-fair
BELGIUM WALLONIA | Simplify administrative management thanks to professional software
https://epale.ec.europa.eu/en/blog/belgium-wallonia-database-and-admini…
BELGIUM FLANDERS | Future Teacher 3.0
https://epale.ec.europa.eu/en/blog/belgium-flanders-future-teacher-30
CYPRUS | Ladies First!
https://epale.ec.europa.eu/en/blog/cyprus-ladies-first
CROATIA | Education for a Positive Pregnancy, Birth and Postpartum (3P+)
https://epale.ec.europa.eu/en/blog/croatia-education-positive-pregnancy…
CZECH-REPUBLIC | Employee training - nex practices and methods to curb early school dropout rates
https://epale.ec.europa.eu/en/blog/czech-republic-employee-training-new…
ESTONIA | Eestimaaehitus
https://epale.ec.europa.eu/en/blog/estonia-eestimaaehitus-competence-ce…
FINLAND | Soft skills training and recruitment of adult educators
https://epale.ec.europa.eu/en/blog/finland-soft-skills-training-and-rec…
GERMANY | VHS Goes Europe
https://epale.ec.europa.eu/en/blog/germany-vhs-goes-europe
FRANCE | Heritage interpretation & Innovative Practices
https://epale.ec.europa.eu/en/blog/france-heritage-interpretation-innov…
GREECE | iDance - support innovative practices in inclusive dance education
https://epale.ec.europa.eu/en/blog/greece-idance-support-innovative-pra…
ICELAND | I'm not a racist, but...
https://epale.ec.europa.eu/en/blog/iceland-im-not-racist
IRLAND | AONTAS International Women's Day Policy Event
https://epale.ec.europa.eu/en/blog/ireland-aontas-international-womens-…
ITALY | Museums Art & Alzheimer's
https://epale.ec.europa.eu/en/blog/italy-museums-art-alzheimers
LATVIA | Values recognised by UNESCO
https://epale.ec.europa.eu/en/blog/latvia-network-unesco-recognised-val…
LITHUANIA | Senior Volunteers for Migrant Integration
https://epale.ec.europa.eu/en/blog/lithuania-senior-volunteers-migrant-…
MALTA | Clear Leadership
https://epale.ec.europa.eu/en/blog/malta-clear-leadership
LUXEMBOURG | WOW - Code2Confidence
https://epale.ec.europa.eu/en/blog/luxembourg-wow-code2confidence
NETHERLANDS | Reintegration programmes for socially excluded
https://epale.ec.europa.eu/en/blog/netherlands-reintegration-programmes…
NORWAY | VOcational Language for CAre and New Opportunities for migrants (VOLCANO)
https://epale.ec.europa.eu/en/blog/norway-vocational-language-care-and-…
POLAND | We learn lifelong to serve others
https://epale.ec.europa.eu/en/blog/poland-we-learn-lifelong-serve-others
PORTUGAL | Plan Be: Active Senior Volunteers
https://epale.ec.europa.eu/en/blog/portugal-plan-be-active-senior-volun…
SERBIA | Cultuforma - Online Platform for Teaching/Learning Spanish Culture
https://epale.ec.europa.eu/en/blog/serbia-cultuforma-online-platform-te…
SLOVAKIA | Heroes of Inclusion and Transformation
https://epale.ec.europa.eu/en/blog/slovakia-heroes-inclusion-and-transf…
SLOVENIA | Improved skills for a modern curriculum
https://epale.ec.europa.eu/en/blog/slovenia-improved-skills-modern-curr…
SPAIN | CALYPSOS
https://epale.ec.europa.eu/en/blog/spain-calypsos
SWEDEN | The educator's competencies within flexible learning environments in adult education in Sundyberg
https://epale.ec.europa.eu/en/blog/sweden-flexible-learning-environment…
UNITED KINGDOM | Tomorrow's land
https://epale.ec.europa.eu/en/blog/uk-tomorrows-land