Erasmus+ RISE - Realising Integration through Social Enterprise
Why did we get involved with this project?
The consortium for the RISE project (Realising Integration through Social Enterprise) comprises educational institutions from six countries: Austria, Germany, Greece, Romania, Portugal, and Ireland. Each institution has proven experience in providing innovative educational services for long-term unemployed people and is actively involved in improving integration opportunities for migrants.
The Erasmus+ RISE project is aimed at supporting the integration of the long-term unemployed, immigrants, and socially and culturally disadvantaged people into the labour market through the mechanism of social enterprises. We believe that the social enterprise model offers tremendous potential for successful integration.
The advantages of social enterprises are recognised by the European Commission, which sees the development of the social economy and social entrepreneurship as an important strategy for combating the social exclusion of vulnerable individuals. These advantages are also highlighted in the 2016 SESBA (Social Enterprise Skills for Business Advisers) Report (http://www.sesbaproject.eu/en/research), which recommends measures including the promotion of entrepreneurship through individualised training programmes and mentoring as well as the identification of proven methods for fostering and supporting entrepreneurship among disadvantaged groups. For the RISE project, the attractiveness of the social enterprise model lies in its strong social purpose as well as the fact that it is considered a sustainable economic model.
What did we work on?
Over the course of three project meetings, we worked to identify a uniform definition of a social enterprise. We studied the legal requirements in the partner countries, the relevant European regulations, specific regional aspects, and so on, until we decided to look for shared characteristics based on the available models that had been gathered. This resulted in the document 'Recommendations for Establishing a Social Enterprise', which will also be part of the final report. The core element of our work is the collection of best practice examples that we identified during the course of the project.
The models presented here reflect the diversity of the various approaches. This includes a wide range of offerings, such as 'Vollpension', a company that is well-known in Vienna and operates a café on an intergenerational basis, featuring cakes, pies, and pastries made by grandmas that are served to guests – many of whom are young people – in a cosy atmosphere. The vision of the German company 'auticon', on the other hand, is to provide equal employment opportunities for people with autism. By creating working conditions that are suitable for people with autism and providing highly individualised, long-term support mechanisms for autistic employees, auticon offers its business clients high-quality IT services, while also creating well-paid, long-term careers for the company's team.
In Belgium, we got to know the Network of Social Integration Enterprises (ENSIE), the European umbrella organisation for social enterprises. One of the local examples is 'Horloge du Sud' in Brussels. Horloge du Sud is a well-known cultural/sociocultural space and brasserie in Brussels. It is located directly between the European quarter and Matongé (the African-Congolese quarter in Brussels) and attracts many different people with various nationalities and occupations. It was opened around 20 years ago and plays a major role in fostering social cohesion and mutual understanding for different cultures.
'East Clare Community Co-operative Society Ltd' in Ireland has been in existence for 30 years and has been the starting point for a number of educational, community, social, cultural, development, and entrepreneurial activities. The eight primary activities of this social enterprise are a vegetarian café, a second-hand clothing and book shop, counselling and play therapy, the Scariff Community Garden, providing a common space for singing classes, meetings, and conferences, the Food Training and Enterprise Centre, the Cothú Cookery School with its offerings of cooking classes, and, last but not least, European youth exchanges in connection with Erasmus+.
Then came COVID-19, and we were unable to hold the final project meetings in Romania and Portugal. However, we did identify a good example in Romania: 'Mamapan'. The company is active in the Romanian food industry. It makes bread using high-quality ingredients without any additives. The bread is made out of water, salt, flour, sourdough, and seeds. Romanians eat bread with nearly every meal, so there is tremendous demand for this product. The company mainly employs women from families with many children and single mothers. Mothers in this situation need flexibility, understanding, and a positive working environment. They can be very productive and motivated, but sometimes have unexpected situations arise, like their children getting sick, for example. Mamapan offers full-time positions in two shifts, and makes a point to react flexibly to unforeseeable circumstances and be highly sensitive to the employees' needs.
What effects do we expect to see after the end of the project?
We believe that, with our 'Recommendations for Establishing a Social Enterprise', we will be able to publish a useful document that will make it easier for interested NGOs, educational institutions, and associations to tackle the founding of a social enterprise. Along with the collection of best practices – which are intended to stimulate the imaginations of future company founders – we created two up-to-date documents that provide an overview of the situation with regard to social enterprises in the partner countries.
Not least, we see ourselves as educational institutions as being called upon to take action: As demonstrated by numerous successful examples, conventional adult education institutions are also capable of establishing lasting social enterprises. For example, Die Wiener Volkshochschulen showed how to do it with the DRZ Dismantling and Recycling Centre and the RUSZ Repair and Service Centre.
Here's hoping that lots of social enterprises are formed in Europe in the coming years!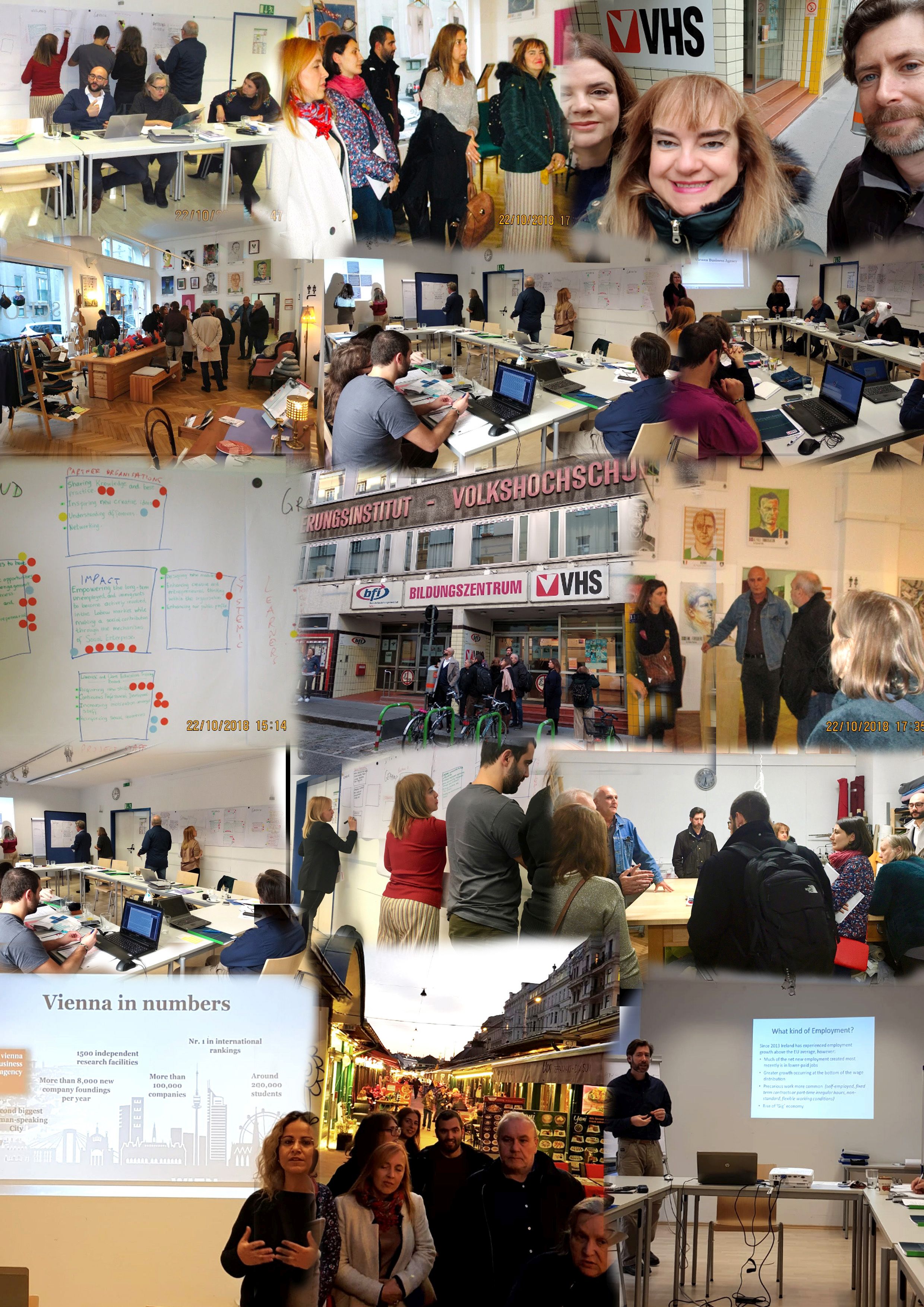 Erasmus+ RISE project meeting collage © Patricia Kennedy, LCETB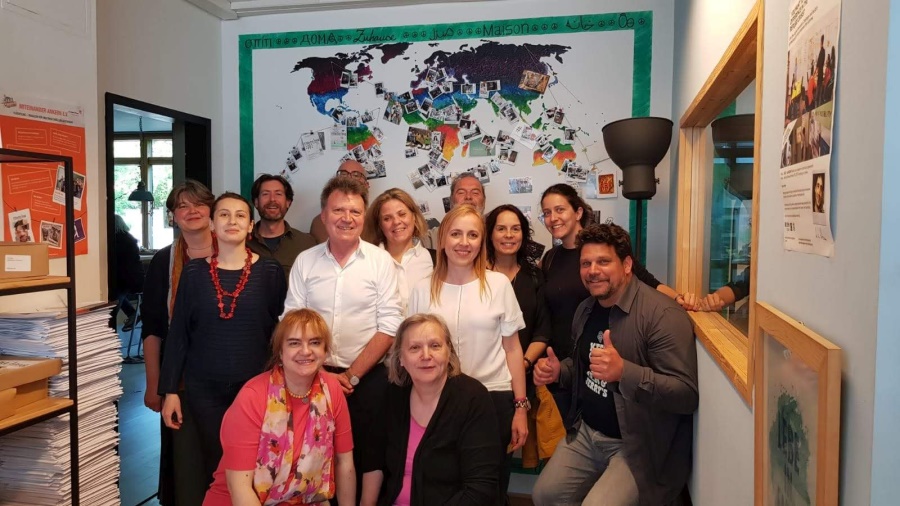 The first project meeting in Vienna © Patricia Kennedy, LCETB
Author
Mag. Herbert Depner has been working for Die Wiener Volkshochschulen (Vienna Adult Education Centres) since 1981 and has been involved in European cooperation projects since 1995. Since 2011, his work has focused exclusively on Europe and he has gained experience with Grundtvig, Leonardo da Vinci, Interreg, and ESF. The Erasmus+ programme provided him with fresh motivation and has since led to his involvement in 17 projects. In 2017, Herbert Depner was appointed Erasmus+ ambassador.