Erasmus+ KA1 Bridging Social and Environmental Gaps for Sustainable Development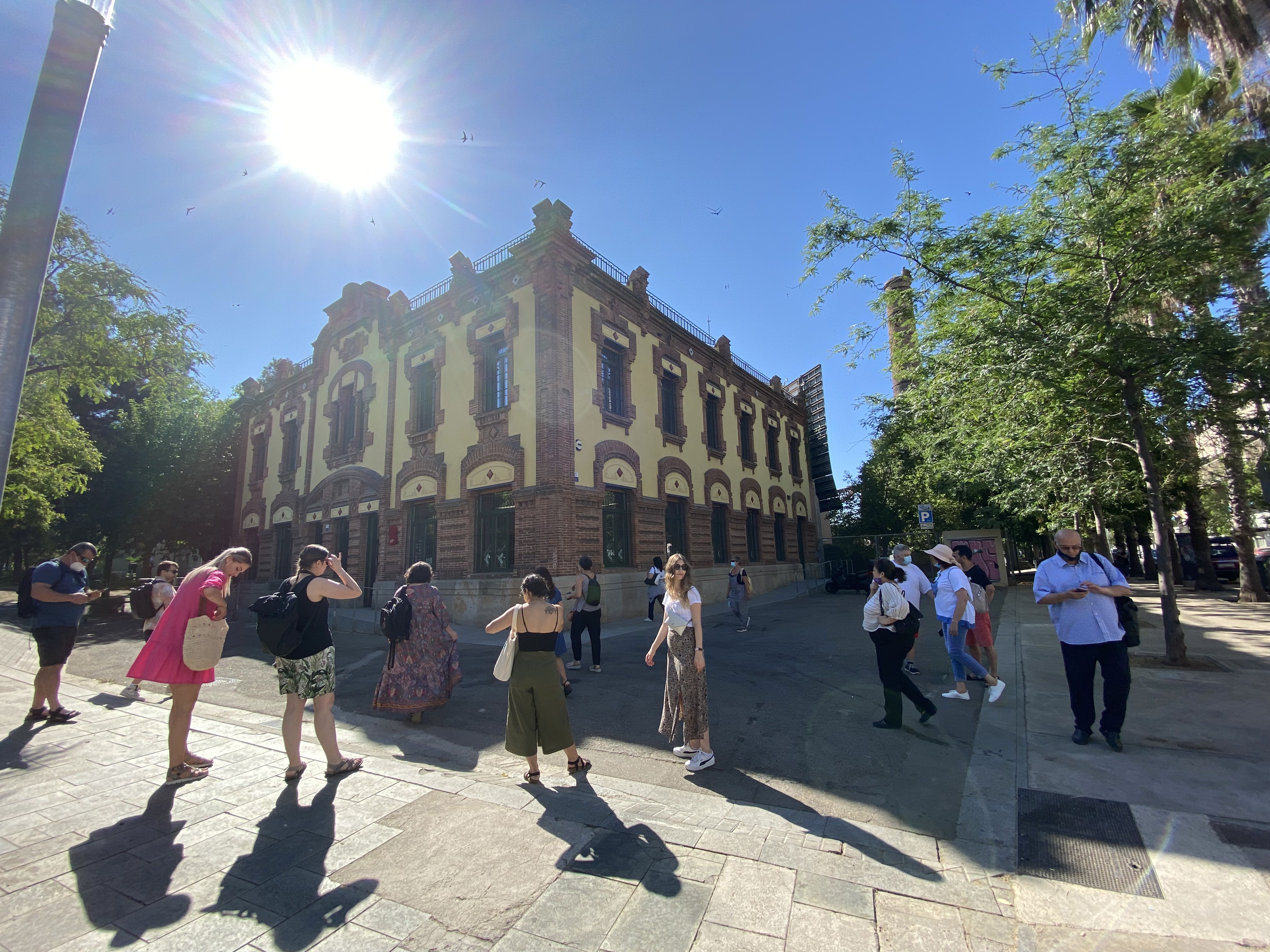 From the 12th to the 21st of July, INUK institute from Slovenia, together with other partners from Romania and Bulgaria, participated in a training course 'Climate for change and social inclusion'. The course was organized by Equis - Equilibri Sostenible in Barcelona, the capital city of Catalonia in Spain.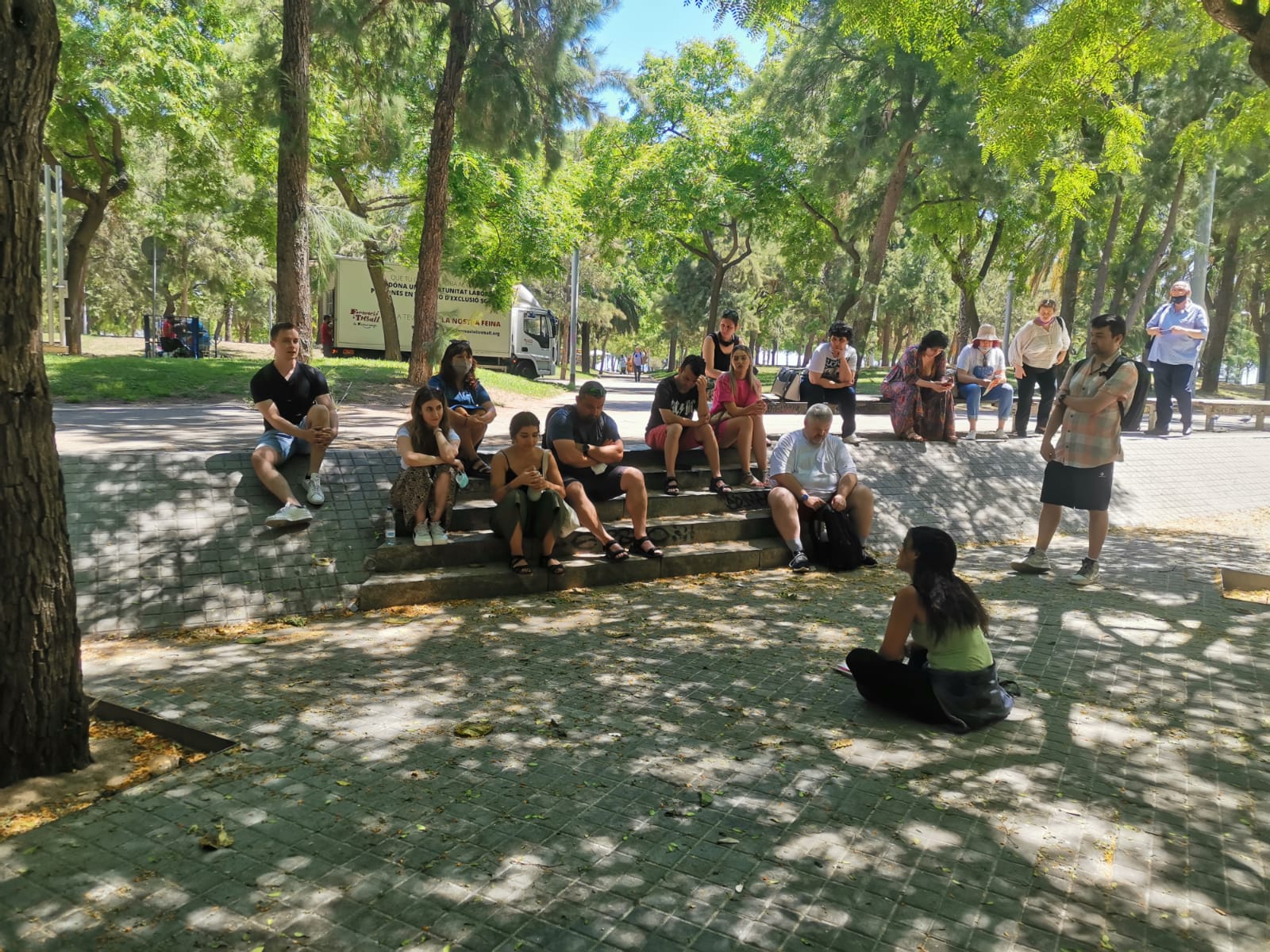 Listening to the presentation about Barcelona + Sostenible  
The training course 'Climate for change and social inclusion' was organized by the hosting organization Equis Equilibri Sostenible, whose staff has years of experience in different fields related to environmental sustainability and social inclusion. The course included innovative methodology with work-based learning and on-site visits of organizations that are considered good examples of successful implementation of sustainability in different areas.
One of the organizations that represent the culture of sustainability is La Fàbrica del Sol (The Sun Factory). It is a sustainable building that uses only renewable energy (solar and geothermal), which means that it generates and produces its own power. The building also has many plant rooms and 'green walls' that provide thermal insulation and clean the air. Apart from being an environmental education facility, La Fàbrica del Sol also focuses on the social inclusion of people with various backgrounds. Furthermore, it is an example of a collaborative economy. The citizens have free access to the facilities and workshops, which they can use in order to fix and reuse items instead of throwing them away. In exchange for using the workshops, they can offer their knowledge and skills (e.g. free Spanish lessons).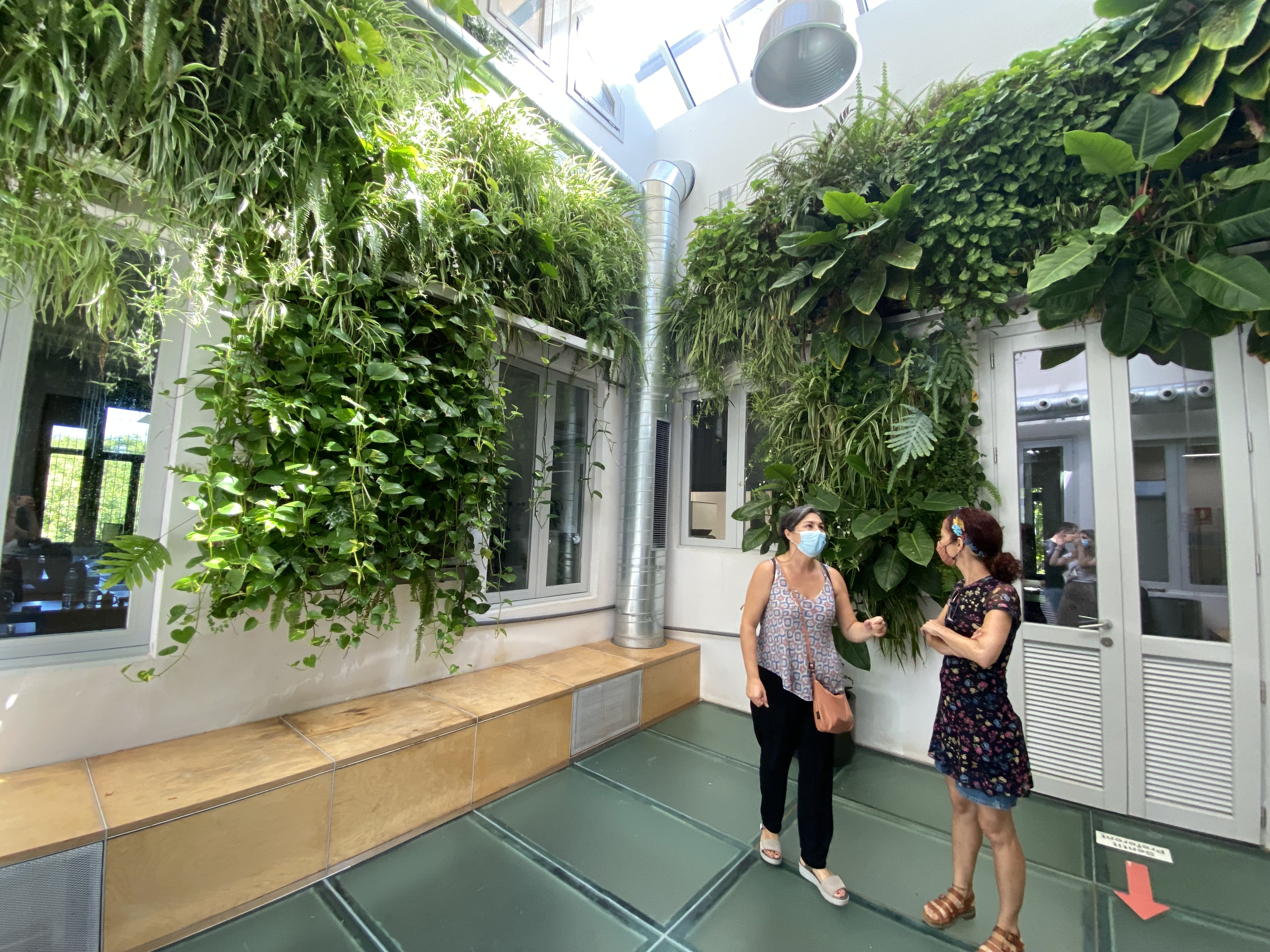 Green walls in La Fabrica Del Sol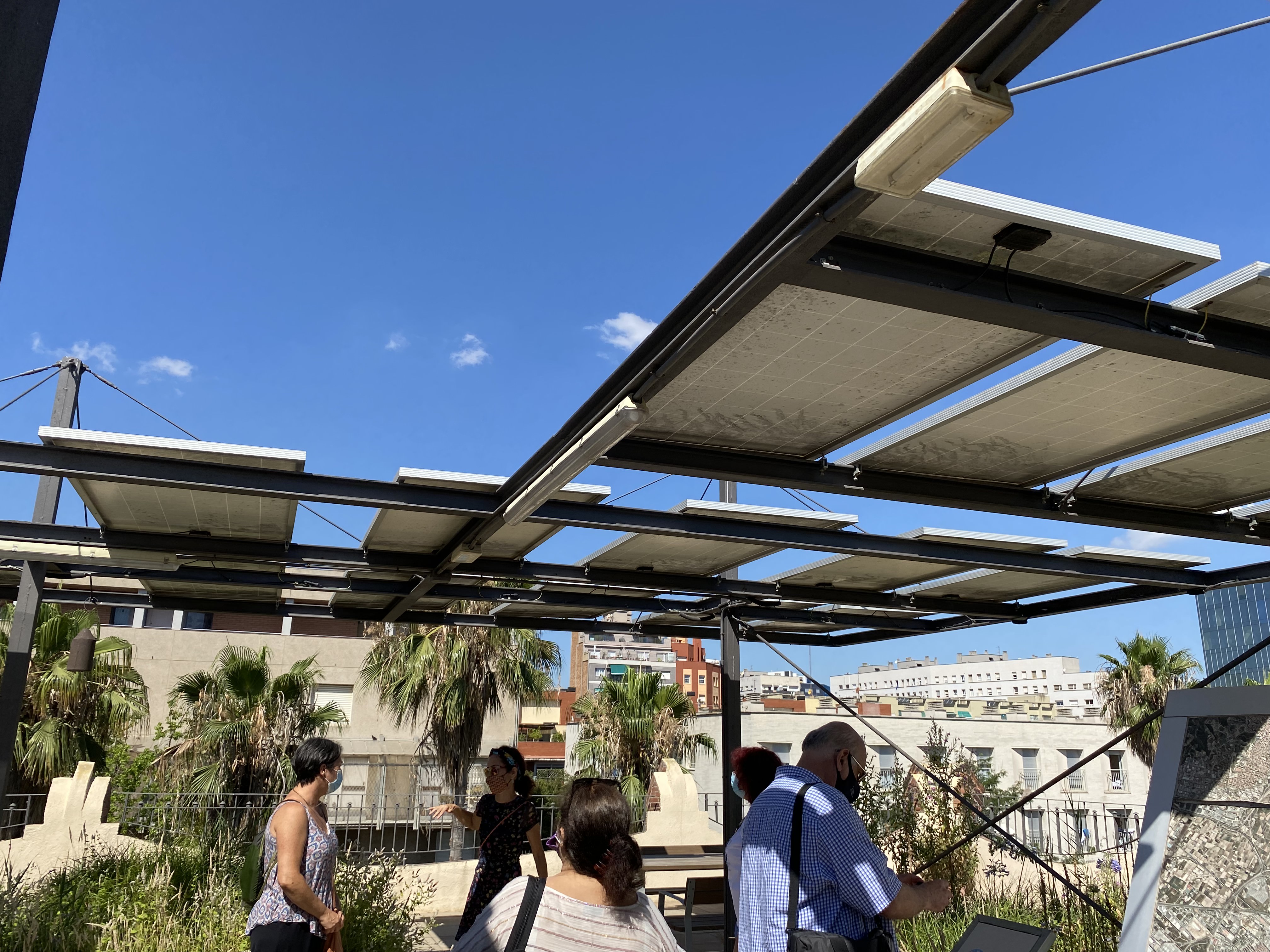 The solar panels on the rooftop of La Fabrica Del Sol
Another facility that provides environmental education is Aula Ambiental de la Sagrada Familia. Aside from offering courses on environmental sustainability, they are in charge of waste management (they collect household waste and turn it into compost). Additionally, they organize ecofeminist activities, which aim to inform the general population about the social issues that negatively impact women and environment.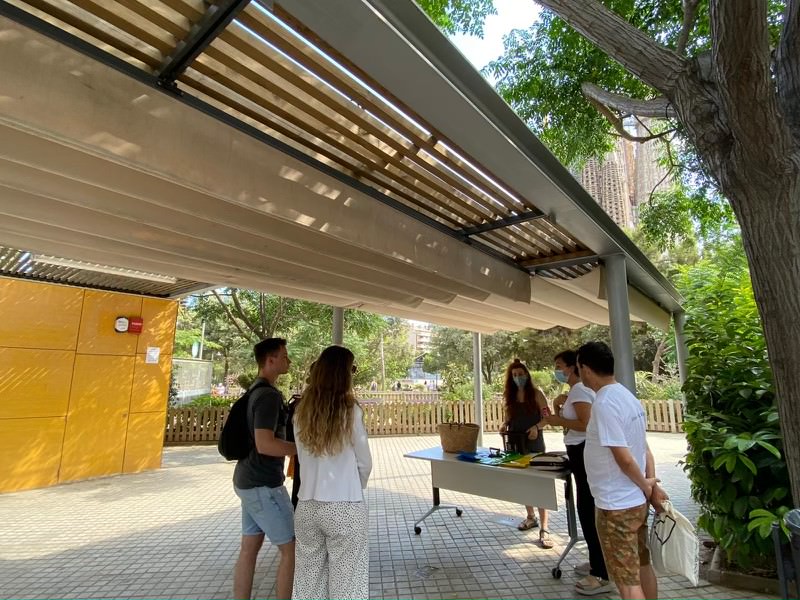 Aula Ambiental and the green point in Sagrada Familia
What fascinated us most about Barcelona is that many citizens have their own urban gardens, which are beneficial in the fight against climate change, as they help reduce greenhouse gas emissions. Since there is a lot of pollution in cities, it is important to have a positive contribution to climate adaptation. The gardens help decrease the causes of greenhouse and at the same time provide people with homegrown vegetables. Can Batlló, which used to be a textile mill, is a good example of a reused urban space in the 21st century. It includes an urban vegetable garden that is maintained by its residents.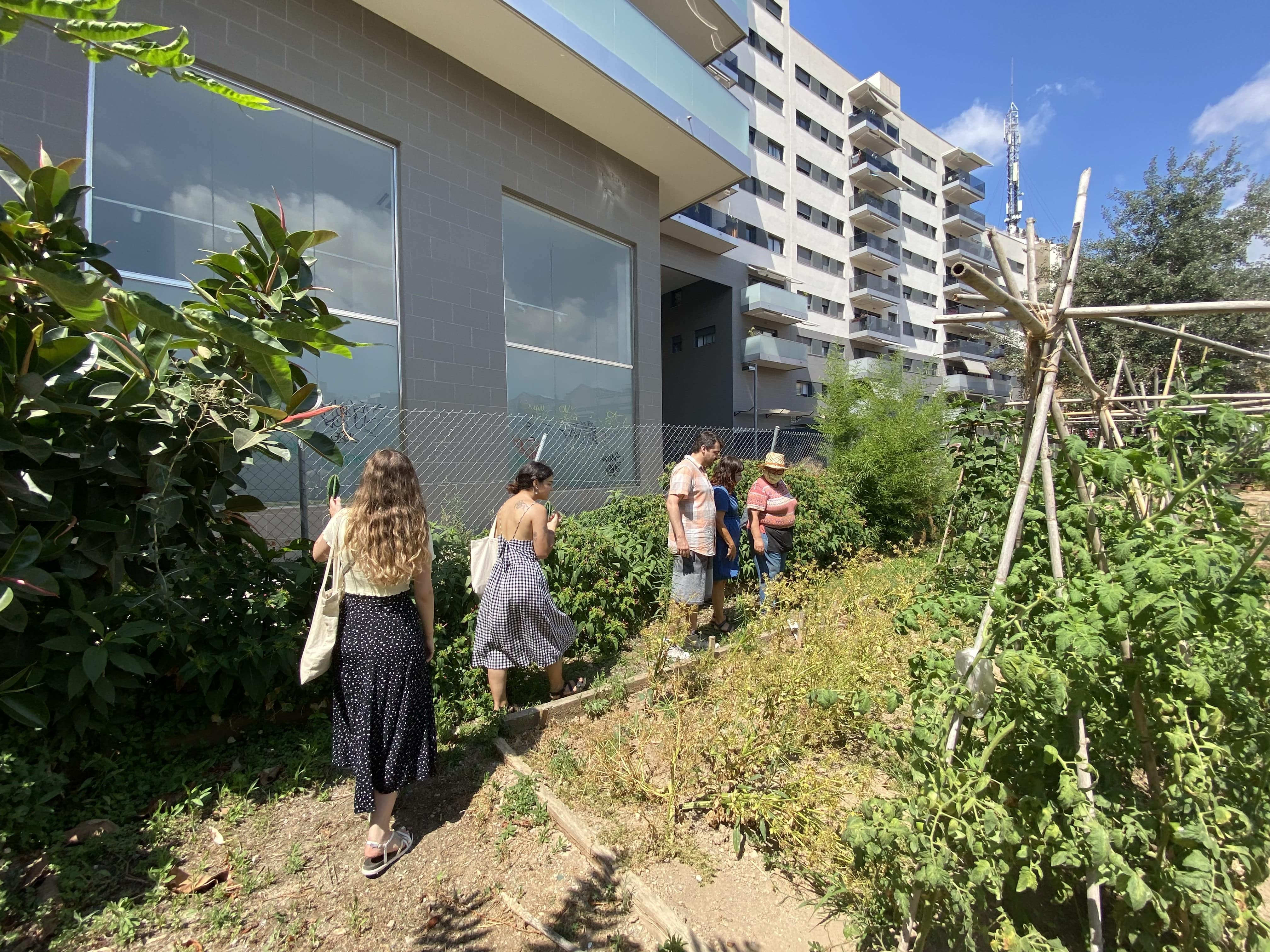 Can Batllo and the urban garden
Moreover, we have learned that sustainability is not only about the environment, but also about the people. Inclusion of vulnerable groups into society is essential, especially if we live in bigger cities where there are different resources and initiatives that promote social inclusion. Very inspiring in the field of social inclusion is the social enterprise called La Fourchette de Collserola, which is a restaurant (located in the Natural Park Collserola) where 99% of the staff are people with disabilities. It is an extraordinary initiative through which people with disabilities manage to earn their living and independence.
Lunch at La Fourchetta de Collserola
The overall experience of the training course on climate change and social inclusion was very positive. The content of the course was immensely educational and inspiring. We have learned a lot about the ways of implementing sustainability into our organizations, how we should get involved in society as active citizens, and how to join the fight against climate change. It is a battle that concerns everyone, therefore we all should make an effort and respond to the climate crisis. The least we can do is support other people in gaining awareness about sustainability and show them how they can help. It is the little things that make a big difference. Whether you choose to recycle your waste, buy food from the local markets, grow your own vegetables, or make your own compost. Even though these might seem like small actions to you, they are crucial for the survival of our planet. 
The participants from Slovenia, Romania and Bulgaria
Narigona Jahiri is an assistant project manager at INUK Institute, where she provides administrative, organizational, and linguistic support. She is responsible for social media management (content design and content evaluation, audience engagement, communication through social media channels), e-mail marketing, and creating web content.