Blog
EPALE UK 5th Anniversary Highlights
11/06/2020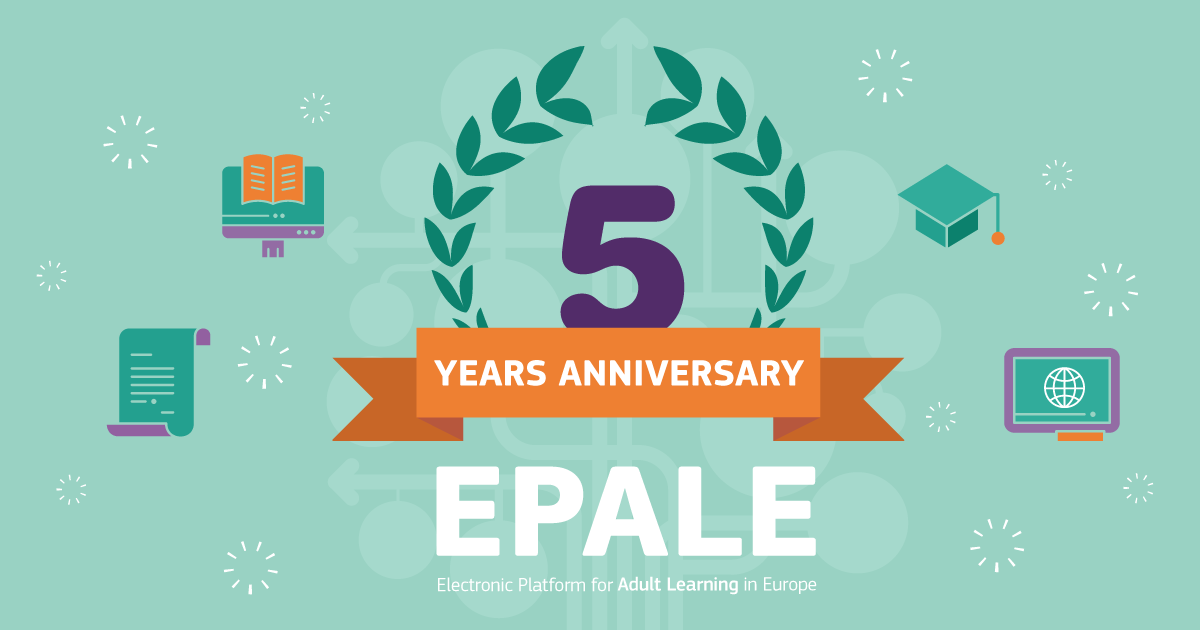 EPALE celebrated its 5th anniversary in April 2020 and what an adventure it's been! Our community has grown to include over 65,000 adult learning professionals and we continue to be the largest online platform for adult learning in Europe.
EPALE UK National Support Services (NSS) is one of 38 teams across Europe committed to supporting and growing our vibrant EPALE community. What makes EPALE's 5th birthday so special for us? Over the past 5 years the UK NSS team has contributed and helped community members submit more than 1,500 pieces of content to EPALE – including blogs, news articles, resources, and events. We'd like to celebrate this milestone with you by highlighting some of our most popular publications over the years.
There are so many to choose from so we recommend you get ready to create a few new bookmarks for future reading:
2020
2019
Ruth Spellman, CEO & General Secretary of the WEA calls for cooperation and open conversations across the education sector to improve the harrowing mental health statistics and to help the people behind them. This blog was a part of EPALE UK's 2019 Health, Wellness & Adult Learning focus event from May 13 – June 6 that coincided with National Mental Health Awareness Week in the UK.
EPALE UK Ambassador Cath Harcula writes about how participation in learning by older adults links to the five steps to wellbeing and reflects on her own experience of participation in a community-learning course. This blog was the winning entry in EPALE UK's first Star Supporter Competition.
During British Science Week, EPALE UK Ambassador Alison Mclachlan shares her insights and experiences of designing and developing adult STEM learning courses and resources. Although the resources have a Scottish focus, the content and activities could be easily adapted to reflect any regional or country profile. Both resources are hosted on the EPALE platform and free for anyone to use and download. 
Prof Vicky Duckworth and Dr Rob Smith discuss their Further Education: transforming lives and communities research project. It recognises the power of further education and the enactment of a transformative curriculum – to challenge rather than reproduce social inequality – and it offers a frame for understanding learners' narrative accounts of their educational and personal journeys.
2018
Judith Searle writes about the Family Learning model developed by Barnardo's Family Connections project in Belfast. The model supports parents to be involved in their children's learning and education and it has 4 strands - children, parents, parents and children together and community.

 

In addition to EPALE's July 2018 thematic focus on prison education, the UK NSS brought together a collection of blogs, resources, projects, case studies, best practices and more for UK and EU professionals on the topic. The blog Prison Education: A Hard Cell, Part 1 and Part 2 written by James King, Head of Education for the Scottish Prison Service, was one of the most popular pieces.

 

EPALE UK Thematic Week 2018: During the week of June 18-22 the UK NSS, supported by colleagues from across Europe, showcased a unique collection of resources, projects, best practices and more for UK and EU professionals who support carer learning. Those interested in this topic can also read about the free e-learning programme launched by Carers UK in 2020 to boost confidence and skills amongst unpaid carers.

 

 

EPALE UK was honoured to have Sir Alan Tuckett, OBE as the keynote speaker for our 2018 annual conference. In this blog he discusses the current state of adult education including policy, challenges, barriers to learning, and the green shoots of hope from local and regionally based innovation.
2017
EPALE UK Thematic Week 2017: During the week of August 21-25 the UK NSS and colleagues from across Europe brought together a collection of inspiring case studies, best practices, and projects highlighting the impact and benefits that Museums and Galleries can have on adult learning.
The introduction of MOOCS just over 10 years ago meant that universities and other educational institutions were able to offer free courses which enabled greater levels of participation in learning. Maggie Bates from the Open University discusses OpenLearn, FutureLearn, and the continued debate around MOOCS about how best to consolidate free learning with authentic educational achievement and progression.
Citizens world-wide are living through an age of global conflict and tension, in which it is difficult to distinguish truth from myth. This two part blog by EPALE UK Ambassador Brian Caul discusses the role of citizens and the challenges faced by adult educators in encouraging active citizenship.
Jenny Fogarty writes about the challenges of providing a range of higher level learning opportunities in prison – an aspect of the education provision that can be overlooked, due to more pressing needs to support basic literacy and numeracy – and her experience of working within the Learning Together network which is a network of prison and university partnerships that are joining together across the country to provide an innovative solution.
2016
EPALE UK National Support Service (NSS) introduced our ambassador network in 2016 and it's been growing ever since. This blog provides a snapshot of how it all got started, including video interviews with some of our first Ambassadors!
Walker Ewart discusses what works when it comes to adult language learning, including: choral repetition, learning through discovery, reading aloud, using visual aids, and mutual support.
"Yes, but what impact did you have?" Steven Murray, from the UK National Agency for Erasmus+, gives an insight into the Impact+ Exercise developed by the UK National Agency in partnership with several other National Agencies.
National Museums Scotland's Learning & Programmes Community Engagement team have been hosting monthly Museum Socials since October 2015 for people living with dementia, their family, friends and carers. Based on the Meet Me At MoMA (Museum of Modern Art, NYC) model, these offer a free, informal learning and social opportunity for people living with dementia, their family, friends or support workers.
2015
This short video from 2015 was created in response to the FELTAG Report (2014) recommending that students develop their digital skills. It considers some of the ways that learners can be assisted in this endeavour and its advice still rings true.
Access to the internet, and crucially, the skills to use it, is something that many of us in this digital age take for granted. It may come as a surprise to some then that approximately 800,000 adults across Scotland lack the Basic Digital Skills to thrive in our digital world.
Don't see a great piece of content that you remember in this list? Be sure to tell us about other pieces of EPALE content that you've enjoyed or found useful in the comment section below!