EPALE Serbia interview: Improving citizen health literacy - Institute of Public Health of Vojvodina (Part 1)
The Institute of Public Health of Vojvodina is a health, scientific and educational institution, which gained experience and reputation by providing preventive health services to people, promoting their health, educating students about preventive medicine and achieving significant scientific results, ultimately becoming a prominent health care institutions outside Serbian borders.
The beginning of the Institute's history was marked by the establishment of the Permanent Bacteriological Station in Novi Sad in 1920.  More than 100 years has passed since the establishment of the Permanent Bacteriological Station, and the Institute of Public Health of Vojvodina now spans over 5600 m2 and consists of over 250 employees. A century of experience and persistent work in the field of microbiology, hygiene, epidemiology and social medicine allowed the Institute to establish its favourable reputation owing to professional and scientific achievements.
The Institute of Public Health of Vojvodina has over 250 employees today, with 47 specialists in preventive medicine (29 Doctors of Science and 2 Masters of Science), 34 health associates and non-medical workers with higher education, 3 of them with specialisations.
Given one of the current topics on the EPALE platform, we spoke to doc. dr. Snežana Ukropina, a specialist in social medicine and head of the Centre for Health Promotion at the Institute of Public Health of Vojvodina, about their activities to improve the citizen health literacy.
Due to its length, this interview has been separated into two parts. You can read the first part of the interview below. You can also read the SECOND PART OF THE INTERVIEW.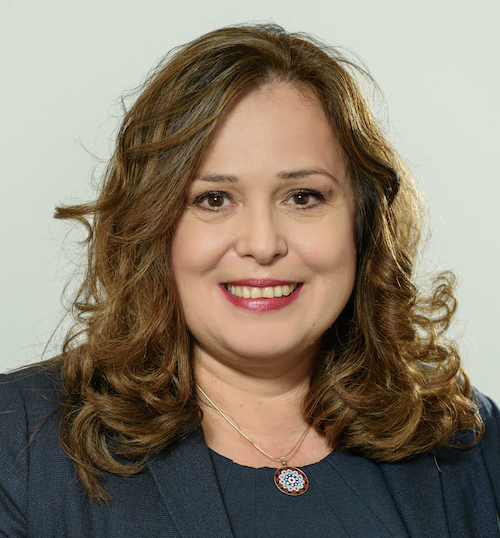 One of the most important activities of the Institute of Public Health of Vojvodina is the control and prevention of infectious diseases. How has the current COVID-19 pandemic affected your regular activities in this domain?
The employee obligations at the Centre for Disease Control and Prevention of the Institute of Public Health of Vojvodina, as well as in the centres dealing with microbiological diagnostics, drastically increased during the COVID-19 pandemic, so all centres had to step in and assist within their means.
As the employees of the Centre for Health Promotion, we were definitely presented with additional tasks, but we also focused on educating the population about general and specific measures to prevent COVID-19. However, we have not neglected our general healthcare interests regarding health promotion, nor the implementation of projects and programme tasks on public health, co-financed by the City of Novi Sad and AP (Autonomous Province of) Vojvodina. Doctors with different areas of expertise participate in health promotion projects (epidemiologists, microbiologists, hygienists and occupational medicine specialists, connected and coordinated by social medicine specialists), as well as psychologists. We often hire external associates specialised in various branches of clinical medicine, or experts in the field of social sciences and humanities (psychology, sociology, pedagogy...), art (painting, music...), media, non-governmental sector, etc.
Our Institute director, prof. Dr. Vladimir Petrović, received the renowned February Award of Novi Sad for 2021, an award given to celebrate the most significant city achievements. This goes to show just how important the Institute management was during this pandemic. 
How do you promote immunisation and combat fake news that anti-vax groups spread?
For years, the Institute of Public Health of Vojvodina has had a proactive role in educating people about the importance of mandatory immunisation of children, as well as recommended immunisation. The latter is especially directed towards educating parents of children aged 12 and over about the recommended immunisation against human papilloma virus (HPV), and educating health professionals about the importance of influenza vaccination, as well as to clarify the importance of recommended immunisation against COVID-19 over the previous six months. The City of Novi Sad supported these activities (given that the Institute helped Novi Sad become the first Serbian city to provide a significant amount of free vaccines against HPV for girls aged 12 in 2020 and 2021), together with the Provincial Health Secretariat of Vojvodina (which supported a very important social-marketing intervention to popularise HPV vaccination and education for doctors and the media: http://izjzv.org.rs/app/HPV/).
As a result of long-term activities, we recommend that everyone, especially parents, inform themselves about the mandatory immunisation of children on our site from expertly reviewed sources:  http://izjzv.org.rs/app/vakcine/, where they can find out about the importance of mandatory vaccination in modern society and read vaccine facts, get answers to about thirty most common questions, watch a video on collective immunity, download an awareness leaflet on compulsory vaccination of children, a leaflet on the compulsory immunisation calendar and a poster about collective immunity. Following this link: http://izjzv.org.rs/app/znanjem_do_zdravlja/, you can download a presentation about immunisation for parents, and here http://izjzv.org.rs/?lng=lat&cir=0&link=4-78, in the ''Vaccine'' section, you can find more useful texts. This year, we will make all our educational and health resources even more visually accessible on the Institute's website and social networks.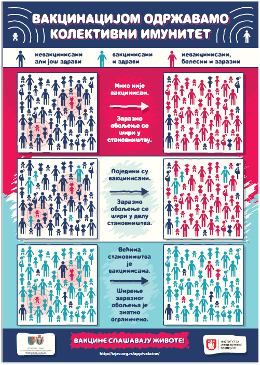 Apart from this, our doctors, epidemiology specialists, as well as virology and social medicine specialists, very often had conversations with the media, participated in "live" media programs, and recorded talks about mandatory vaccination (produced by Radio Television of Vojvodina), which parents can show to their children aged 5-10 and get informed. You can watch these shows on the Radio Television of Vojvodina here: http://media.rtv.rs/sr_ci/specijali/56055 and http://media.rtv.rs/sr_ci/specijali/56070.
We have several approaches when combating fake news. Everything we publish is based on the most relevant scientific evidence (mainly scientific papers, review articles and meta-analyses, as well as the World Health Organisation recommendations and recommendations by other relevant United Nations agencies, professional associations and institutions, the Ministry of Health of the Republic of Serbia, the Institute for Public Health of Serbia "Dr Milan Jovanović Batut", from expertly-revised databases, etc.).  We regularly organise accredited training sessions for health workers to be up to date with novelties in this field, as well as several training sessions for media representatives, teachers, professors, school psychologists and pedagogues, citizen associations representatives... We also organise and participate in public tribunes about vaccination, and we will create a podcast for the first time this year, and one of the topics will be vaccination.
Improving the population's health literacy "Knowledge-based healthy choices" is one of the main tasks of the Institute. What is health literacy and what knowledge and skills does it involve?
The Provincial Secretariat for Health Care and the Government of AP Vojvodina have supported several important programme tasks as a part of a special programme on public health in AP Vojvodina, implemented by the Institute of Public Health of Vojvodina, including the task of improving health literacy.
Health literacy gives people knowledge and skills necessary to make informed health choices, influence community events, and have greater control over their lives. It is also seen as "personal, cognitive and social skills that determine the ability of individuals to access, understand and use information to improve and maintain health." Moreover, health literacy is not only seen as an individual trait, but also as one of key health determinants. Functional health literacy means that an individual or a group understand and follows simple health related messages. Interactive health literacy is the ability to control one's health with the help of professionals, and critical health literacy is the ability to critically analyse information, willingness to actively participate and solve problems.
The programme task "Improving the health literacy of the population - Knowledge-based healthy choices" aims to improve critical health literacy, providing professionally-reviewed health-educational tools in printed and electronic form, as well as accredited training sessions for health workers on how to share their health knowledge.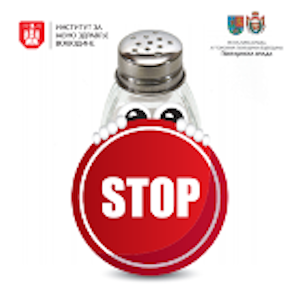 As a part of this programme, last year we provided 27 TV monitors for preventive counselling services aimed at children in 20 health centres, 6 public health institutes in Vojvodina and our Institute. Ten presentations about the most important aspects of maintaining the health of children aged 0-6 are broadcast on the monitors in waiting rooms of health centres, and presentations on immunisation and general hygiene are broadcast in public health institutes. You can download all the material for free on our website: http://izjzv.org.rs/app/znanjem_do_zdravlja/.
Between 2018-2020, the Institute published several different types of printed health, educational and promotional material about maintaining and improving health and socio-psychological health-related skills as a part of this programme task, (14 posters, 8 campaigns, 4 leaflets, 2 brochures, 3 colouring books, 1 sticker and 1 pad), for all age groups, in several tens of thousands of copies.
Nowadays, the improvement of health literacy is inseparable from the concept of healthy environments defined by the World Health Organisation (WHO), including the concept of "healthy cities". Since 2012, the Institute has had a role in coordinating and providing expert-methodological assistance to Novi Sad in joining the V, VI and VII phases of the WHO European Network of Healthy Cities (ENHS) and achieving the goals defined by the WHO ENHS at the local level. "Healthy cities" are defined as a process, and not a definite outcome, i.e. something achieved once you reach a certain health standard. It represents health awareness and the aspiration to improve it. The starting premise of the Healthy Cities project is that health can be improved through the joint efforts of individuals and the local community and thus reduce health inequalities. All city parts should become healthy living spaces: homes, squares, streets, schools, workplaces, parks, vehicles. Apart from that, people being aware that their lifestyle significantly affects their health is important, so encouraging their involvement in all health-affecting activities is crucial. Therefore, a "healthy city" is a city that constantly creates new and improves its existing physical and social environments and develops community resources that allow people to support each other towards fully developing their skills. We are proud of Novi Sad not only for achieving these high standards that ENHS set, but for also raising them and documenting the whole process.
The end users of many of your activities are children and young people. What communication channels do you use to reach them and what is the category of adults that helps you achieve that? Who is directly involved in promoting health at the Institute?
Children and young people are our most important target groups. Many socio-psychological approaches are used in health promotion and health education. We strive to approach this target group through multiple communication channels and satisfy all preferences. We distribute printed and electronic material in kindergartens, schools, health centres, social welfare institutions for children, citizens' associations, public events, etc.
We publish content on the Institute's webpage (www.izjzv.org.rs), social media and the media, we have created a few animated movies, songs, and we also organise art and literary competitions, art exhibits, performances.
In order to achieve adequate content and design quality, external associates are often hired as authors of educational and health-educational tools through public competitions. All potential authors need to meet certain academic criteria and have experience in the relevant work field.  Apart from that, we organise focus groups that assess the content and design of health-educational tools, as well as other characteristics (availability, modernity, integrity). We also often organise competitions to help us develop these tools, appreciating the importance of peer-to-peer experience; children-for-children, young-for-young, people having experienced a disease - they all create for those whose experience they understand best.
Our target group are very often people who work with children and young people or take care of them, i.e. we want to improve their health-related skills and knowledge by providing manuals, instructions and other tools to work with the youngest age groups (this target group can involve parents, educators, teachers, psychologists, pedagogues, professors, pediatricians, the media, citizens' associations).
Dragica Jovišević, a master psychologist working at the Institute, serves as an important part of our team, as she takes into account all the socio-humanistic aspects that affect our target groups during health promotion, connecting public health and expertise in other scientific fields.
Other important members in our core team are doc. Dr. Dušan Čankovic, specialised in social medicine (with exceptional competencies regarding oral health) and Dr. Siniša Đekić, specialised in occupational medicine. Our wonderful colleague and superintendent doc. Dr. Olja Nićiforović Šurković recently passed away, but her legacy and approach remain to guide us and inspire us. In the Centre for Health Promotion of the Institute, apart from the Department of Health Education and Community Health, there is also a Department of School Hygiene, with prof. Dr. Jelena Bjelanović specialised in hygiene (with exceptional competencies regarding children growth and development), and prof. Marija Jevtić, PhD (currently the European Climate Pact Ambassador and the President of the Section for Environment and Health at the European Public Health Association; Climate Pact Ambassador: https://europa.eu/climate-pact/ambassadors/meet-our-ambassadors/marija-jevtic_en), as well as the Department for Proper Nutrition and Promotion of Healthy Lifestyles (with Dragana Balać, M.Sc., specialised in hygiene and M.Sc. pharm. Ivana Bogović Račić, specialised in biochemistry). I would like to emphasize that the activities carried out at the Centre for Health Promotion would be impossible without the expertise and dedication of our nurses/technicians. Three of them have higher professional education, attend master studies and are specialised in public health (Jelena Kovačev and Snežana Stupavski). We are also proud to mention our very experienced nurses/technicians - Mira Kemenj and Sanja Aćimovic Obradov, as well as our laboratory nurse/technician Zorica Kolaković.
This was the first part of the interview with doc. Dr. Snežana Ukropina, a specialist in social medicine and head of the Centre for Health Promotion at the Institute of Public Health of Vojvodina.
In the SECOND PART OF THE INTERVIEW, you can find more information about how the Institute supports the population regarding parenting, family mental health, active health and proper nutrition.