EPALE LongReads: The importance of cultural heritage for lifelong learning (interview with Friederike Fankhänel)
Friederike Fankhänel is an art and design museum educator from the Hamburg Museum of Arts and Crafts (Museum für Kunst und Gewerbe Hamburg – MKG). With approximately 500,000 objects from 4,000 years of human history, MKG is one of the most influential museums for arts and crafts in Europe. Opened in 1877, MKG tells the remarkable story of human creativity. The top-class collections range from ancient to contemporary art and include the European, Islamic and East Asian cultural regions. Friederike shared her thoughts about the role of cultural heritage in lifelong learning, and talked about how people from all age groups could benefit from MKG's activities.
Could you tell us about your role at MKG?
With a background in visual communications and experience as a freelance designer and art educator, I work in the department of Art and Design Education at MKG. We develop guided tours, workshops, hands-on stations, different outreach projects and digital content for the museum's collections and special exhibitions. We want to help our visitors to create a personal relationship with their cultural heritage and to inspire them to use it for their own reflection, research and creative work. The museum's work is available in an online archive called Studio MKG.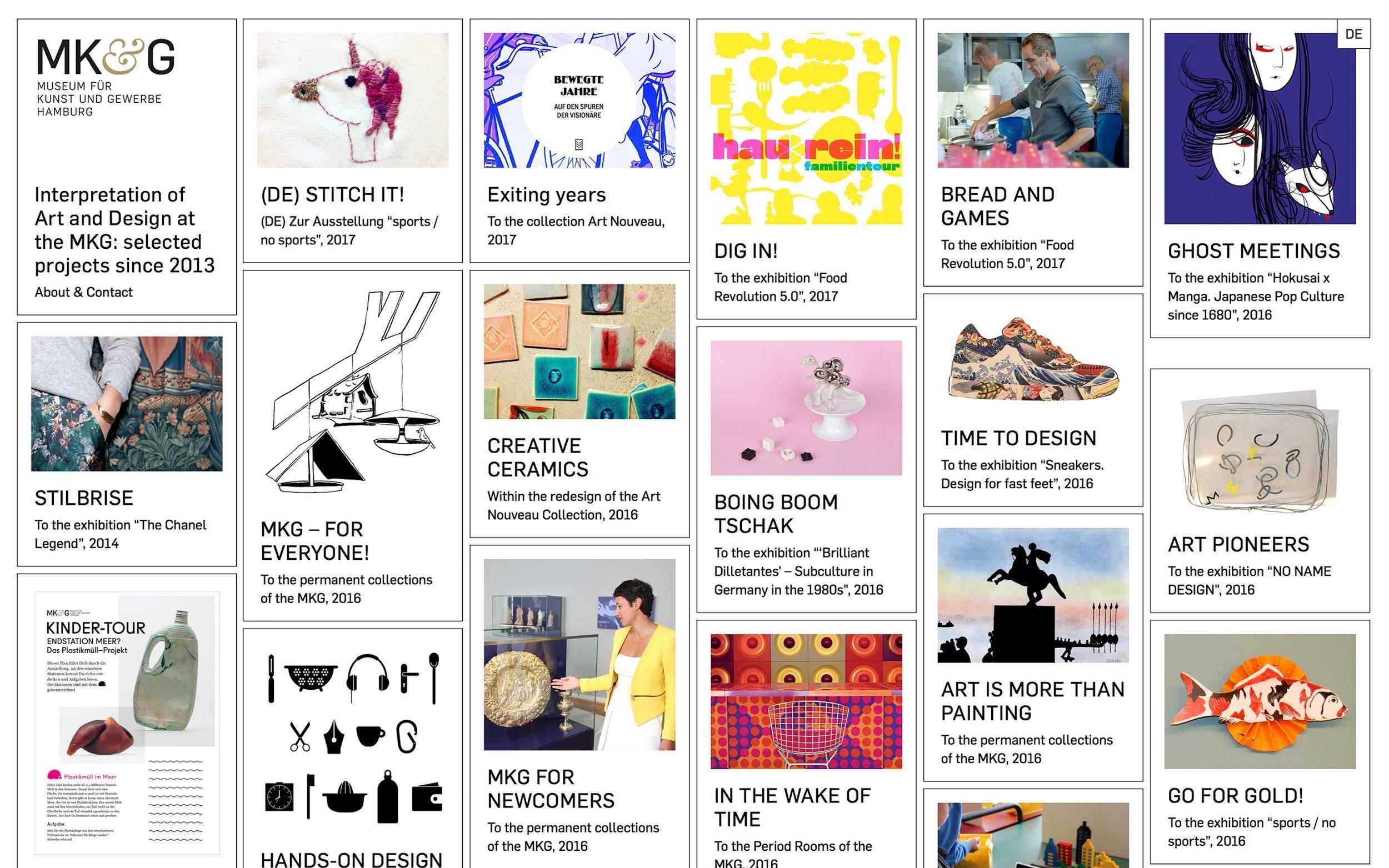 In Studio MKG, users can follow the educational activities at the Museum für Kunst und Gewerbe
What role do you think cultural heritage can play in lifelong learning?
Of course, there is the level of information of art history that can foster one's formal education. At the same time, a deeper understanding of cultural history as an open system, as a story of thousands of years of exchange and transformation can help us to understand the world we live in now and how to face its problems in a broader way.
If we talk about museums, the nonlinear medium of an exhibition is very flexible for different learning environments: it allows you to move around in your own pace, to make your own road exploring the content, to contemplate by yourself or to discuss or draw in a group.
Cultural heritage can also inspire across multiple fields: why not use an art exhibition to practice your foreign language skills or make cakes featuring rococo or art deco patterns. The chance to directly reuse public domain images in educational, creative and commercial contexts is still underestimated but will lead to exciting projects with both educational and social impact.
What activities does the museum organise with its lifelong learning resources on site?
We offer a printed tour guide in simple language to our Art Nouveau collection. Visitors can navigate through the exhibition with the help of illustrated patterns that they easily recognize in each room. The booklet also focuses on the artists and the motives behind their famous designs, and a set of ceramic tiles with glazes and glazing techniques corresponding to our Art Nouveau artefacts allow a hands-on, tactile approach to our collection.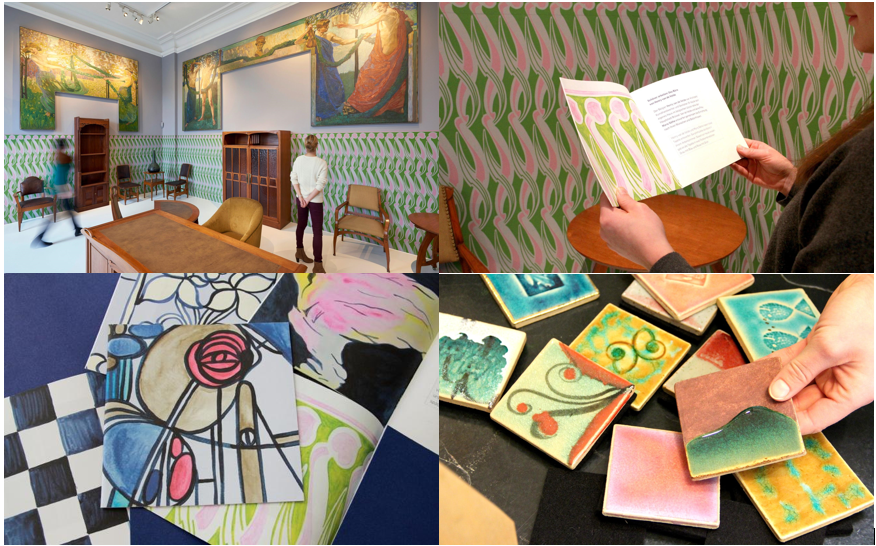 Ornaments of Art Nouveau interiors, with a guiding booklet in simple language. Typically glazed tiles help to engage visitors with the vast collection of Art Nouveau ceramics. Images: Interior view © MKG, the others CC BY-SA-4.0
One of the museum's highlights is our 'World religions. Buddhism, Judaism, Christianity, Islam' tour. Our collection with both ritual and profane artefacts documents differences of and mutual inspiration between four world religions. Participants discuss terms such as 'paradise' or the meaning of water in the different religious beliefs with an art and culture historian from our team.
At MKG, we also invite visitors to train their skills in calligraphy, manga drawing, jewellery design and stop-motion animation workshops. I consider hands-on experiences a very important, intuitive and self-empowering approach to build strong connections to cultural heritage and in the same way a chance to keep knowledge and techniques alive.
And how about online?
Our museum was founded in 1877 as a collection of design models for local students and artisans. We still share this vision today with the difference that we aim to inspire all our visitors, regardless of their profession, age or abilities and even our virtual visitors – people all over the world who might never come to the physical museum but use our offers in the digital world.
Following this concept, we create online projects that are more than a tool to prepare for or reflect on our exhibitions: whether it's Stilbrise, a fashion blog in which we portray our visitors and their fashion statements, Propaganda1418, a documentation of propaganda in WW1 with collected material from the local community of Hamburg, or our newest and biggest project – Bewegte Jahre.
In Bewegte Jahre ('Exiting years'), we are immersed in the travel diary of Christian Heller, a fictional young journalist from Hamburg, and follow his travels to cultural centres like Vienna, Paris and Glasgow between 1897-1916. We read about Heller's meetings with important artists and designers of the Art Nouveau movement and their visions for a new society. We also discover the era's impact on Hamburg and the story of the remarkable Art Nouveau collection in the MKG. Thanks to Europeana, our own digital collection Sammlung Online and other institutions from the Galleries, Libraries, Archives, and Museums (GLAM) sector, we are able to bring the era to life online through original images, videos and quotes – with many of them in the public domain. The journal also includes an audio version, detailed image description for screen-readers and other accessibility features as well as curated links and the possibility to share our digitised objects directly on Pinterest.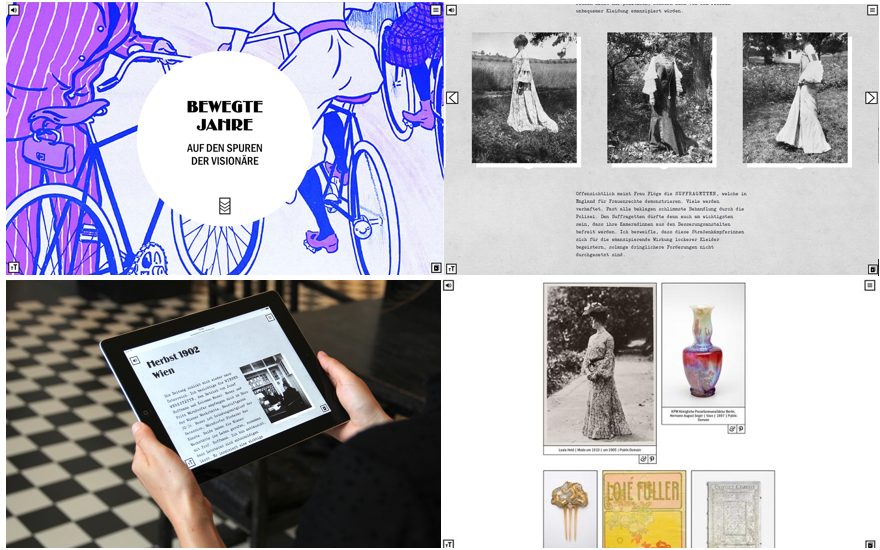 Bewegte Jahre presents the Art Nouveau movement and its artists in the form of a fictional diary.
How have you worked with Europeana Collections and what potential do you see there for lifelong learning?
First of all, Europeana and its online presentations were a huge inspiration for us to develop an editorial format such as Bewegte Jahre using digitised data. In the process of picture editing, Europeana served us as a gateway to Europe's broad landscape of GLAM institutions with digitised collections – about a third of our documents are available via Europeana.
The launch of our journal in April last year was also a perfect match with Europeana's Art Nouveau season and exhibition. Many of MKG's digitised artworks are featured in Art Nouveau - a Universal Style and fortunately, I was given the chance to introduce Bewegte Jahre in a guest post as well.
For the future, I wish more museums would share their online collections and contribute to Europeana to make it easier for educators and inspiration-seekers to access cultural heritage, even if they are not archive professionals. In this context, I want to stress the importance of creative commons licensing as well. Every document that we could access easily and royalty-free saved us a lot of time and money and so it will for other users in future projects. To stay relevant in times of self-initiated, digital learning and small budgets for education, accessibility and visibility of digitised content will become more and more important to all cultural institutions. Europeana is a great platform for both.
What have you got planned for 2018 with regards to lifelong learning?
Besides our work on various special exhibitions, in 2018 we plan to bring together our digital collection Sammlung Online and our creative, hands-on offers. We want to publish craft tutorials based on our public domain images and present them in an onsite workshop event. We hope this will start a dialogue with crafters and MKG-lovers worldwide and that our visitors (or users) suggest their own ideas, too.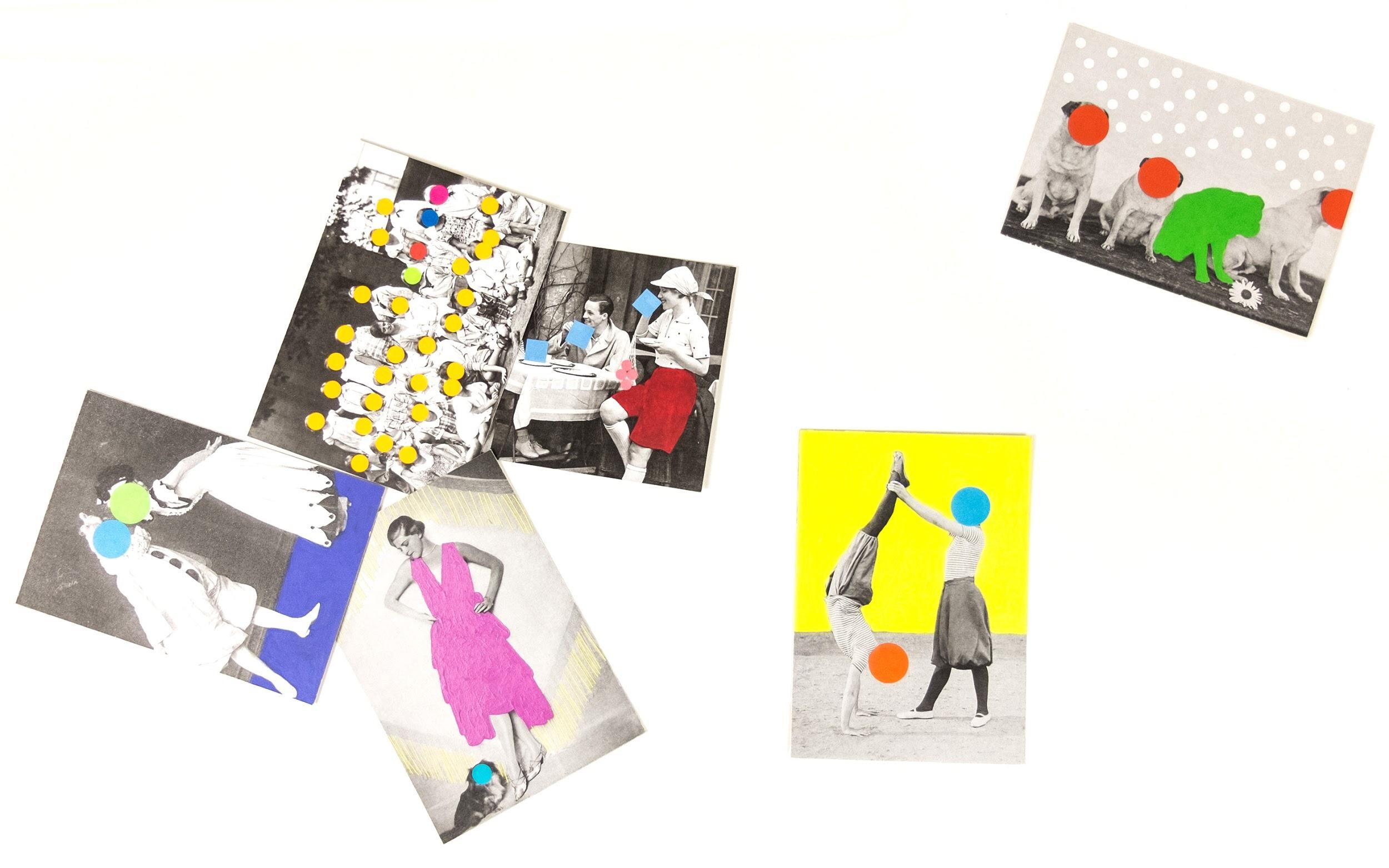 Handmade postcards created with Public Domain images from MKG Sammlung Online. Image: CC BY-SA-4.0
We made great experiences with long-term school projects in which students did things like write their own fiction about the museum or learn how to design and stitch following our fashion collection. MKG's ambition is to use these experiences and create a structure in which we can invite visitors of any age, whether they are individuals, groups or families, to short and long-term research projects, creative classes and studios in or outside the museum.
Friederike Fankhänel's website
Read EPALE's article Europeana: Culture gems for lifelong learning