EPALE LongReads: Building a home out of success – an interview on prison theatre with director Hannele Martikainen
Participating and succeeding in a theatre production may be a revolutionary experience for an inmate, believes experienced prison theatre director Hannele Martikainen. A prerequisite for that success is a commitment-building process with a steep learning curve.
'I believe most inmates are homeless. I am not talking about a physical house or a childhood home. I mean a profound feeling of homelessness in life that has led them into their situation.'
Theatre director Hannele Martikainen has worked with inmates in prison theatre projects for the past ten years. Originally never intending to forge a career in applied drama, the director now finds herself at the forefront of prison theatre makers in her native Finland. Accepting a one-off directing assignment at a prison a decade ago has led to a remarkable catalogue of prison theatre productions – and an understanding into the learning processes that make prison theatre an impactful tool for rehabilitation and learning.
'The inmates are homeless, but our work can give them a home,' she continues. 'Succeeding in something, often for the first time, is like a home one can return to.'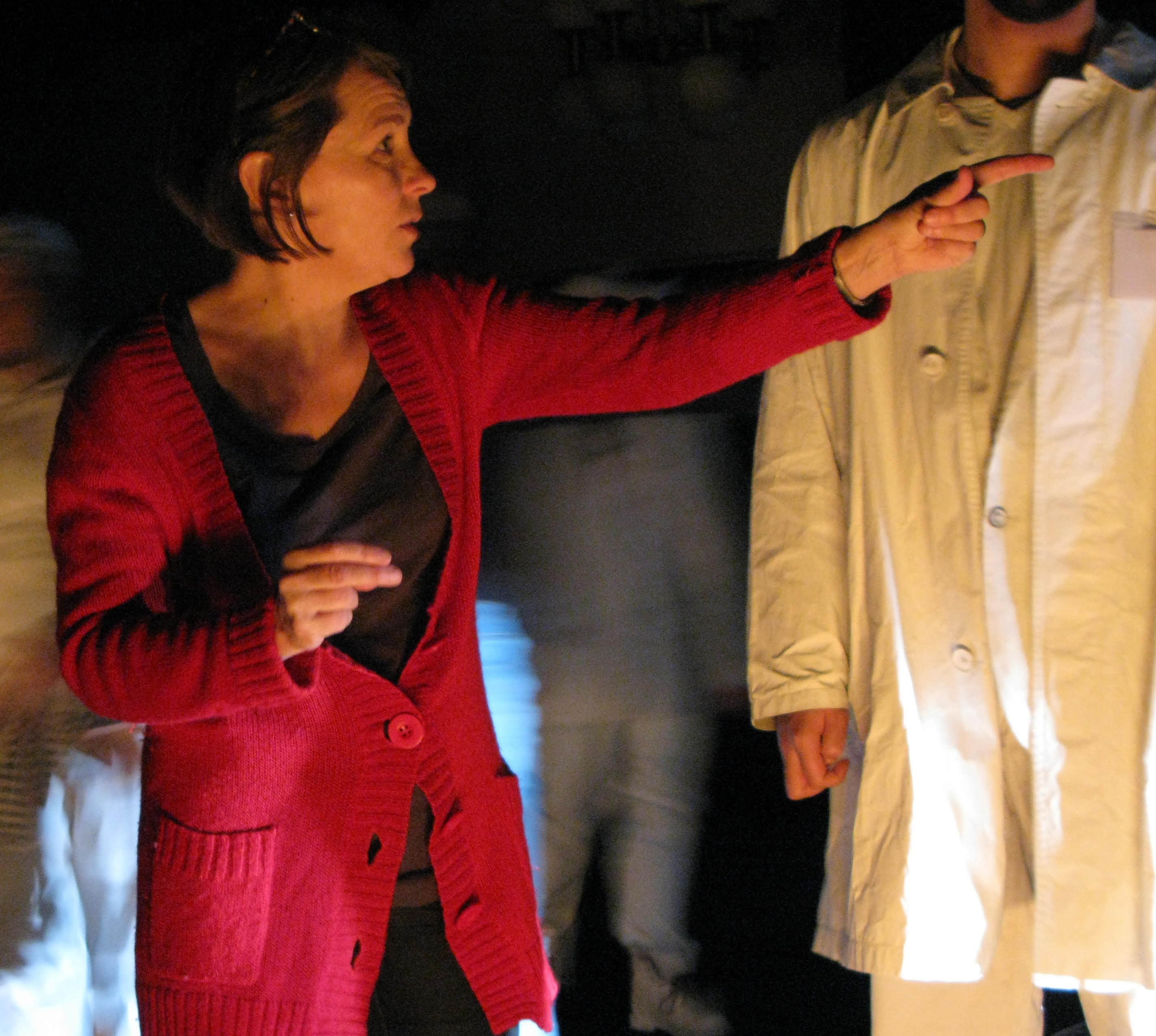 Theatre director Hannele Martikainen has directed inmates in prison theatre projects for over a decade. Credit: Jukka Kotkanen
Theatre builds transferable skills for society
Prison theatre is a process in which a voluntary group of inmates rehearse and stage a play or a  stage performance under the guidance of theatre professionals. Such projects are often publicly funded and understandably take place in close cooperation with correctional authorities. Martikainen works through the prison theatre NGO Taittuu, which is supported through the Finnish Criminal Sanctions Agency.
Hannele Martikainen is in the middle of such a rehearsal period again, this time with inmates from a closed unit prison in eastern Finland. The inmates are writing their own script based on Finnish folk tales. The subject matter: village idiots. The premiere is scheduled for September.
Of all forms of prisoner rehabilitation and learning, what makes theatre meaningful for Martikainen?
'Cooperation, communication and the ability to make compromises are all cornerstones of making theatre. Anyone involved in a theatre production is unavoidably confronted with these themes which in the inmates' case are important transferable skills for civilian life,' the director says.
These skills do not simply fall into the lap of the inmates. It requires commitment from the inmate-thespians to the whole production, which in turn requires learning to trust – something convicts may struggle with. Luckily, it is also a skill that can be practiced – rehearsed.
'The courage to fail is also something that is essential for the artistic process. It is all learning by doing. In this regard I am a follower of John Dewey and his thoughts on experiential education,' Martikainen adds.
A revolution of the self-image
Cooperation, communication, trust – these are all skills that pave the way for a successful re-entry into society after a prison term. But in Martikainen's experience the impact of drama runs even deeper.
In her productions, Martikainen has seen how many inmates have defined themselves through their past shortcomings. Many have a mindset of 'I cannot, I am not able, I don´t know how.' The rehearsal process of a play is meant to show that when you on something painstakingly, it ultimately produces results. An inability gradually turns into an ability if the commitment of the inmate is solid. This is nothing short of a revolution in the self-esteem of the prisoner.  
A method of three allegiances
Martikainen works with a method she describes as the 'three allegiances'. In the beginning, Martikainen is on the individual´s side – every individual in the group. This is the first step.
'I must sniff out which actor needs emotional support, which one needs a kick in the butt and which one – technical skills of the stage. A director must always be a pedagogue in this regard.'
Once this initial trust is built, Martikainen expands her allegiance to the whole group. This is the second step.
'I foster the group spirit, protect the group as a whole and find out what the group needs to build the performance.'
The third step comes shortly before the curtain rises on the premiere.
'In the final stage, my allegiance switches to the audience. This is the moment when I demand that the actor-inmates step up to the challenge and not let the audience down. Whatever tears may have been shed are in the past, now it's time to put on a show!'
The commitment needed for a successful process – and ultimately a successful performance – is built through these three steps. And a successful performance can build a home for the homeless.
The many faces of European prison theatre
Prison theatre can be viewed as part of the spectrum of prison education, given its rehabilitative and reformative goals. The Finnish case presented above is but one example of European prison theatre, with various forms and approaches.
Prison theatre is present in many European countries, and EU programmes, such as Socrates, Leonardo, Grundtvig and later Erasmus + have been important funders of prison arts activities.
'Methods of doing prison theatre vary greatly within Europe, and I feel the field is rather developed,' says Hannele Martikainen.
'What sets my productions slightly apart from European colleagues is the fact that, to my knowledge, we are the only ones to venture out from inside prison walls and take our performance to real theatres.'
According to Martikainen, leaving prison is an important aspect of rehabilitation. She says that performing in a civilian setting is particularly important to the inmates as a way to face the shame and stigma attached to a prison sentence – to become visible to their wider community and embrace the feelings of shame, to ultimately overcome them.    
Prison theatre organisations across Europe
Have you heard of or been involved in any other projects related to prison education? Share your story in the comments below!
---
Markus Palmen is a journalist, writer and audiovisual producer, and a freelancer. Since August 2017 he has been EPALE's Thematic Coordinator for Policy. For eight years Markus was the Managing Editor and Editor-in-Chief for the European Lifelong Learning Magazine