"Looking for a taste of the real world? Try mobility". Young people from Reunion Island take up Erasmus internships to boost their employability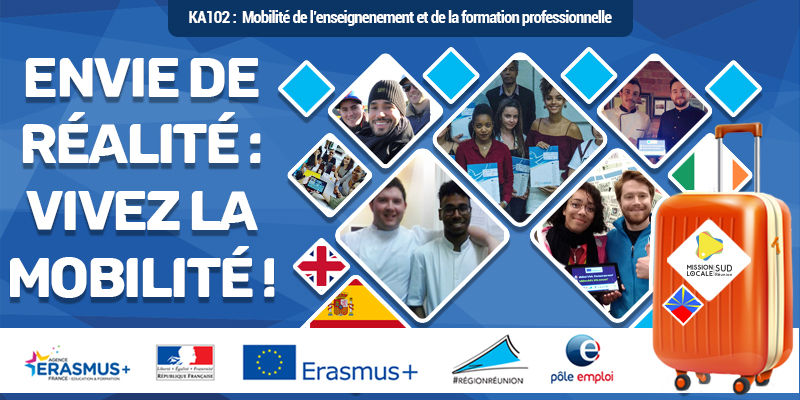 [Translation (French - English) : EPALE France]
Reunion Island, a French department that sits 10,000 kilometres from the European continent, presents a very specific situation with high unemployment rates. The unemployment rate is 22.4%, more than twice that of metropolitan France, with even higher unemployment among young people under 25 years of age (44%). Its geographical isolation means that young people from Reunion Island have to look to opportunities offered by mobility beyond the island.
Our association, Mission Locale Sud, works at the service of citizens, promoting the social and professional integration of young people. We are working to broaden the field of possibilities for young people under 25 years old, entering the job market. Too many young people in Reunion Island leave the school system without any qualifications. This demonstrates the importance of innovation in offering training solutions in non-formal education, based on learning by doing, action and experience.
The overall objectives of the project were to:
offer young people from Reunion Island with integration difficulties and receiving support from Mission Locale Sud, an opportunity for mobility and a chance to explore new horizons;

allow them to gain the openness and curiosity necessary to approach the labour market in the best possible way, wherever it may be;

help them improve their language skills, which are particularly important on Reunion Island, one of the most promising sectors of activity being tourism;

and above all to help them acquire experience in their sector, by succeeding in a project or improving their skills.
The project entitled "Looking for a taste of the real world? Try mobility" (Envie de réalité: vivre la mobilité) saw 26 young jobseekers, aged 18 to 25 and supported by Mission Locale Sud, embark on an ErasmusPro internship in a European company (in Spain, Great Britain or Ireland) for 3 or 6 months.
The project included pre-departure preparation including language classes, cross-cultural workshops, practical aspects of the trip, and work on defining learning objectives. Several professional sectors have been involved in the project with internships in childcare centres, retirement homes, restaurants and the commercial sector, among others.
Each company placement was chosen according to the young learner's career objective. We focused on the recognition and promotion of acquired skills and set up assessment and promotion workshops for when the young people come back.
Preparatory visits to each host destination and visits by supervisors for on-site internship assessments helped optimize the quality and management of the project, both logistically and pedagogically.  This high level of supervision and organisation has helped our target audience to access the system, though they are in great difficulty.

We have noted the following impacts: 
-Learning outcomes have increased the employability of learners, with an improvement in their professional, cross-disciplinary and personal skills. This has resulted in almost half of them entering the workforce, while the last groups have only recently returned. 1/4 have signed an employment contract, 1/4 a civic service contract, while others have begun training towards a qualification or are advancing in their careers (passing their driving licence, changing their career path). Their openness to the world and increased motivation add to this impact. We have once again seen the "accelerator effect" of ErasmusPro mobility on our young people. We believe that an assessment further down the track will show an even stronger impact on their integration.
-The Erasmus+ programme has been more strongly integrated in our team of advisers' toolbox; the positive results have enabled us to further consolidate our role as a major player in the field of mobility. Our team has become truly professional on an international level, by carrying out preparatory visits and visits as supervisors.
-The success of the project and our promotional activities also have an impact on our territory. The partnership with Pôle Emploi Reunion Island  and Reunion Island Regional Council  has developed over the course of the project, allowing us to strengthen ties with these institutions.  In addition, two Reunion Island Mission Locale organisations will be joining us in future projects, as a consortium. The Erasmus+ offer aimed at young people entering the job market is developing in the regions, but remains specifically designed for our island-based young people, with consideration of the difficulties inherent to our isolated territory.
link to article by Diaro de Jerez      Link to article Le Quotidien de la Réunion   Link to the TV documentary Réunion La 1ère www.missionlocalesud.re