LIFELONG LEARNING IS A TREND. Happy World Knowledge Day and the upcoming school year!
This blogpost was originally published in Estonian by Anneli Salk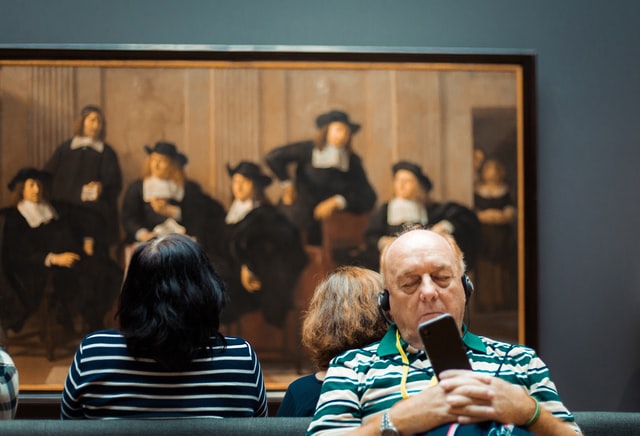 Photo: redcharlie, Unsplash
An old proverb said, Jonathan doesn't know what Jon didn't learn, In today's information age, this statement can be reworded – both Jon and Jonathan participate in lifelong learning. Both of them are learning, only that the pace of acquiring knowledge and their interests are different. One is discovering the world and the other is trying to somehow comprehend the world. The world is changing at such a rate that learning and improving oneself has become a lifestyle. Only the focus of learning is somewhat different in each period of life.
In fact, you can learn something new every day if you just pay attention to life. Life offers many learning opportunities, but in general, the need to have the appropriate knowledge and skills is what drives people to start learning. Without an internal impulse and an external need, the learning process would not begin. An internal impulse can simply be an interest in what is happening in the world - sometimes it is enough to acquire new knowledge. An external need may be the requirement for a specialist to complete the in-service training.
The format of learning has changed a lot, you no longer have to dig through books in a library to find out something new. some electricity and a computer is enough. Even a mobile phone is enough to learn something new. The format of learning has changed, but people's curiosity and hunger for knowledge are still similar to what it was in the early days of humanity. The thirst for knowledge and the desire to achieve something go hand in hand.
There are 5 stages of learning.
At first, a person does not pay attention to the fact that he does not know or cannot know it. There is also no direct need for the knowledge or skills. (When there are interest and  a need in life, the learning process  can begin.)

A person starts to pay attention to a certain topic or skill and starts learning. Sometimes in life, we as humans just need to acquire new skills to keep up with life. This is how the learning process starts.

A person learns a topic that interests him or her, and in order to put new knowledge into practice, he or she must constantly pay attention to it. Sometimes it can be quite laborious.

Specific knowledge and skills have been acquired and are often overlooked when they are often used. Knowledge and skills have become a natural part of life.

As they can easily and naturally put their knowledge into practice, their skills can be further taught to others.
There can be many different reasons and different goals for learning. But everything learned develops a person and makes life interesting.
What has been a recent learning experience for you?
Birgit (25 years old): Acquisition of everyday practical skills
My last, i.e. yesterday's learning experience was very practical. The smoke detector started ticking on the ceiling and I didn't understand what it was. I Googled the power company's website and found out that the battery of the smoke detector is dying. Then I looked up from the internet how to replace the batteries. There is an instructional video about this. After watching the tutorial video three times, I was able to replace the smoke detector battery myself. This made me feel like a hero! I wonder how people were able to live at all before the Internet?
Sergei (29 years old): Need-based language learning to compete in the labor market
I became unemployed due to this coronavirus epidemic. The company closed its doors and my career as a salesman was over. When I looked around in the labor market made me feel depressed. The number of salesmen, like me, outnumbered suitable jobs, multiple times ower. Good proficiency in Estonian and English was required for each of the highest-paid positions. My Estonian was average, I spoke with some mistakes. So I decided to take the Estonian language course recommended by the Estonian Unemployment Insurance Fund. Fortunately, virtual learning was possible and I was able to develop my Estonian language skills over several months without leaving home. Now I feel much more confident when competing in the labor market. But I intend to continue learning Estonian because learning virtually is so easy.
Mart (48 years old): Compulsory professional training
For years I have been worked as a driver, and now there is a law in the European Union that requires us to participate in improvement courses every five years. So I went to driving school, took another compulsory course, and passed an exam. The in-service training and taking the exam entitles me to work as a driver for the next five years. Voluntarily I still wouldn't go to such trainings. Actually, these in-service trainings are quite interesting, only that finding the time that works with the job is quite difficult.
Leida (81 years old): Social pastime
All my life I have been interested in self-improvement and it has not changed with age. Now I have discovered the University of Seniors for myself. There are lectures on different topics every month. Not that I desperately need to gain new knowledge, but it's nice to leave the house and to be in good company. The lectures at the University of Seniors start at 12 noon, and this time suits me well. It's also free, and it's important to me as a retiree. When it comes to learning, I no longer focus so much on acquiring new knowledge, but on the intelligent social pastime. I no longer learn to pursue a career but to keep up with life. I have met several nice people at Senior University and after the lecture, we visit the cafe. This kind of hobby makes me feel like I'm a human being. Yes, of course, the lecturers of the University of Seniors are good and the topics are interesting, but the memory is no longer what it is when it is young.
Fred (52 years old): Learning through hobbies and positive emotions
I like to gain new knowledge while traveling. There is something good in every culture that is worth noticing. Some time ago I went hiking in the Alps and realized the importance of a "green lifestyle" and the preservation of nature. We have only one home planet, and when people destroy it, they also destroy themselves and their living environment. I realized that a consumer society is not sustainable in the long run. During my trip, I had the opportunity to get acquainted with the Alp health trails and how nature is treated in this country. Learning does not always have to be about the classroom and remembering new facts, sometimes it can be simple and universal.
Tea (39 years old): The company is organizing an in-service training
In August, the company ordered a training for work stress management, and no one asked me if I wanted to go or not. Had to take part in it. In the beginning, I was sorry that one beautiful summer day was lost due to this training. But as I was participating in the training and thinking along, I realized how important my own mental health is. If there is no mental health, there is no ability to work or live one's personal life. Mental health combined with physical health is the basis of life. I realized that I had made the typical mistake of judging my mental health to be unbreakable. I had considered my sleep disorders to be a temporary phenomenon and hoped that they would go away on their own. Thanks to this work stress training, I got some good ideas and exercises on how to maintain my mental health. With my mental health, I have to live a whole life, and I can't burn through on my fortieth anniversary. I found that the in-service training ordered by the company was very necessary.
There are many motives for learning - who wants to gain new knowledge, who can be in good company, who can advance their professional career, and who can broaden their horizons. Some trainees need a certificate or a note on their CV. Every motive is good because lifelong learning makes life interesting. Learning keeps the memory functional and mentally younger for a long time. These reasons are quite enough to be in lifelong learning.
--
Anneli Salk is an adult educator (level 6), Tallinn City Educator since the Year 2017, a psychological counselor, an author, and a trainer at the training company Synergia OÜ.