​El Nostre Món – Resrouces for teaching Catalan for migrants
The education of migrants is one of the most important actions carried out by ACEFIR, the Catalan Association for Education, Training and Research. We work with migrants in two main areas:
Development of materials and teaching resources to teach the language of the host country to newcomers, especially those with poor literacy, who we teach to read and write in their mother tongue.
Training of trainers for volunteers and teachers who teach immigrants.
As you know, Catalan and Spanish (the official language in Spain) are the two spoken languages in Catalonia. We teach both, and allow migrants to choose which one to learn (though truth be told, we advise them to learn both languages​​ with priority for Catalan as this will increase their opportunities in their new community).
 As there is already plenty of learning material in Spanish, we decided to prepare material for adults to learn Catalan. The first material developed was a method for learning Catalan called "El nostre món" ("Our world") which can be found on Google Books and it is published in three volumes:
These three books are accompanied by two boxes of 111 images in each box. There are currently more materials to be used, but ACEFIR was the first to edit a method for learning Catalan aimed at migrants. This material was presented in 2007 at the Frankfurt Book Fair, in the LitCam Conference and in the Library of Frankfurt.
Later, we produced a website (Google Sites) for the learning of oral Catalan which can be adapted to any language. It was commissioned by Caritas Girona as they have many volunteers and teachers who help immigrants who come to our region. This was implemented within the "Workshop for Language and Culture" (TALC) program. The site is called Mòdul oral (Oral module).
Our training courses for teachers (specialists or not) are of two types:
Short-term courses to learn the use of materials
Training courses in general.
You can check at the blog specifically set up for those courses:
This course, which you can see here, are jointly organized by Caritas - ACEFIR - SERGI under the "umbrella" of the CAS Platform. These courses have been supported by the Institute of Educational Sciences of the University of Girona (UdG ICE).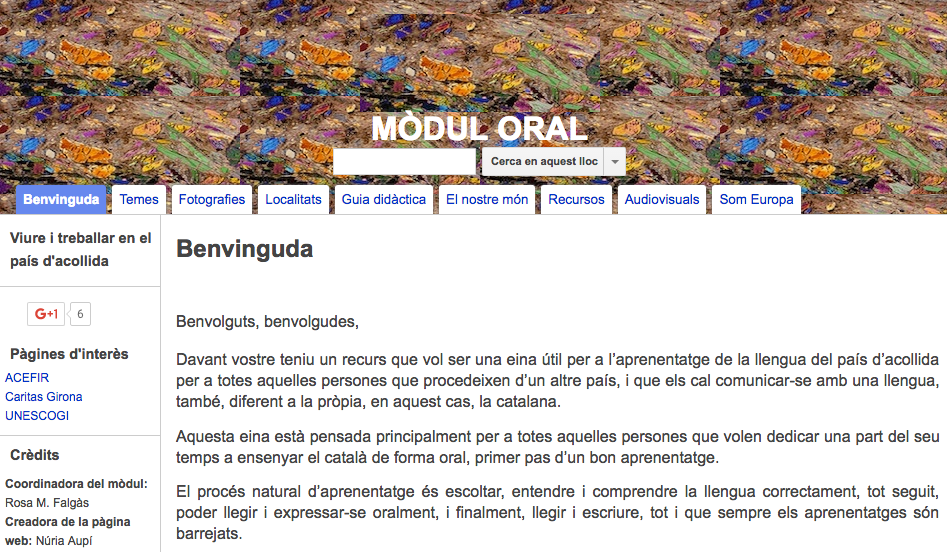 Lately, we have also performed specific sessions in training centres for children (primary schools) because some teachers have decided to train parents of immigrant pupils so that they can understand the recommendations made by teachers and they can also attend parent meetings.
Rosa M. Falgàs is the President of ACEFIR as well as an active member of EAEA and EBSN.