Education activist fights discrimination with a family-run NGO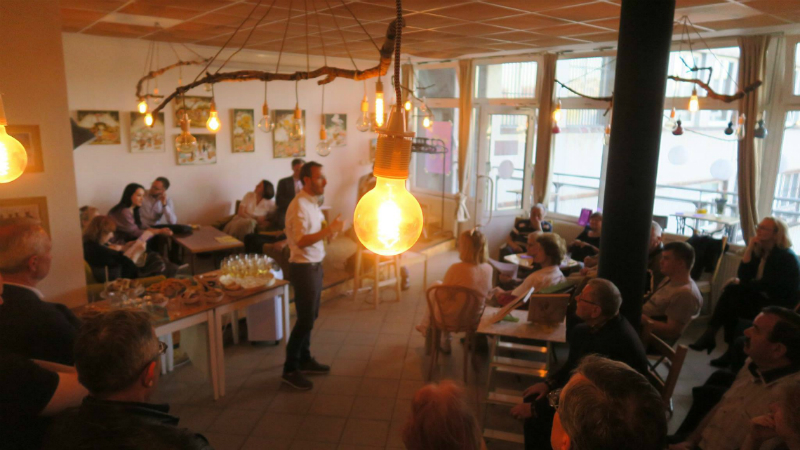 Not content with minority rights in her native Slovakia, adult education graduate Andrea Kutlikova founded her own civic education NGO, Kalab, together with her family. Two years later, this community learning space in Bratislava is turning hearts and heads by living its values.
The room was still buzzing with heated conversation even after the official debate had ended. Coffee mugs were topped up, more beers ordered. The space, not much bigger than a well-to-do living room flickered with light, candle-lit for the evening gathering.
Andrea Kutlikova felt pleased as she let her gaze wander across the room. The evening's conversation had navigated a gauntlet of topics. Minority rights, equality, the discrimination faced by Roma people, refugees – all incendiary discussion starters in Andrea's native Slovakia. As hostess and co-founder of this communal meeting space in Bratislava, Andrea herself would bear the brunt of any debate turned ugly. It was then when a man in his fifties approached her at the bar.
The man's opening line was that he was a member of Ľudová strana Naše Slovensko. Andrea instantly recognised the name of the far-right organisation.
'That shook me for a moment,' Andrea confesses. What happened next startled her perhaps even more.
The man thanked Andrea. He said he appreciated the way she and her team had organised the debate. Differing opinions were allowed and respected. He had felt a part of the debate, not excluded.
'That man came later again to Kalab, bringing along some youngsters from his workplace, a high school dormitory. He even brought these kids to our workshop on inclusion!' Andrea explains.
'That was when I thought our soft approach at Kalab might really work.'
A family affair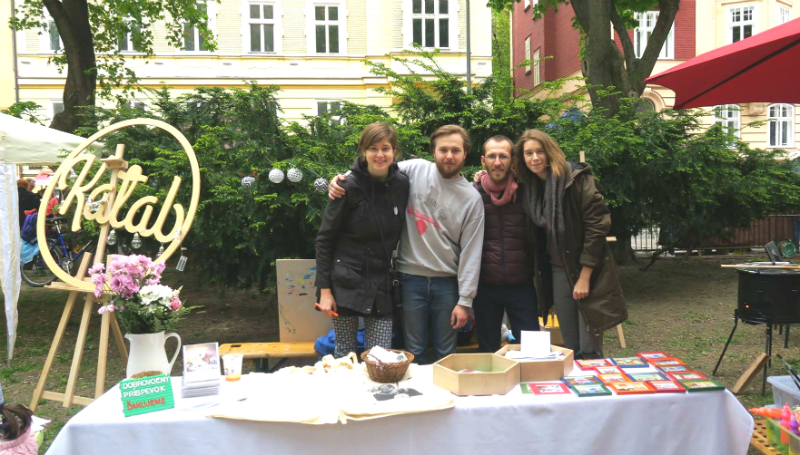 The heart of family NGO Kalab: (l to r) Zuzana, Stani, Vlado and Andrea.
Kalab is an NGO founded in 2016 by Bratislava native Andrea Kutlikova, 27, her boyfriend Stani, her sister Zuzana and her brother-in-law Vlado. Its mission is to create a space in Slovakian society to discuss topics not talked about, even considered taboo, related to minorities and their rights. For Bratislavians, Kalab manifests itself as an actual space in the old town of the capital city – a small centre for non formal learning.
'Kalab is our family NGO, and our small space really reflects that. It has a very intimate feel, not bigger than a grandma's living room. We can fit 25 people comfortably, 50 with extra chairs,' Andrea smiles. 
Soft approach battles prejudice
Extra chairs are needed often. Kalab houses some five events a week, from craft beer brewing courses to author readings, dance classes and theatre evenings. Education through art is an important strand of Kalab's activity, as it offers a space for artists, including art students, to exhibit their work. Kalab cooperates with other local NGOs to arrange and invite events to the space.
'People who attend the events then naturally come into contact with the values we represent, such as equality and non-discrimination,' Andrea explains.
Kalab's strategy of civic education is not one of preaching, but rather low-key. Andrea and her family furnish an open space for everyone where the values of dialogue and respect are tangible in the feel and 'DNA' of the space – this is the soft approach Andrea talks a lot about.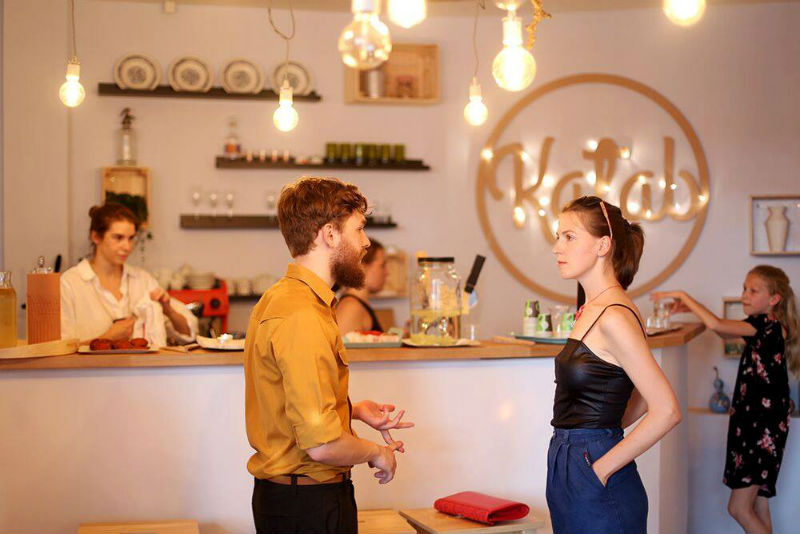 'Prejudice against, for instance, Roma people are deeply ingrained in our society. We cannot just rush into this topic head on. We often open the wider topic of discrimination with the theme of the Slovak minority in Hungary, Serbia and Romania to show that people we consider our countrymen are also considered a minority not far from home.
This paves the way for the Kalab people to eventually move into discussing Roma, refugees, gender equality, even LGBT people with their visitors.'
Andrea describes the minority politics of Slovakia as reactionary. Political rhetoric even from the top echelons of government scapegoats the Roma and refugees for societal ills.
'And this in a country that accepted a total of four refugees last year! I basically knew all of them,' Andrea exclaims. 
Furthermore, the opposition to investor magnate George Soros's civil society initiatives, associated with neighbouring Hungary, has its exponents in Slovakia as well.
Short-haired go hungry
Kalab educates also more directly. The NGO organises trainings for teachers on how to tackle topics such as minority rights, hate speech and fake news in the classroom. Andrea and her colleagues also invite groups of school children to playtime-discussions.
Once Andrea hosted one such group of school children: the intention was to discuss the Roma minority while playing board games. The group was not particularly receptive to Andrea's topic, with jokes and banter about Roma racial stereotypes filling the space. Then came lunch hour. Andrea promptly filled the plates of some of the pupils while others were left hungry. As the kids protested, Andrea explained that she had given food only to students with long hair.
'To many of the kids that was the first eye-opening experience of discrimination,' Andrea explains.
'I think they understood something that day. And I did feed the ones with short hair too in the end!'
Scant funding was a blessing
The finances for Kalab are secure for the moment. Fairly early on Andrea and the team managed to spark the interest of many NGOs and organisations, one of them Google Academy who now regularly rents out the space for their own functions, offering a steady flow of income for Kalab. Recently a cultural fund started providing additional funding, enabling the Kalab team to pay small fees for guest lecturers and other content producers. Up until very recently, the situation was more precarious. No project money or longer-term grants were in sight, and the founders had to pay the rent from their own pockets. Andrea sees a blessing in disguise in this:
'The fact that during most of Kalab's life we weren't been dependable on project money helped our credibility. We could say we had no "paid agenda" or that Kalab wasn't just a meal ticket for us.'
Andrea and her family still run Kalab as volunteers alongside their full-time jobs.
Erasmus inspiration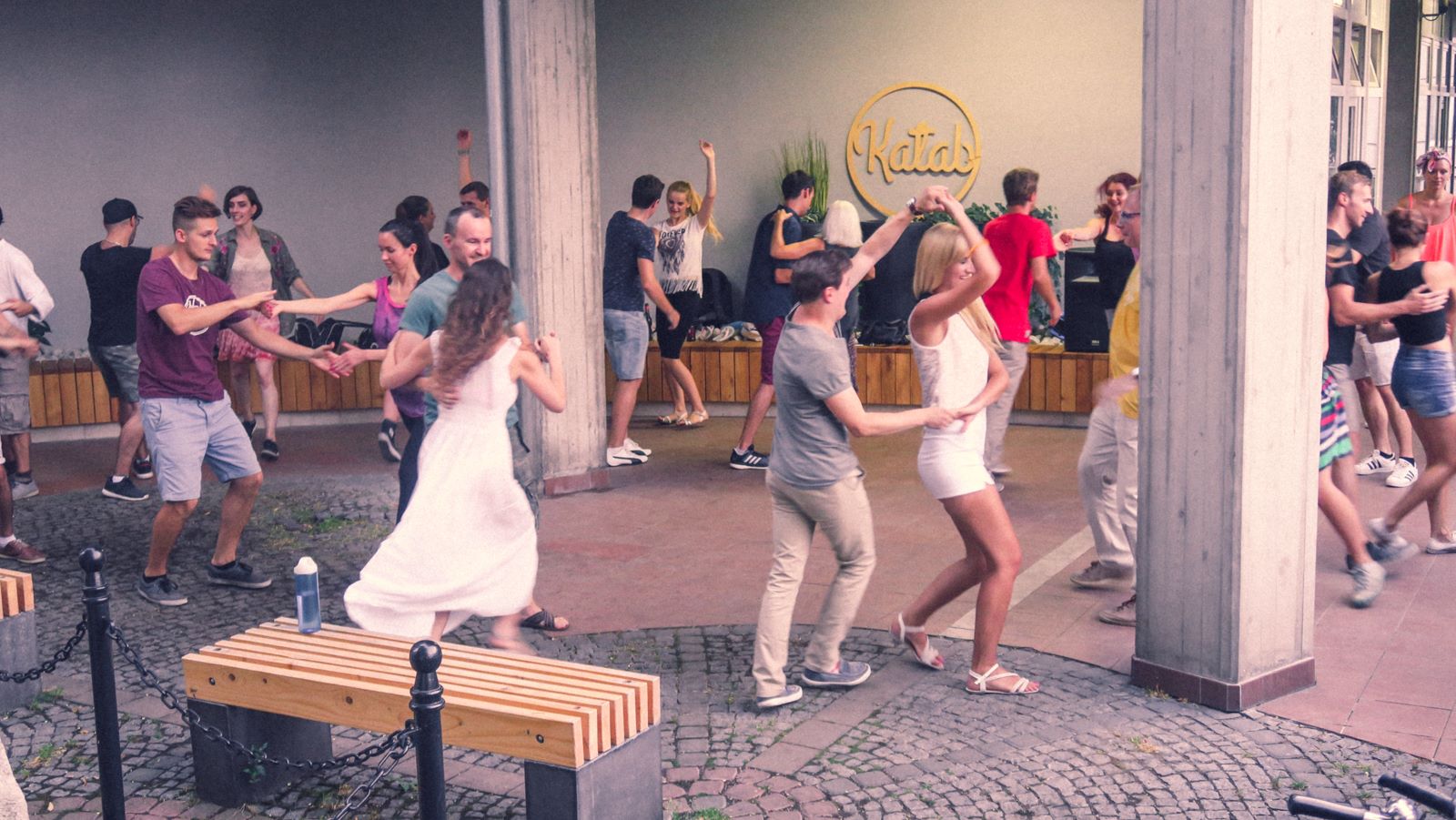 Kalab has now existed for over two and a half years. The urge for activism was fanned by Andrea's Erasmus work internship in Finland in 2015. Upon returning home, Andrea felt a great unease about the public rhetoric on minorities, having now a first-hand European comparison point.
'I had this sense of duty to do something. Add to this the fact that my sister and her husband had been thinking about a learning space on tolerance for some time already. My artist boyfriend brought in his ideas of art-based methods into the mix. Then we discovered this empty space was available for rent! We realised that there is never a good time to do something like this. So why not just do it!'
Soon, paintbrush in hand, quartet renovated the space that would become Kalab.
Over two years later, looking back, Andrea's feelings are a mix of pride and purpose:
'I never expected Kalab to be such a big part of my life. When I am behind the bar, an event is starting and I see people from young students to old folks from my neighbourhood – I feel blessed. Sure, we fight more often with my boyfriend as we now work together, but at least it is over something worthwhile!'
There is a feeling of urgency as well, balanced by a sense of momentum. In Andrea's view, popularity of far-right parties and intolerance are on the rise in Slovakia.
'I guess we are not trying to change the opinion of people as much as eradicating hate speech in our debates. Disagreement is fine, hate is not. When you learn about something you become more sensitive to it and, ultimately, there is really less hate in debate and society.'
Visit Kalab's website (in Slovak)
Photo credit: Kalab NGO
---
Markus Palmen is a journalist, writer and audiovisual producer, and a freelancer. Since August 2017 he has been EPALE's Thematic Coordinator for Policy. For eight years Markus was the Managing Editor and Editor-in-Chief for the European Lifelong Learning Magazine.