The E-Community House
By Astrid Søe, Danish EPALE Ambassador - http://www.astridsoe.dk/
Right before my grandmother died of old age, she sat in her nursing home and received patient instruction from my youngest son on how to upload videos to YouTube and how to use a smartphone. Was it a useful lesson? No, perhaps not, but it brought them together.
My grandmother could go to her grave the oldest YouTuber in history, and with a learning curve that – in spite of her dementia – could make any MBA student hang their head in shame.
We should never begrudge anyone for what they don't know, but we can begrudge a society that leaves no space for knowledge and learning
Life has a tendency to emerge all around, even where we least expect it, or to reveal opportunities for curiosity we didn't even know were there. You can always find – in the affection between two individuals, between generations, between peoples – an evergreen sense of co-existence, the moment we let go of formalities, of smugness, of our imagined selves. The moment we surrender ourselves to something new, something rediscovered, something liberating and something challenging. Lifelong learning, both of the formal and informal variety, is the language and the community that contains a formula for exchanges that are bold enough to let us accommodate each other's differences. For most people, it takes a lot of courage, in this age of infinite knowledge, to say out loud: "Well, I don't know anything about that at all, but I can surely learn." For the same reason, it can be extremely difficult for an elected representative to admit that it actually isn't easy having an answer to everything. And it is baseless to be of the conviction that cocksuredness and evasive answers inspire more confidence than the opposite. On the contrary, trust and confidence lie in doubt and in the places where it is permitted to show its face. We should never begrudge anyone for what they don't know, but we can begrudge a society that leaves no space for knowledge and learning. And it is somewhere there, in the meeting between grandmother and spritely grandson, that willful learning meets its maker. Learning happens regardless of whether we formalise it or not. It's as much an everyday occurrence as a shopping receipt or giving your partner a kiss on the check, so much so that we completely forget how meaningful it is. It is the wildest most beautiful gift, besides life itself, that learning knows nothing of age, of culture, of ability, attitude, or even of time and place. Learning is in all ways a behaviour that moves boundaries. 
"I've never tried that before, so I'll surely manage it just fine!" – Pippi
Over the last few years I have acquired what is known as a new skill set. It wasn't exactly something that was written in the cards for a middle-aged woman such as myself, otherwise found sitting comfortably behind her desk, but rather something that slowly crept in to my side of the bed. I have taken online courses in how to be a plumber and electrician; I've learned to build walls, lay pipes for district heating; I've learned carpentry, how to be an architect, a painter, a roofer, a concrete caster and a climate/energy/recycling nerd.
Is that something I wanted? I'm still not sure, but learning out of necessity is certainly an undeniable driving force. Today, a whole house stands in testament to my efforts. And it's a house that is not owned entirely by me, no matter what the deed might say. It is a house owned by all the people who shared their knowledge, free of charge, for others to use and learn. It is a genuine e-community house filled with the most unique roommates I have ever had in my life. In just a few clicks on YouTube or Google, it is possible to learn, absolutely free of charge, how to swing a hammer, build a wall or construct a timber frame. An entire library of life experiences in your pocket. And it's available 24/7. The library, the learning process, adult education; the school of life never closes and it is full of people who have gone to great effort, not for personal gain, but because knowledge is something that just simply oozes out of you whenever you have it.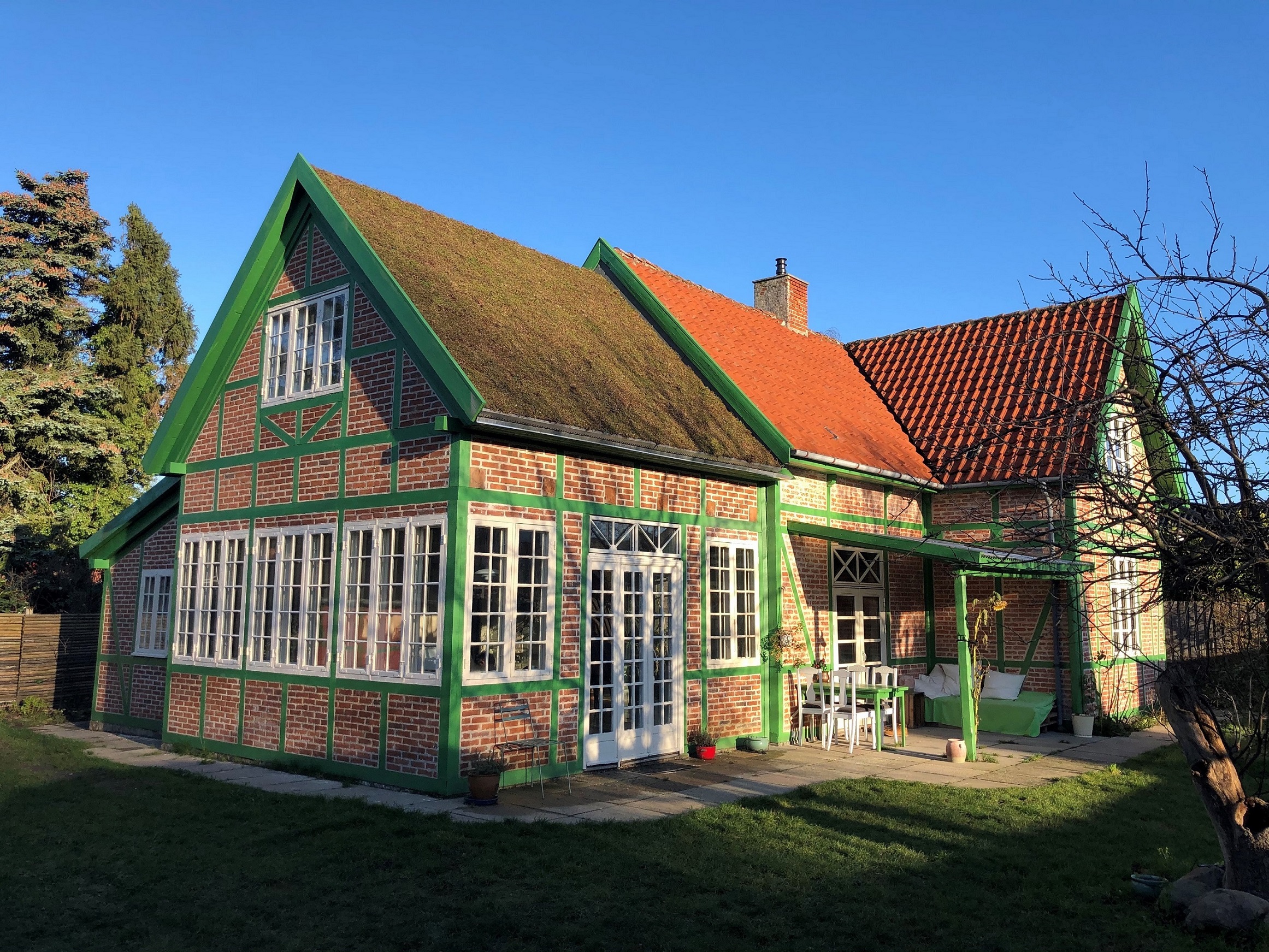 I can roughly estimate that it would have taken me 30 years of further training and retraining to learn all the things I did if I were to have a diploma in my hands as proof of my new skills. But luckily that's not the case, for good learning doesn't always need to bear a stamp or a grade. Out in the school of life, one can comfortably pull out a nail gun without being branded some kind of a learning terrorist, and there's not a soul alive who feels threatened by e-learning skills. Learning is something we give to each other; it's a community of necessity, a sharing of proficiency. We all learn together, as one. In a lifelong apprenticeship with one another.
One can sometimes ponder how human it is to share and convey knowledge, rather than to keep your cards close to your chest and hold one's knowledge in check. In many ways, our education system has come head to head with the learning practices of civil society. Freely available education without schedules or payment, versus our formal education system. From where I'm looking, we are moving slowly in the direction of learning across boundaries; and before the formal education system springs to roast me over a slow fire on a Weber barbecue, I should hasten to add that there's nothing wrong with a little healthy competition. Learning is everyone's goal, society's goal; it's a driving force in the school system and in teachers and students. We are never going to shut down formal education in favour of civic learning, and nor is that the goal, but I have a sense that the formal education system in Denmark is going to fall short of its demands.
Looking into the homes and classrooms of the country, it's clear to see that something's astir in how we learn. It may well be that Palle didn't get an average of five in Denmark, but on the other hand, he's also studying for a mini master's degree at Harvard via edX. Or he's studying history at Kahn Academy, or attending lectures in natural science on Brilliant.com and becoming completely engrossed in a world of knowledge on Greatcoursesplus.com. Perhaps little Palle is eight-years-old, perhaps he's 85. Maybe he's a new father, or maybe he's a CEO, a bricklayer, a school student; maybe he's unemployed, at hospital, housebound, imprisoned, a politician, depressed. And it's not just for the sake of it that I'm pointing a finger at the foreign programmes handing out certificates and lacquer stamps, either free of charge or for a fee. If you take a little tour around the many different education providers, you'll soon find your trust restored in the idea that the whole thing really is just about educating people; not poaching customers, but actually encouraging people to study further or to study again... When knowledge is set free, we know that even those most weary and distrustful of education and learning suddenly find themselves daring to try out new modes and methods, to discover opportunities across boundaries. With the development of technology comes new venues which displace us considerably and remove the formal walls and requirements that we otherwise come up against in formal education. I have a real hope that this love for communication and sharing will also spread to Denmark, so that we can all enjoy and benefit from university lectures, skills development and design.  And I mean right down to the bone – a real desire to form and educate people across boundaries. A little like the willful sharing we see in civil society.
The opportunities of life and the ability of the imagination exist to be shared among people, not to be caged up inside.
It's a development that moves me; or better said, it moves me forward. It could be enough to spark a learning movement if we want it to. The enlightened people who share fellowship, mutual benefit and mutual trust in the belief that knowledge creates responsible citizens and democratic standpoints. And that, which Grundtvig also fought for, should be without regards to one's background, allegiance, attitude, position, faith, standing (or character).
"An enlightened people can never be held down," I said a few years ago in a speech at a youth rally in Copenhagen. Education in life and for life is the true reflection of intellectual freedom. And the arrow is pointing in that direction. It's pointing to a young generation that has grown up in a (slightly too wild) culture of sharing. A culture where everything is shared, from that first wobbly tooth to nights out on the lash. And this trend is fortunately not coming to an end; it's a lesson that the young have embraced. And now they are sharing knowledge. They help each other to finish projects, to finish assignments, to come up with ideas. They share things free of self-interest or smugness. It's a phenomenon known as open source – and it is spreading all over the world. And why not share knowledge instead of locking it up and throwing away the key? The opportunities of life and the ability of the imagination exist to be shared among people, not to be caged up inside.
And what can we learn from civil society? From people? That lifelong learning is something we share with one another and it has come to stay, both online and in our communities.
And the more we dare to share with one another, the closer we get to the enlightened being - a being who is not limited by boxes or systems, but who operates in relation to the surrounding world and who dives head first into the deepest waters, unburdened by the fear of failure. This is something crucial which sparks a love for learning in the individual, not just in Denmark, but all over the world.
So just give me a call if you need some pipes put in ... or anything else, really