Donna Moore, a Community Story from Scotland, UK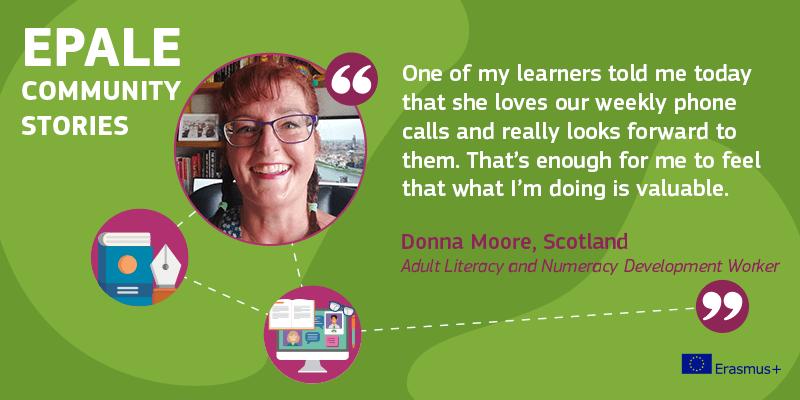 I am the Adult Literacy and Numeracy Development Worker at Glasgow Women's Library. I support women with their reading and writing in whatever form that might take. I work with some women who have never learned to read and write – for many reasons; they may have experienced abuse or trauma, or are refugees, or have a learning disability. Other women are going back to college after a long period out of learning, or want to write their own story, or do a crossword, or read a poem. I also get involved in lots of other things – creative writing workshops, drama, anything related to women's history.
I think I first heard about EPALE in 2016 when a bulletin either from Glasgow's Learning or RaPAL drew my attention to it around a question about gender inequality being posed on or around International Women's Day. I signed up and began to read the discussions and interact on the platform – not as much as I would have liked to have done, due to pressure of work, but whenever I was (and am) able to check in, there's always something of interest and some very thought-provoking discussions.
At Glasgow Women's Library we have a small ALN team (three of us working part-time) working from home at the moment. We work with women from all different backgrounds, cultures, ages, levels of ability - from women who aren't able to read and write at all, to women who are, perhaps, going back to college after a long break and want support with writing essays etc. Generally, most of the women we work with are vulnerable, isolated and prefer one to one sessions.
Everything we do is learner led.
We work with learners doing whatever they want  - whether that's writing a poem, doing a crossword, creating recipes, reading children's books, supporting them to visit an art gallery, writing a CV, applying for jobs, playing Scrabble...
When Lockdown started, I was really worried about our learners and how we would be able to provide support, but in the last few weeks I've been reassured by what we've managed to achieve and the creative ways we're finding to work with learners. Sadly, digital poverty is an issue - poverty in general is an issue, in fact. However, most of them do have phones, so we're using technology to keep in touch - phone calls, WhatsApp, Zoom etc. We've settled into our new normal with most of our learners being supported by us. We've developed documents with free resources for learners; suggestions for those with children to support with family learning, entertaining and educating the children while they're at home; and simple, visual details for learners as to how to sign up for Zoom using a laptop or a Smart phone.
Unfortunately, a couple of learners are struggling with bureaucracy, or are asylum seekers, or have health issues. Those we have signposted to appropriate organisations and ensured that those who are in need are receiving food parcels and other support. Some of the women have childcare or other caring responsibilities and literacy and numeracy has to be put on the back-burner for a while, but a phone call of support, and someone to listen to you, is really important.
One of my learners told me today that she loves our weekly phone calls and really looks forward to them. That's enough for me to feel that what I'm doing is valuable.
With many more, though, we're still creatively managing literacy sessions. I have a learner who loves Ancient Roman history and is working her way through a free course on the topic. We're reading the coursework together so I can support her with reading and comprehension. Another learner has a job where she needs to take minutes. I'm reading to her and she's taking notes and typing them up. We then share screens on Zoom and edit her work. This shared screen and Whiteboard facility on several online platforms is really useful for working on grammar, spelling, diary-writing and creative writing with several other learners. With another learner we're doing work around reading, comprehension and writing using the 100 most frequently used words in English. And one of my learners has signed up for a short course in Forensic Psychology. She's struggling with it - in terms of both content and motivation - so I've signed up for the course too, and we are doing it together. I'm going to make a great crime witness at the end of it! I've found online word games, word search puzzles, crosswords which learners and I do together, online.
We also have a small group called Conversation Cafe where women whose first language isn't English get together with a couple of tutors and... well, have conversations. This is now being conducted via Zoom and the women are taking it in turns to suggest a theme to talk about and write about. 
You know, it's actually very reassuring to write all that down and realise that we can still do useful and helpful work with learners in these strange times. Who knows, maybe after all this is over, we can continue digital provision to reach even more learners who are unable to come to GWL for whatever reason.
---
We're looking forward to hearing your story. Share your story today!