Well developed life skills are necessary for further lifelong learning
*** He who devotes himself to learning (seeks) from day to day to increase (his knowledge)! Lao Zi, Chinese philosopher***
I like to learn and I believe in lifelong learning!
Was it always like that? Actually yes! As an elementary school student, like most students, I looked forward to the holidays. Firstly because my family and I went on a short vacation to the seaside every year, and secondly because I was looking forward to being a teacher myself during the holidays!
I spent every summer with other children from our street, and a few days always with my grandmother and grandfather together with my younger brother and two younger cousins. We used to play "schools" in both environments, where I took over the role of the teacher!  I made my students notebooks of ordinary paper and asked my mum to buy me a set of stamps so I could use them, besides the red pen, to evaluate the activities of my students. I made up various tasks, prepared arithmetic and mental loops and puzzles, guidelines for making a comic book my students had to make, etc., while also paying attention to their age and abilities. We arranged our learning corners on a shady terrace, on a meadow, neighbour's garden or simply on the streets where we could put into effect all of our curricula. I also made a schedule, including mathematics, Slovene language, classes about nature and physical education, while also taking care of breaks and meals. Well, I appointed my grandmother for the meals and she'd happily make fine snacks and lunches, and sometimes there was a neighbour happy to invite us for a lemonade and fresh apple pie for such good children who were playing "schools" during the holidays.  Since then, there has been a desire in me to work with people. The desire to share knowledge. 
As a student, I was active as an assistant to mentors employed in the PLYA programme (Project Learning For Young Adults), and later I got my first regular job there.  The PLYA programme is an accredited non-formal programme for those who leave elementary or secondary school early and are between 15 and 26 years old. (Find more on the programme at: in Slovenian, in English). We could say that the programme devotes great attention to the development of life skills, which are weak in this target group or at least part of them are at a very low level. 
"The PLYA programme develops various capacities for lifelong learning, even though the most special emphasis is placed on only some of them, namely: • Literacy (i.e. "communication in mother tongue") • Communicate in foreign languages • Mathematical competence • Digital literacy • Lifelong learning (i.e. "learning of learning") • Social and civil competences • Self-initiative and entrepreneurship • General education / knowledge (i.e. "cultural awareness and expression", "natural science", "technique") (Javrh P., Možina E., Kuran M., 2011, p. 12-14)
I was delighted to work on a programme where new skills were gained and young people encouraged to return to the school bench or seek employment. The objective of the programme and mentors was to ensure the participants are active and socially included. I believe I was more a role model for many of the participants at that time, since I was finishing my studies and was more independent than they were in many things.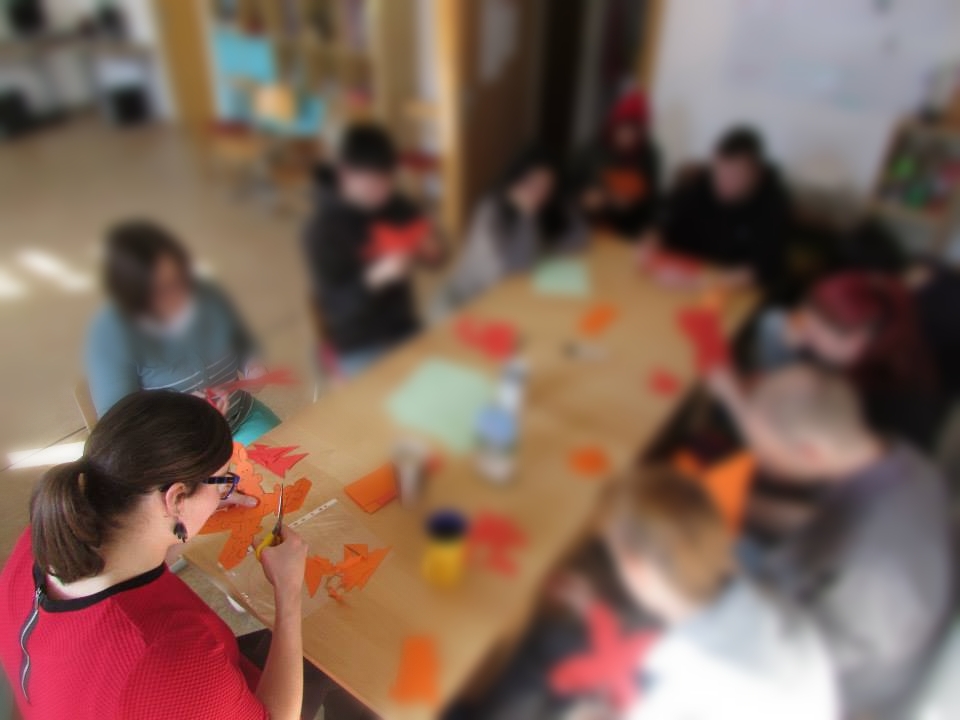 I remember well how we trained these young people in some things that I found completely self-evident at the time. Some had issues with reading and understanding the text they read, others had never filled out a form or written a letter and gone to the post office to send it. These skills were important to them then, as they had to learn to fill out a form if they wanted to re-enter their selected educational programme. It was also important at the time to be able to write a letter or job application letter and the CV, to put it in a suitably prepared envelope and post it.  We also learned how to bake bread, arrange a personal physician and healthcare insurance, call the Social Work Centre and ask for information – therefore, we were training in life skills that are relevant for every individual! Although I thought I was the one teaching my participants, I learned so much from them. The stories they started telling me after they felt that we established a "safe and confidential environment" somehow gave me an insight into why some of their skills were at such a low level. We made many difficult life situations easier thanks to therapeutic writing and two collections of stories were created at that time by both mentors as well as programme participants. The participants' stories are anonymous while mentors and professional associates of the programme shared their views and experience. 
In such moments, the importance of learning and education is even more evident. Whatever kind of education – formal, informal, occasional; it is important for us to be active and that curiosity and learning are the driver of our lives!
"The results of the Programme for the International Assessment of Adult Competencies (PIAAC) survey point to a worrying lack of fundamental skills throughout Europe, with one in five adults facing problems in the sphere of basic texts and mathematical skills; one in four adults has a very low level of digital skills. There is also a worryingly large number of adults in Slovenia who do not have adequate fundamental skills with regard to the results of the PIAAC survey. By ensuring appropriate and relevant programmes for this target group, we help them to surpass the low level of skills and, at the same time, empower them to contribute to personal and family development and the development of the community." (Javrh P. and Možina E., 2018, p. 4) One such programme is the above-mentioned PLYA, which is professionally supported by the Slovenian Institute for Adult Education and financially supported by the European Social Fund's budget under the Operational Programme for the Implementation of the EU Cohesion Policy in the 2014-2020 period.
Since 2016, I have been a member of the National Support Service EPALE Slovenia where my role is slightly different since I have no direct contact with adult learners. However, I still like to follow the stories of professional workers who share their experience on EPALE about working with various target groups of learners and every once in a while, in my spare time, I find myself in a role of the leader of a group of learners. This is how I still feel actively involved with the practice in this field.  For learning, it is often vital to set an example! I have been active in the field of youth work and adult education for over 10 years and I meet various target groups in one way or another.
By lecturing or motivating them to learn and educate, I often face the thought "How can I demand my 'students' be enthusiastic about learning, be hard-working and motivated if I myself have done nothing in this field for many years?" In general, this thought overwhelms me with the groups of adult learners who, besides being involved in education (which can be internally motivated or conditioned from the outside), also have the worries daily life brings. Have you, fellow teachers of adults, ever stepped into the shoes of the opposite side, imagined yourself in the role of a learner who wants or needs to gain some new knowledge?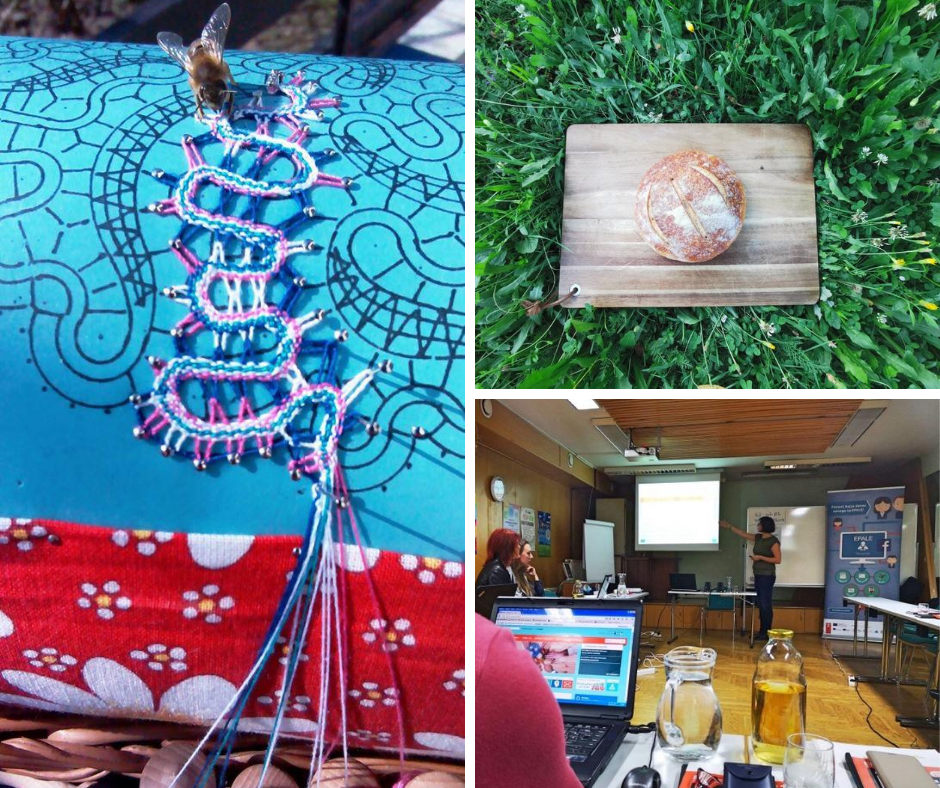 For many years now, I have set a goal to learn something new every year. So I attended the bobbin lace course and learned the basics, I learned to bake sour bread and bakery products from wild yeast, and last autumn, I continued my studies and hope to successfully complete them in a year or so.
I should conclude my contribution with the thought that it does not matter how or in what way we learn: in a group of classmates, alone, online, through a video course... it's important to learn and that lifelong learning becomes a value. 
Maruša Mohorič is a keen adherent of adult education who occasionally finds herself in the role of the leader of a group of learners. She is also a member of the National Support Service EPALE Slovenia operating in the framework of CMEPIUS - The Centre of the Republic of Slovenia for Mobility and European Educational and Training Programmes (Erasmus+ National Agency) .
***************************************************************************************
Literatura: