"Digital Second Chance Opportunities" project and problem of early school leaving
"Digital Second Chance Opportunities" project and problem of early school leaving
Early school leaving significantly limits the chances of young people on the labor market. Continuing education usually means better employment opportunities and range of individual benefits (e.g. health) as well as social and economic benefits for the particular country (including greater economic growth and social cohesion). (Eurydice: Tackling  Early  Leaving  from  Education and  Training  in  Europe:  Strategies,  Policies  and  Measures, 2014).
This issue is therefore important. The most common reasons for leaving the education system are well known to educators. These are, among others, family pathologies, parents' neglect, influence of colleagues, difficult economic situation, premature pregnancy, but also other reasons such as health problems or emigration. The problem of early school leaving usually concerns people aged between 18 and 24. Although the situation is different in EU countries.
CKU Sopot is public, adult education and VET provider, experienced in implementation of international projects. Since 2001, members of this Center implemented many projects in the field of education. These were projects addressed for different groups of people. Several recently implemented projects concerned second chance education. The Digital Second Chance Opportunities Project (DISCO Project) is one of these initiatives. DISCO was carried out between 2014 and 2016 by experienced practitioners from Belgium, England, Germany, Italy, Poland and the Netherlands. The project was implemented with the support of the European Commission under the Erasmus+ programme for 2014-2020. The main objective of this project was to improve the quality of second chance education and, consequently, also to increase the chances of students on the labor market.
WHY THE DECISION ABOUT JOINING THE PROJECT IN THIS FIELD?
Teachers of CKU Sopot are aware about importance to constantly improve their professional skills in order to increase the attractiveness of their classes and the effectiveness of their work. This may in turn increase the motivation and interest of young and young adult in learning process, finally to increase their competences. That is why the idea of DISCO project was important to CKU Sopot. Moreover, project offered the opportunity to promote the value of adult education through planned interdisciplinary activities, including interinstitutional activities (cooperation between educational institutions, the labor market and social sector). Taking such initiative also gave hope for implementation of new activities aimed to increasing chances of participants on the labor market - one of important tasks of the school.
WHAT ARE THE PROJECT RESULTS? HOW THEY HAVE BEEN ACHIEVED? DOES THE PARTNER GROUPS STILL USE THE RESULTS?
The results of the project are available at SecondChanceEducation.eu - the European wide online platform for second chance education. Concrete tools creating the opportunity to think and act borderless in European second chance education are ready to be used. These are as follow: grading system for good practices for teachers, tools for working with beneficiaries and validation international placements, collection of training offers contributing to professional and personal development of staff improvement in teaching and learning and finally self and peer evaluation systems for both, professionals and education providers.
These tools are nowadays being further improved and tested as a part of subsequent international projects that have started recently. These are: EPODS (further development of SecondChanceEducation.eu), CAPE (www.cape-project.eu) and SEPLO (www.seploecvet.eu). EPODS is going to develop online learning modules for teachers in second chance education, on a wide variety of topics such as: (a) Using digital devices for added value in classes, (b) Mentoring skills, or (c) How to handle misbehaving students. Additionally it is planned to build an e-portfolio in which teachers can evidence which trainings they have taken, and an e-learning creation tool so that also non-technical teachers can easily convert their own material into an e-learning session for their students. CAPE and SEPLO are both focused on VET students. CAPE is about strengthening soft skills while SEPLO is about making it easier to use ECVET for high quality international mobilities.
ACTIVITIES ADDRESSED TO THE PARTICIPANTS OF THE PROJECT
The DISCO project contained an element of international job mobility. Young people from England, Germany, Poland and Italy took this opportunity. The organization of this type of work experience was a big challenge from the beginning, as the initiative was aimed to people socially excluded or at risk of such exclusion. Organization of student's internships has already a long tradition but such projects for second chance learners is a challenge. As the intention was to test the results of the project before, during and after the mobility, such work placements were important initiative in the project.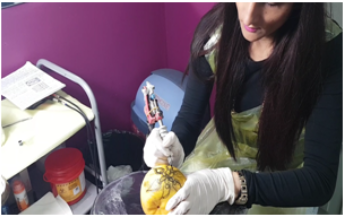 Amani K. from the UK in Ladies tattoo studio "Swiost" in Sopot, Poland
Objectives of the work experience placements were: to enhance students' familiarity with the world of work and enable them to reflect constructively on issues related to work; to assist students to evaluate and understand how work experience relates to their personal/career and future professional development; to develop employability skills, intellectual skills, core or key skills, personal attributes knowledge about different cultures and how organisations work; to develop social and linguistic/language skills and finally to monitor and evaluate the learning and other outcomes.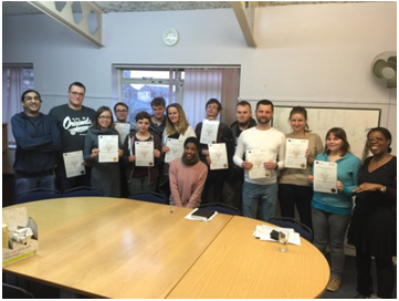 Polish participants in Bristol with their certificates
WHAT WAS THE ROLE OF CKU SOPOT IN THIS PROJECT?
Teachers of CKU Sopot face many challenges in work with people who after a shorter or longer break return to education. All students have usually rich and different experiences (life, education, professional...). Teachers are aware that schools are often accused of not being able to help students to acquire the skills which they need to have in modern reality. Development of those skills is treated too often as something that is reserved only for those who are interested in personal development. This is also opinion of employers who expect from their potential employees not only knowledge but also competences like i.e. communication skills, ability to work under pressure, teamwork skills and many others. Projects like DISCO are about to change such situation. Thanks to DISCO project, teachers from CKU Sopot were able to exchange experiences with colleagues from second chance schools in the European Union. They also could participate in the development of the results. Finally they tested and validated them in their daily work in the last phase of the project.
WHAT IS THE BIGGEST ACHIEVEMENT OF THE PROJECT?
On the one hand, there were new contacts with employers, exchange experiences with practitioners form second chance organizations as well as the effects of two years of work presented at www.secondchanceeducation.eu. On the other hand it was the experience of second chance learners themselves. The best testimony for the project are the opinions of young participants. Hear the students' voices: participants from Sopot about the experience gained during the apprenticeship in Bristol and their peers from England who came to us to get to know the realities of work in Poland. Watch short videos from project implementation:
Erasmus+ Programme,  Action KA2, Strategic Partnership.
This Project has been founded with support from the European Commission. Project was implemented between 1.09.2014 and 31.08.2016. This project reflects the wives of the authors and the Commission cannot be held responsible for any use, which may be made of information contained therein. Agreement no 2014-1-DE02-KA204-001549.