Development of Elderly's Digital Skills Through Family Learning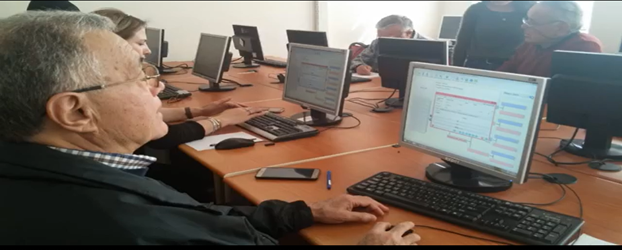 Learning is a lifelong process, no matter how old individuals are. The fact that individuals of all ages are in a continuous learning process is the real sign of their existence. Compulsory education processes are legally carried out by the governments. However,  an education/ learning chance or different activity field has not been established for many years, especially in the post-retirement lives of individuals over a certain age.
In our region where we operate as Nazhayat, the adult population is quite high. Nazilli is known as a place where 'the longest living people' are on a country basis. In the province we live in,  approximately 20% of the population is over the age of 50 and 45 people are over the age of 100.
Activities are organized by Nazhayat to add a new dimension to these people's lives. The effective methods used in the EU project called 'Learning Tree' conducted by the Public Education Center in 2019-2020 are the applications that can be used in our Development of Elderly's Digital Skills Through Family Learning project.
The method and expected goals used in this project will lead to positive life changes in individuals and enable us to continue the life process healthier in our ageing world.
The education process, which touches on the main themes such as intergenerational solidarity, the ability of individuals to lead a more positive-healthy life, the transfer of experiences and experiences, the development of digital competencies, and past genealogical heritage, consists of two stages.
It is important that the number of participants should be balanced. If possible, inviting an equal number of young and adult participants will help us achieve more positive results in terms of productivity. In fact, if the participants come with their own elders or grandchildren, it will allow us to achieve even more positive results.
 ICT USAGE
Most of our adults, who are behind the rapidly advancing technological developments, have remained in disadvantaged groups. Participants are given a basic computer course on the following topics, each of which is 90 minutes. During these activities, an adult and a youth match is made to create a common working environment.
- The acquisition of practical skills related to ICT
- Ability to create text and edit it.
- Copy, paste of the text, edit
- Entering the photos, resizing
- Copy, paste the photos
This is a transition period for the second phase and may not be implemented if your participant profiles have sufficient PC usage skills. However, shortcomings may arise for general objectives. 
  Family Tree –Genealogical Tree
You can use it when you are sure that the participants have sufficient PC skills.
Implementation:
Each participant should attend the workshop with their computer and family photographs.
It is a workshop to be held under the supervision of a computer teacher.
An appropriate application on the net is installed on personal computers and interface and language options are made by all participants with the help of the tutorial.
The activity, which can also be applied in the form of pair work, aims to help, build self-confidence, reinforce digital competencies and increase intergenerational communication and cohesion.
Throughout the process, participants are expected to develop and practice the following activities.
- online search
-program download and installation
- ability to execute basic commands
- uploading photos from the computer to the program
-photograph shaping, adding text to the photo
-saving the created product
- output printing
Special objectives;
The interactive work is expected to affect the development of individuals in different ways. These expectations can generally be summarized as follows;
- ıntegration of individuals of significant age into society
- gain digital competence at a level that can meet the basic needs of adults
- consolidation of intergenerational solidarity
-combining experience and skills
-developing empathy skills in adults and young people
- strengthening family ties
- keeping alive and transferring traditional and spiritual values that are about to be forgotten in the society