DESI 2020 and the alarming slow growth of EU citizens with basic digital skills!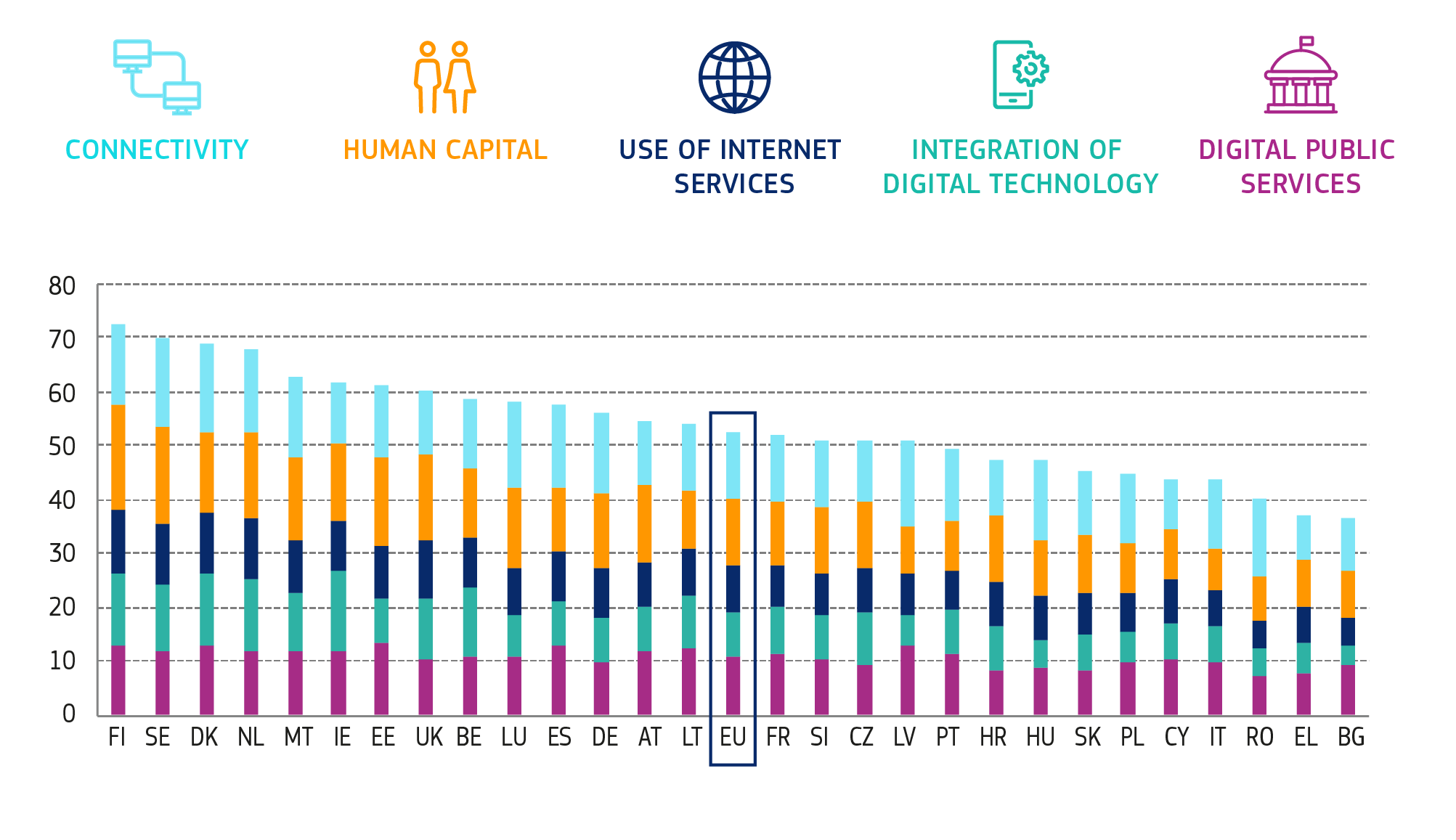 The Digital Economy and Skills Unit of the DG CONNECT has recently published the Digital Economy and Society Index 2020, based on data collected by Eurostat in 2019. The results show a slow progression in the acquisition of digital competences, as the number of EU citizens with insufficient digital skills drops by just 1%, from 43% to 42%.
The report says:
"Throughout the last 4 years, the level of digital skills has continued to grow slowly, reaching 58% of individuals having at least basic digital skills, 33% with above basic digital skills and 61% of individuals having at least basic software skills. The skills indicators are strongly influenced by socio-demographic aspects. For example, 82% of young individuals (16-24), 85% of those with high formal education, 68% of employed or self-employed people and 87% of students have at least basic digital skills. By contrast, only 35% of those aged 55-74 and 30% of the retired and the inactive possess basic skills."
This impressive last statistic confirms and further emphasises the relevance of the EPALE community in contributing to speeding up the exchange of good practices in the field of adult digital education.
Indeed, although an update of the index with the 2020 data (following the three months of the COVID-19 lockdown) would likely show a positive trend in adults' digital literacy, this result will not be sustainable without the introduction of adequate supporting measures, at both an andragogical and a social level. Therefore, taking advantage of the revision of digital-related action plans and policy frameworks in view of the upcoming programming period 2021-2027, it is of utmost importance that EU institutions and national educational authorities widen the scope of their priorities and actions to the formal and non-formal adult education sectors.
In order to do so, they would be wise to include specific actions aimed at adult learners in Priority 2 - "Developing the relevant digital skills and competences of all citizens" - of the new Digital Education Action Plan. This includes calling all public and private entities involved in the planning and delivery of lifelong learning to cooperate towards:
the development of new forms of digital inclusion aimed at empowering all European citizens, especially those from disadvantaged groups, to progressively become digital prosumers and real factors for change in the sustainable growth of society;
the provision of flexible and citizen-centred tools and approaches for the (self)assessment, development, certification and recognition of basic and advanced digital skills;
the design of community based digital services and products that ensure a safe and democratic participation in social and civic initiatives across all borders and physical obstacles.