Coaching – Alliance on the path towards Objectives in Adult Education, Part I
"This must stop." This sentence is often heard from people who have already thought of coaching. I tried to make a step forward, but I did not succeed.
Peter is 27-year graduate candidate who has been trying to complete his degree during the recent two years, but failed. He cannot find motivation to complete his studies and even began to doubt if he selected the right study programme.
Mateja has a well-paid job that most would consider a dream job. However, she finds it difficult to go to work. She is thinking about entrepreneurship, but does not have enough courage and self-confidence to make a decision. She is not even convinced that she wants that in the long run. So, how to decide?
Tanja is a HR Manager of a large company. Her superiors demand that she is decisive and clear actions. Her co-workers often experience her communication as "curt", however, when she conducts recruitment interviews and accepts or rejects the candidates, she often finds herself on the verge of tears, while she cannot sleep at night when she finds out about the fate of workers. How to find internal peace, stability and flexibility?
Listed above are the three typical examples of individuals who decided to seek support from a coach due to their personal or business situation.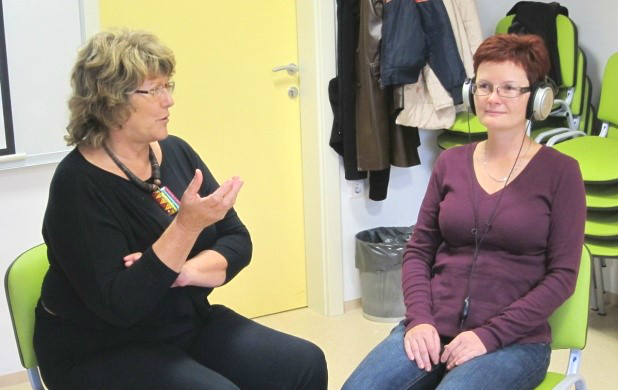 Application of music during coaching
What is coaching?
Coaching is the active monitoring of an individual in his path of attainment of personal or business objectives which are important for himself or his team, whereby we promote the application of current or hidden sources of energy to achieve the desired change. Coaching is a confidential conversation during which questions, active listening and targeted actions activate our potential and overcome barriers.
During the recent decade coaching has become a dynamic, growing activity which connects multiple fields. The roots of coaching reach as far back as the classical antiquity, when philosophers provided coaching at the Olympics to improve the results of athletes.
During the 70s of the previous century coaching found its way into the dynamic changing world and connected itself with philosophy, psychology, business sciences, adult education and even sports. Important therapists, counsellors and psychologists who played an important role in the application of coaching in the field of human resources comprise Carl Rogers (psychotherapy), Timothy Leary, Ida Rolf, Buckminister Fuller, Virginia Satir, Fritz Perls, Gregory Bateson, Stanislav Grof, Seth Godin etc. Another important factor in the development of coaching is also the NLP (neurolinguistics programming), represented by Richard Bandler, John Grinder and Robert Dilts.
Since 1995 coaching in the field of business and personality is blooming. Perhaps social crises bring a time, when coaches will get a true opportunity to help people reshape their lives/careers and improve relations at work.
Coaching and Adult Education
Coaching offers a broad range of new skills, tools and approaches for working with adults whereby it deviates from the typical communication of information, teaching, offering of "recipes" and advice from other's own experience.
It activates pure internal strength, which is achieved through a special range of questions, specific detection and disclosure of hidden and unconscious potentials with which we motivate the individual to take the life into own hands and determine authentic objectives that are valuable that the individual seems valuable.
Coaching can help adult educators see the background of individual's achievements, motives and ability, and equip them with special sensibility required for finding the levers which activate change.
Coaching further provides educators with precious skills used to guide (but not offer advice), ask meaningful questions (without providing the answers), support (but not help), encourage (but not limit or make the person coached dependent).
This is why coaching constitutes a significant step forward in the field of counselling in adult education as it promotes RESPONSIBILITY FOR SELF-RESPONSIBILITY and offers clear answers to the question HOW?
The coach offers the non-mandatory introductory interview, explaining the course, objectives and monitoring of progress. The coach agrees on the criteria of success, sometimes in cooperation with the supervisor.
The Coach asks numerous questions; he is a neutral partner, provider of feedback, he highlights new perspectives and caters for the application of all, including unconscious potential. Meetings are personal and can be carried out by phone or email. Typically, the number of meetings ranges from 5-9.
Good coaches are characterised by the fact that they do not promise a royal path, but provide motivation for pursuing unknown new paths, by offering unlimited confidence in your internal strength and abilities. This is another version of the activity called experiential LEARNING for life.
In the following part: What are the characteristics of a good coach and what is his role in adult education? What are the limitations of coaching and how does coaching different from other forms of learning?
---
Nada Mulej, professor of Slovenian and comparative literature, NLP trainer, NLP Master coach (INLPTA) and limbic coach, former advisor of the Slovenian Institute for Adult Education for adult education methodology has over 20 years of experience in adult education and over 10 years of experience in coach-training, while she is also a top level coach (over 100 business and personal coaching processes with individuals) at businesses and public institutions and, individually for adults, younger adults and the unemployed. She is also the director of the company Sledi (www.sledi.si).
Sources:
Trainingaktuell (Magazine) 2013–014: www.managerseminare.de;
Choice Magazine, volume 2013–2014:
Asgodom, Sabine: So coache ich, Muenchen, Koesel-Verlag, 2012;
Mulej, Nada: interno gradivo za izobraževanje NLP Master coachev (INLPTA) in gradivo Tržnica idej za trenerje, predavatelje in coache, April 2014 (webzine);
Mulej, Nada: Rdeča nit – sam svoj coach v času sprememb, Žalec, 2012;
Schmid, Bernd, Koenig, Oliver: Train the Coach, ManagerSeminare GmBh, Wiesloch 2014, http://www.schoolofcoachingmastery.com.