Claudia Gaspard, a Community Story from Belgium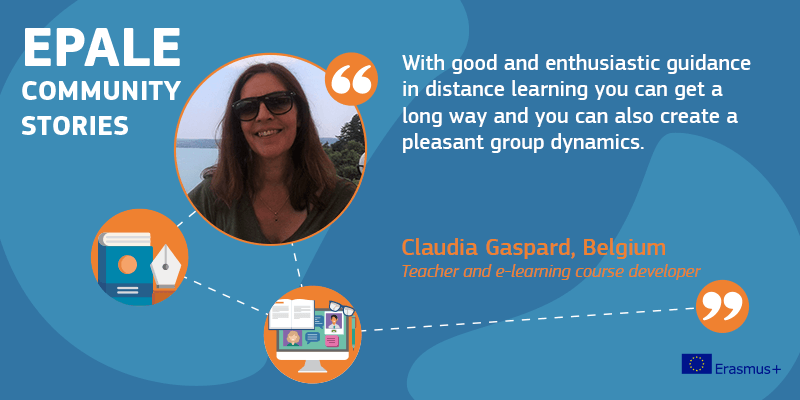 I graduated in 1986 with a Master's in Applied Linguistics (translator). I first started out working in the private sector. For ten years, I gained experience in the petrochemical industry working for companies such as BASF, Bayer and other multinationals in various fields including marketing, IT, purchasing and sales and logistics. I then worked as a purchaser of raw materials and packaging with the organic detergent manufacturer Ecover. In around 1996 I made the switch to education. I worked both as a German language teacher and as a mentor / coach for distance learning for the Flemish Government until about 2007. In the field of distance learning, I also worked as a teacher on an online course development and I was the author of several written courses. Since 1999 I have been teaching at GO! CVO Antwerp. I began teaching German and Dutch as a Second Language, and then Business Dutch, Culture, Society, Organisation.
At GO! CVO Antwerp, I also develop online courses and have found a lot of new ideas from different Erasmus + training courses in Austria, Italy and Greece. In addition, we have participated in various Erasmus projects such as GI- WHAT on gender issues in education and DIDO-Dropping in the dropouts. We have also visited colleagues who work in adult education in Denmark. In December 2019 I had the opportunity to participate in the contact seminar on 'Digital Competences in adult education' in Cologne, where I also met a number of colleagues. I love art, culture, nature, cycling, hiking, traveling, reading and my city Antwerp, where I recently became a city tour guide.
If your are curious, you can get more information on me on: https://www.linkedin.com/in/claudia-gaspard https://www.pinterest.com/cgaspardOPENCVO/boards/
I found out about EPALE through the Erasmus projects and trainings, and at educational conferences such as https://oeb.global/. I follow the EPALE news via LinkedIn.
At GO! CVO Antwerp a number of our students have been studying entirely through distance learning since 2012. During the lockdown, this group often had more time than usual to study and to do their assignments. By setting up forums, making all assignments available and by giving extensive feedback they were and continue to be encouraged to exchange experiences and occasionally encourage one another. On the other hand, those students who were used to face-to-face teaching at our school were suddenly forced to switch to distance learning when the lockdown was imposed. This was not always easy for them. Furthermore, a number of our students have difficult home lives. 
The lack of laptops, PCs and reliable WiFi connection proved to be an obstacle to a smooth transition.
Other students went through hard times mentally or had to leave the lessons to take care of family or help younger children at home. Primary and secondary schools were closed until recently. Some students turned out to be completely unreachable despite emails and personal phone calls. The good news however is that those students who did have access to the necessary laptops, suddenly noticed that they really had no problems with distance learning. The teachers mainly provided assignments (with flexible deadlines). We agreed not to teach too synchronously in our department , but instead we favored meetups via Google Meet to help answer students' questions. Thanks to this crisis, we have focused now even more on blended learning and distance learning from next school year onwards. We are already working hard to develop additional training on digital skills for teachers.
Of course, it will be very important to provide as many students as possible with the necessary laptops, so that they too can work from home without problems in the future.
Distance learning will never completely replace face-to-face learning. Online teaching does not give you that same chance to exchange real-time energy.
But with clear and engaging guidance you can go a long way and you can also create a successful group dynamic. Distance learning is an excellent solution for those who - for all kinds of reasons - cannot always come to school. That much is certain!