Céline Ancelet-David, a Community Story from Luxembourg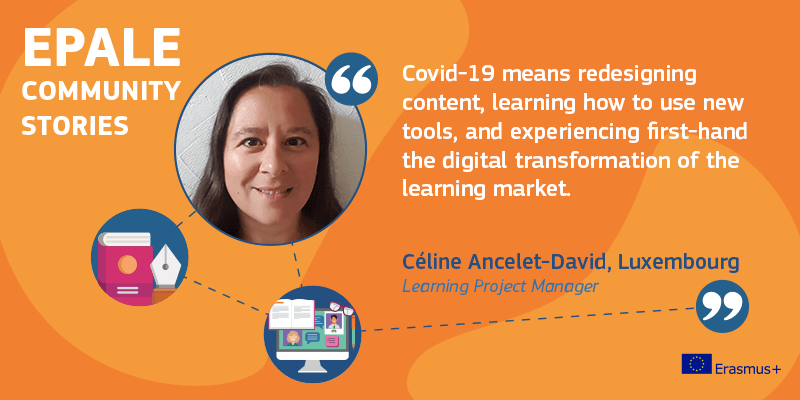 I am a Learning Project Manager for IFE Luxembourg by ABILWAYS. I have been working in Learning & Development since 2006, both in Luxembourg and Madagascar, following a Master's degree and a 12-year career in Marketing & Communications in both Canada and Europe. Over the years, I have also specialised in HR, Management and Project Management, focusing on the development of soft skills.
I heard about EPALE through a presentation that was organised by the national institute for the development of continuing vocational training in Luxembourg in 2018. Since then I have been consulting a number of different resources and I have also looked into some projects. I hope to become more engaged in the future.
COVID-19 forced the organisation to rethink and develop more distance learning activities than we previously offered.It gave us the opportunity to repackage our offer in order to help our learners to find the training programs that suited them best at that particular time.
We continue to offer MOOCs. We reviewed the planning of a part of our regular training sessions in several 2-hour online sessions and we organised webinars covering the latest news in a bid to address our learners' concerns. The sessions we are currently running have been positively received both by learners and trainers. For many this new experience is enriching.
It means redesigning content, learning how to use new tools, and experiencing first-hand the digital transformation of the learning market.
Nevertheless, we are also seeing that some companies are still relatively reluctant to engage in online training and when possible, they are currently choosing to defer their registration to the next potential face-to-face training sessions.
COVID-19 has forced businesses to make many changes all at once and we believe its impact on the adult education organisation will continue to be seen for a long time to come. Slowly but surely, the market will adapt and will become more positive about, and dependent on, online training solutions.
---
We're looking forward to hearing your story. Share your story today!