BREAKING NEWS: ADULT LEARNING IS GOOD FOR YOUR HEALTH AND WELL-BEING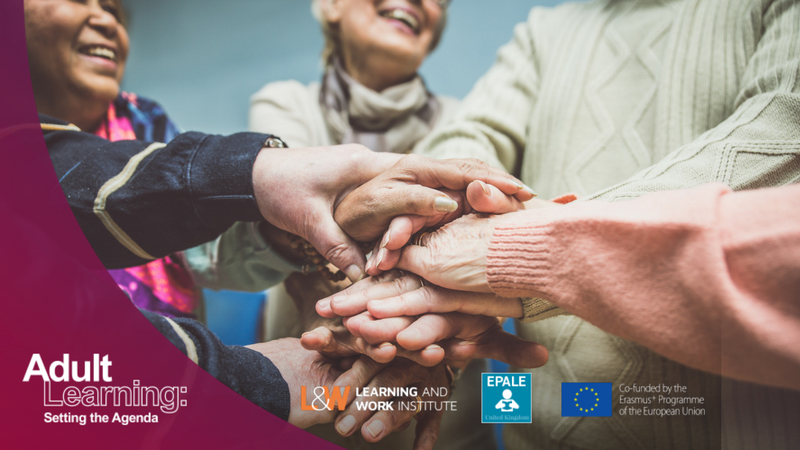 Hardly news, is it? The evidence has been around for some time. In fact, successive UK governments have invested in collecting more evidence on what makes adults healthier and better able to manage their health and that of their families. The Marmot Review (2010) looked at the social determinants of health, one of which is education. The multimillion pound What Works Well-Being Centre (2014 to now) is tasked with using evidence to "produce practical guidance that government, businesses and communities can use to help improve wellbeing across the UK." The Community Learning Mental Health Pilots (2014 – 17) has been testing out whether short, part-time community learning courses help people develop strategies to manage their mild to moderate mental health conditions.
Just a few of many studies that try to unpick the undoubted correlation between education level (or participation in learning) and the likelihood of being healthier.
So runs the argument of last year's Third Global Report on Adult Education and Learning published by UNESCO's Institute for Lifelong Learning. What's more, our health is largely socially determined. Sixty percent of health outcomes can be put down to socio-economic factors and our physical environment. If the majority of health outcomes are socially determined, ensuring good health is therefore a multi-disciplinary issue and not the sole preserve of healthcare professionals.
So what are the major health challenges we face in the UK today?
Firstly, we are an ageing-population. As we live longer, the likelihood of having long-term complex conditions is greater. What's more, the health cost of treating adults increases across the life course.
Secondly, the way we live now has detrimental effects on our health. Lifestyle factors such as smoking, alcohol usage, lack of exercise and poor diet all cause longer term health issues. The current incidence of childhood obesity predicts that this problem is set to continue.
Thirdly, it is estimated  that one in four adults in Britain will experience a diagnosable mental health condition this year. Mental health is often linked with the concept of wellbeing: confidence, optimism about the future, a sense of control over our lives and supportive relationships rather than merely an absence of illness and symptoms.
In addition, there are health inequalities between European countries and within them, even in the same city. The gap in male life expectancy between one part of Glasgow and another is fourteen years—on the same bus route! But the issue is not just the difference between the richest and the poorest; there is a 'health gradient' that affects everyone in between. One of the predictors of where we are on the 'health gradient' is education level—and in particular the number of years in statutory education. 
So how does adult learning benefit our health? Well there are five themes that come up in the evidence:
Addressing inequalities as a cause of poor health: Using initial education as a predictor of health outcomes raises the following question: what happens to those who missed out first time around, in this country or overseas?  Adult learning clearly has a role in redressing inequalities that have accrued earlier in the life course.  

Improving health behaviours and attitudes: Such public health programmes (such as the 5-a-Day campaign) depend on a mixture of public information and informal learning. The impact of such initiatives is dependent on the education level of the target groups. Targeted initiatives are more likely to succeed when supported or integrated into general adult education programmes. It is not the subject that matters, just that learning is taking place.  Learning leads to greater confidence and self-efficacy, which translates to a greater ability to manage our own health.

Increasing life-expectancy and disability-free life expectancy: As adults' demands on the healthcare system increase with age, limiting the impact of illness and disability is a critical measure. As a number of recent reports in the media have highlighted, adult learning has a key role to play in prolonging independence for older people and the development of dementias.

Reducing the incidence of lifestyle diseases: Globally, lifestyle diseases are responsible for 63% of deaths, according to GRALE III.  The World Health Organisation reports that 25% of deaths are connected to living in an unhealthy environment. Adult learning also provides the tools for people to influence their environment and, in the words of GRALE III, 'make them healthier'.

Enabling better mental health and well-being: There are a significant number of UK studies that show the benefits of adult learning to mental health and general well-being. The results were so conclusive that, in 2015, the UK government commissioned a project looking at the mental health outcomes of participation in adult learning for people with mild to moderate mental health problems. Involving 62 pilot project across England, learners participating in a range of community learning opportunities complete standardised, clinical questionnaires. Results are expected in November 2017.
The research indicates that the five themes above could lead to a more efficient healthcare system. Participation in adult learning results in less visits to GPs, and making better decisions about our own healthcare, and following instructions from clinicians. Although higher levels of education lead to longer life expectancy, the extra years are more likely disability-free.
So what does all this mean for the development of adult learning in the UK? We have seen the administrations in Wales, Northern Ireland, and Scotland take a great deal of interest in the social determinants of health. In England, increased devolution to city-regions has reopened the possibility of funding across polity siloes—something central government traditionally struggles with. Social prescribing is becoming talked about as a mainstream approach. The role of generic adult learning alongside targeted public health education initiatives is becoming more recognised at community level.
My sense is that more needs to be done by both policy makers and professionals. If adult learning contributes so powerfully to health and well-being, what should local policy makers in health, education and local services do?  What should adult learning providers, and their health counterparts do to join up services more effectively?
What is being done in your area to support this agenda?
Our conference Setting the Agenda on 4-5 October 2017 aims to look at the evidence, hear from case studies and suggest possible solutions.  We would be interested in your views on the evidence, what needs to be done as well as any case studies you would care to submit.
Comment below or subscribe and submit your case studies in the designated communities of practice 'A UK Lifelong Learning Strategy'.
Mark Ravenhall
Senior Research Fellow
Learning and Work Institute