Boba Markovic Baluchova: transforming people of all ages and ethnic backgrounds into critical media consumers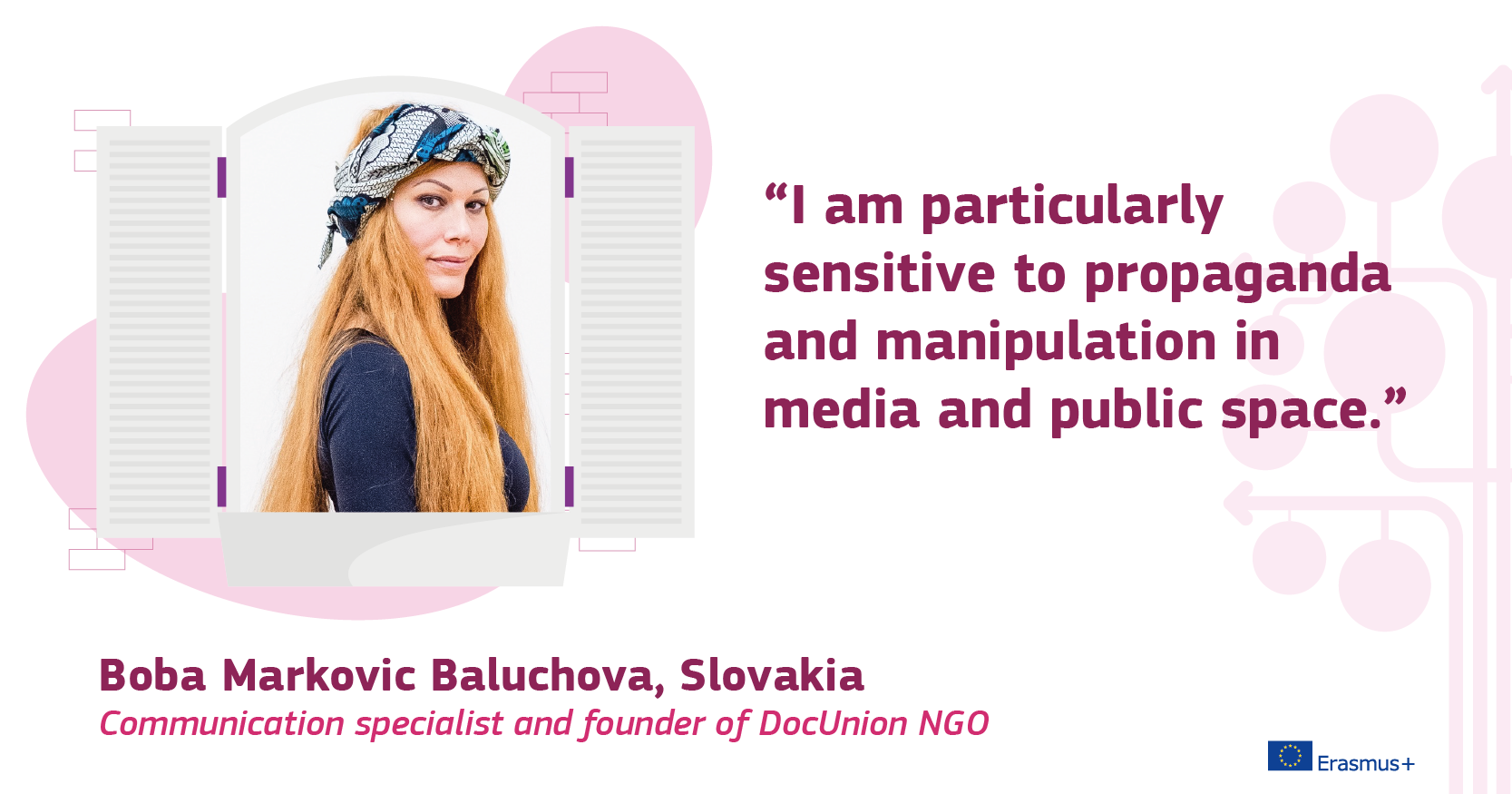 Short bio
I've been working as a communications manager at the Platform for Development organisations – Ambrela in Bratislava, Slovakia. In 2011 I founded the DocUnion NGO, focusing on Media and literacy trainings for adult learners and the blogging platform, Media about Development. I like to learn and to support others in their learning process too. My goal is to transform people of all ages and ethnic backgrounds into critical media consumers.
My EPALE
I am familiar with EPALE, although more as an observer, than a content producer. I often find great thematic resources, personal stories from the field and invitations for inspiring events. The website is a good source of new ideas and important deadlines. The best EPALE promoter in Slovakia is Ms Zuzana Izakova – a Front Officer at the NA for Erasmus+ Programme for Education and Training Sectors (part of Slovak Academic Association for International Cooperation). She has been working at SAAIC for a decade and has supported many adult learners and educators.
My Story
Because of my experience of growing up during the Communist regime, I am particularly sensitive to propaganda and manipulation in media and public space. Therefore, I have always been passionate about solution journalism, hope-based communication and responsible media coverage of global challenges. During my university studies and local volunteering, I used to look for opportunities to cooperate with organisations dealing with international development agenda, human rights and media production at the same time. I was privileged to cooperate with two great nonprofits – KOWC / Kerry Action for Development Education in Tralee, Ireland (thanks to Grundtvig assistantship in 2012) and Media Literacy Project in Albuquerque, New Mexico (thanks to CSP / IREX Fellowship in 2014). Unfortunately, due to lack of funding they do not exist anymore.
Thanks to those cooperations, I was able to expand my expertise and bring the knowledge I had gained from the field of Media and literacy (MIL) into my teaching and researching portfolio at both of my current jobs. As a DocUnion founder and educator I have been providing global journalism and MIL trainings for adult learners – mostly future international volunteers and development field workers as part of their pre-departure preparation.
It is always a big challenge for them to adapt to the local context, to understand the cultural norms, to communicate with new partners from vulnerable communities and to cover this unique experience from abroad in responsible and ethical ways. This global journalism component has been integrated into my MIL workshops. The learners learn how to deconstruct and analyse particular articles (e.g. reportages from low-income countries), as well as how to create their own media products and cover global challenges from Global South without manipulating and blackmailing the audience – by using the colonial language of White saviours from the Global North and the poverty marketing tools. Thanks to practical examples from the field and a comparison of suitable and unsuitable images and narratives from the real campaigns, there is a lot of food for thought for all participating adult learners.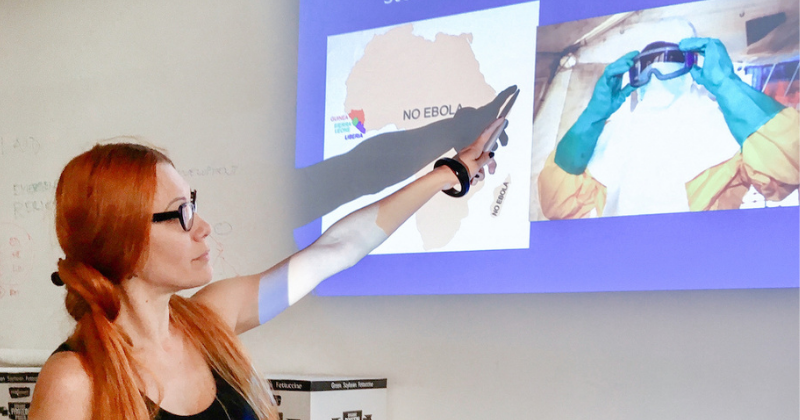 I have also been working for Platform for Development Organizations – Ambrela which gathers 28 non-governmental organisations in Slovakia with a focus on development cooperation, humanitarian aid, global development education and sustainable development in low-income countries. As a communications manager and researcher, I am responsible for the Faces of Migration campaign as a part of the project entitled SDGs and Migration – Multipliers and Journalists Addressing Decision Makers and Citizens in the EU implemented within the framework of the Development Education and Awareness Raising / DEAR program.
It aims to raise awareness about diversity, tolerance and coexistence of people from different cultures through specific life stories and looks at the migration phenomenon through the prism of Sustainable development goals (SDGs).
We try to describe life conditions of migrants, as well as refugees and the reasons for forced migration of vulnerable communities to the general public via communication workshops, online discussions, thematic webinars, hope-based stories and other responsible media products. Our educative videos and online discussions from February 2021 received hundreds of negative comments from haters and trolls on social networks. Such expressions of intolerance only confirm how important it is to bring these topics to people outside the so-called nonprofit bubble. We have noticed that many fellow citizens around us use the word migrant as an insult. Since 2019 our campaign has been slowly changing the situation for the better. The biggest challenge has been having to transform face-to-face discussions and workshops into webinars as a result of the Covid-19 pandemic. I have realised the importance of our team's work and how resilience and critical thinking are needed in our society now more than ever.
---
Did you get inspired by this story? Let us know below in the comments and get the chance to win an EPALE unique gift!
5 users per month (May 2021 - January 2022) from those commenting on a 2021 Community Story will be picked at random and will receive a gift. Comments must be relevant and related to the topic to be eligible.