Become an EPALE Ambassador!

What is an EPALE UK Ambassador?
Being an EPALE UK Ambassador is easy and can fit simply into your daily routine. EPALE UK Ambassadors actively promote EPALE and advocate the benefits of joining the growing (60,000+) pan-European EPALE community.
Learn more details and hear from current Ambassadors in our "Becoming an EPALE Ambassador" video.

Why become an Ambassador?
Raise your/your organisation's profile within the adult learning sector across Europe through activity that is relevant to your skills, experience and knowledge.
Share your ideas on new initiatives and policy.
Grow your networks through linking with other Ambassadors and EPALE users.
Be part of the largest, multilingual, online, adult learning community.
What is involved?
Support EPALE UK in promoting the ePlatform through promotional activities such as case studies, press stories, leaflets and social media.
Spread the value and benefits of EPALE within your own organisation, at networking meetings and events.
Be an active member on the ePlatform by contributing to discussions, sharing content and having your say on articles and news items.
Keep us up to date with your activities so we can show the impact your contributions have made to EPALE UK.

How we will support you
When you start:
We will hold a training session – read about the most recent training from the perspective of our Ambassador, Steph Taylor, here.
We will send you an EPALE promotional pack to get you started.
Ongoing:
You will be kept up to date with our e-bulletins.
You can give feedback and ask us questions in the Ambassadors group on the platform.
Talk to other Ambassadors across Europe using the collaborative spaces tool on the platform.
Further information
You can hear directly from some of the UK Ambassadors by watching the short video clips here. They tell us why they have decided to become an EPALE ambassador and how they see EPALE supporting the adult learning community in across Europe.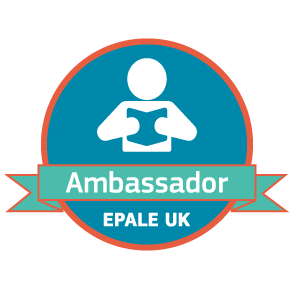 ​
If you're interested in becoming an EPALE UK Ambassador or have any questions about the role, please email: epaleuk@ecorys.com