Arts & Older People Programme: So you can't teach an old dog new tricks?
For ten years, the Arts Council of Northern Ireland has been developing innovative ways of using the arts to combat poverty, isolation and loneliness amongst our older citizens – factors known to impact on physical, mental and emotional wellbeing and even mortality. Following the latest evaluation of the programme 'A Decade On', does learning through the arts hold the key to longer, happier, healthier lives?
The Arts & Older People Programme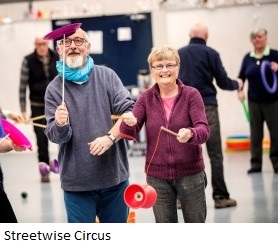 That we are living longer than ever before is something to be celebrated as a major achievement of improved health and social care services. An ageing population of course brings its own challenges but older age, and our perception of older age, should not in themselves be obstacles to people living active and fulfilling lives. Recognising that we, as a society, need to do more to support our older citizens, their families, friends and carers, in 2010 the Arts Council of Northern Ireland, with our partners the Public Health Agency and The Barring Foundation, introduced the Arts & Older People Programme. This programme is the first of its kind in the UK and has been designed to unlock new ways of encouraging active ageing and lifelong learning. Over the following decade, the Arts & Older People Programme has gone on to challenge ageism and prejudice and target some of the root causes of poor health and wellbeing amongst older people living in Northern Ireland.
Overcoming Obstacles to Engagement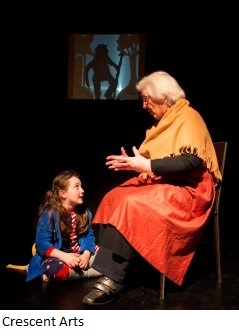 Research
carried out at the start of the programme showed the scale of the challenge that lay ahead of us. There is a tendency for engagement in the arts to decline with age, and we found in Northern Ireland that 48 percent of over-65s were not attending arts events and 80 percent were not participating in any arts activity whatsoever. There were other significant obstacles to overcome, including lack of disposable income, longstanding illness or disability, and a (mis)perception of the arts as 'highbrow' and 'not for me'.
We devised a number of solutions, including professional training for artists working with older people (notably with people living with dementia, an area where the arts are proving to be particularly effective) and targeting gaps in existing provision – for example prioritising older men, who are statistically three-times less likely than women to engage with the arts. We involve older people in the planning process to ensure that activities are tailored to their needs. We've also adopted a multi-sectoral approach so that we leave a legacy of greater sharing of knowledge and resources, ensuring that effective new partnerships and additional services continue to evolve.
We work with a wide range of delivery partners, care providers, councils, health and care trusts and other related organisations in Northern Ireland. They have all seen their work uplifted and transformed by the creative inspiration of musicians, dancers, artists, circus performers and storytellers.
NI Projects and Results
Over the course of the last decade, the Arts & Older People Programme has supported more than 150 projects across Northern Ireland, engaging more than 28,000 older participants in arts activities ranging from intergenerational storytelling to musical reminiscence, to yarn bombing and even stilt walking! The range of creative activities is as varied, diverse and surprising as the people who are taking part in them. One of the main barriers for older people is stereotyping – they say you can't teach an old dog new tricks, but that isn't even true for dogs – so with our projects we have deliberately set out to challenge outdated and unhelpful perceptions of older people and what they might be interested in or capable of doing. The result, participants tell us, has been both liberating and empowering.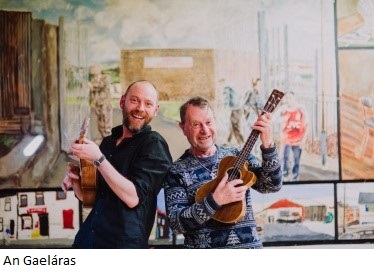 After taking part in the programme, 88 percent of our participants had tried and learned something new and, most importantly, felt good about their achievements and had gained the confidence to now go on and try different things, with more than half going on to join new groups and activities. Over three-quarters of the participants told us they intended to keep attending arts events, with 82 percent expressing a wish to actively participate in more arts activities.  Much of this work with older people in Northern Ireland is pioneering, and all of this is proof that the arts inspire creative ageing and bring positive new dimensions to the work of partners in the age, health and care professions. The participants on the Arts & Older People Programme took on the challenge of learning something new through the arts and, as a result, made new friends, had fun, grew in confidence, discovered new talents and developed interests which have enriched their lives.
If you would like to find out more about the Arts & Older People Programme in Northern Ireland and watch short films about our participants, please visit the Arts Council of Northern Ireland website.
A summary of some of the best of the work is to be found in our 2016 publication, 'Not So Cut Off'.
Lorraine Calderwood leads the Arts & Older People Programme at the Arts Council of Northern Ireland. The programme is currently focussing on developing work specifically for older people living with dementia, including their families, carers and medical practitioners. Lorraine also leads the successful 'ARTiculate' Young People and Wellbeing Arts Programme at the Arts Council.
Contact: lcalderwood@artscouncil-ni.org
You may also be interested in:
The State of Play: Arts & Older People Programme (resource)
Not So Cut Off: Alleviating isolation and loneliness in older people through the arts (resource)
Upskilling Pathways – Health, Wellbeing and Learning in Northern Ireland (blog)
Forum Theatre: Its empowerment of, and community building role amongst, migrant women (blog)
Horticulture training programme wins WHO Belfast Healthy City Award (blog)