Are you an adult learning organisation thinking of applying for Erasmus+?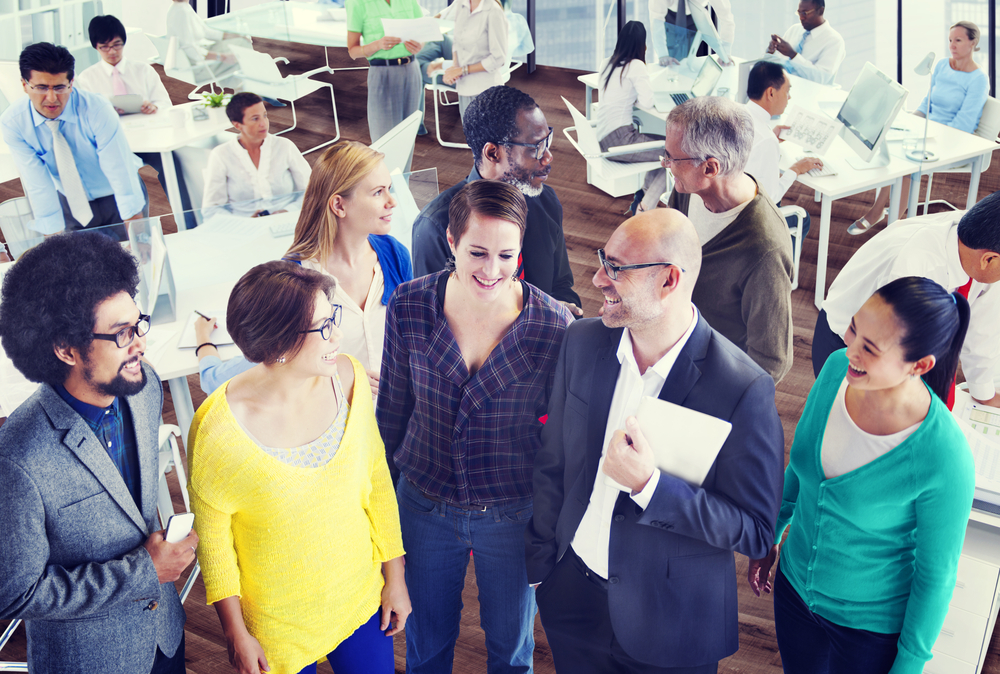 European programmes are a valuable source of finance for adult learning organisations and a gateway to transnational activities. Erasmus+ is the Education, Training, Youth and Sports Programme of the European Union and it provides several adult learning funding opportunities. The programme funds transnational mobility and the development of innovative adult learning delivery methods. Applicant organisations (not individuals) can apply for time-limited project funding, through one of the several components of Erasmus+, called Key Actions.
Erasmus+ funding opportunities relevant to adult education providers
Any student, apprentice, adult learner, volunteer, trainer or professional working in an adult education organisation can participate in Erasmus+ activities. Key points for Key Actions 1 and 2 are outlined below:
Key Action 1: Mobility of Vocational Education and Training (VET) learners and VET & adult education staff
Learner mobility
Offers: Overseas vocational training placement to learners and apprentices in vocational training organisations.
Important to note: For high quality placement it is important to ensure that learning targets are met. A Learning Agreement that outlines the intended learning outcomes should be agreed by the sending and by the host organisation.
Mobility projects for VET or adult education staff
Offers: Training or teaching opportunities abroad. Applicant organisation's partner staff in other adult education / vocation training organisation or institution can benefit from the activities as well. The approved project proposal defines the eligible mobility activities that staff can participate in.
Important to note: Activities should focus on participants' professional development and could include job shadowing, teaching assignments and training.
The available budgets for adult learning and VET vary. Applicants should review the eligibility criteria for both in the Erasmus+ programme guide before deciding the strand best suited to their project proposal.
Key Action 2: Strategic partnerships
Strategic partnerships are joint projects involving at least three partners from three different countries, including the applicant organisation.
Targeted at: students, learners (including those harder to reach), practitioners, experts, researchers etc.
Offers:  flexibility in the selection of partner organisation, although cross-sectoral working is encouraged for the development of new ideas and to exchange good practice.
Important to note: Project applications must meet the overall objective of developing new learning or training approaches. For adult education it is recommended that activities focus on improving adult learning provision.
Submitting your Erasmus+ application
For 2016 there is only one application round for all adult learning related programme components. Key details and deadlines are: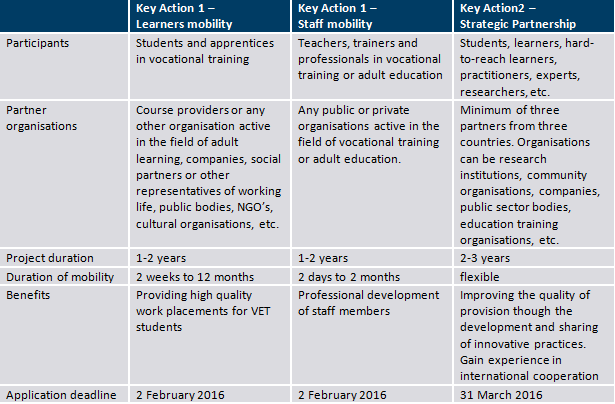 The links below offer more information about Erasmus+ funding and the application process.
http://ec.europa.eu/programmes/erasmus-plus/index_en.htm
Erasmus+ Programme 2016 Guide:
http://ec.europa.eu/programmes/erasmus-plus/documents/erasmus-plus-programme-guide_en.pdf
adult_education_brochure_2016.pdf
English
Download
There is also an Erasmus+ helpline. Details are at: https://erasmusplus.org.uk/contact-us
How can EPALE help you?
As the go-to site for anyone with a professional role in adult education, there are many ways in which EPALE can help your adult learning organisation with their Erasmus+ project application.
EPALE is a free multilingual community platform for adult learning professionals across Europe. Through participating in EPALE, you will be able to:
access high quality learning resources
get the latest adult education news and developments
search for adult learning events
participate in online theme based discussions
share best practices with other adult learning professionals
EPALE's partner search tool can help your organisation prepare their Erasmus+ applications. You can register your organisation, projects ideas and the types of partner(s) you are looking for. If you're new to EPALE, you can find out more about how the partner search works through the tutorial videos.
EPALE has created a specific 'landing page' on the ePlatform with many helpful links to various aspects that might help you with your Erasmus+ application. Take a look at: https://ec.europa.eu/epale/en/blog/how-epale-can-help-you-your-e-project
Kathleen Wabrowetz works for the UK National Support Service for EPALE as Theme Lead Project Manager. She has worked in the field of education concentrating on the promotion and improvement of student mobility as well as the validation of non-formal and informal learning. Working for different Civil Society Organisations, she also focused on the topics active citizenship and lifelong learning