Antoine Amiel: not to digitise on principle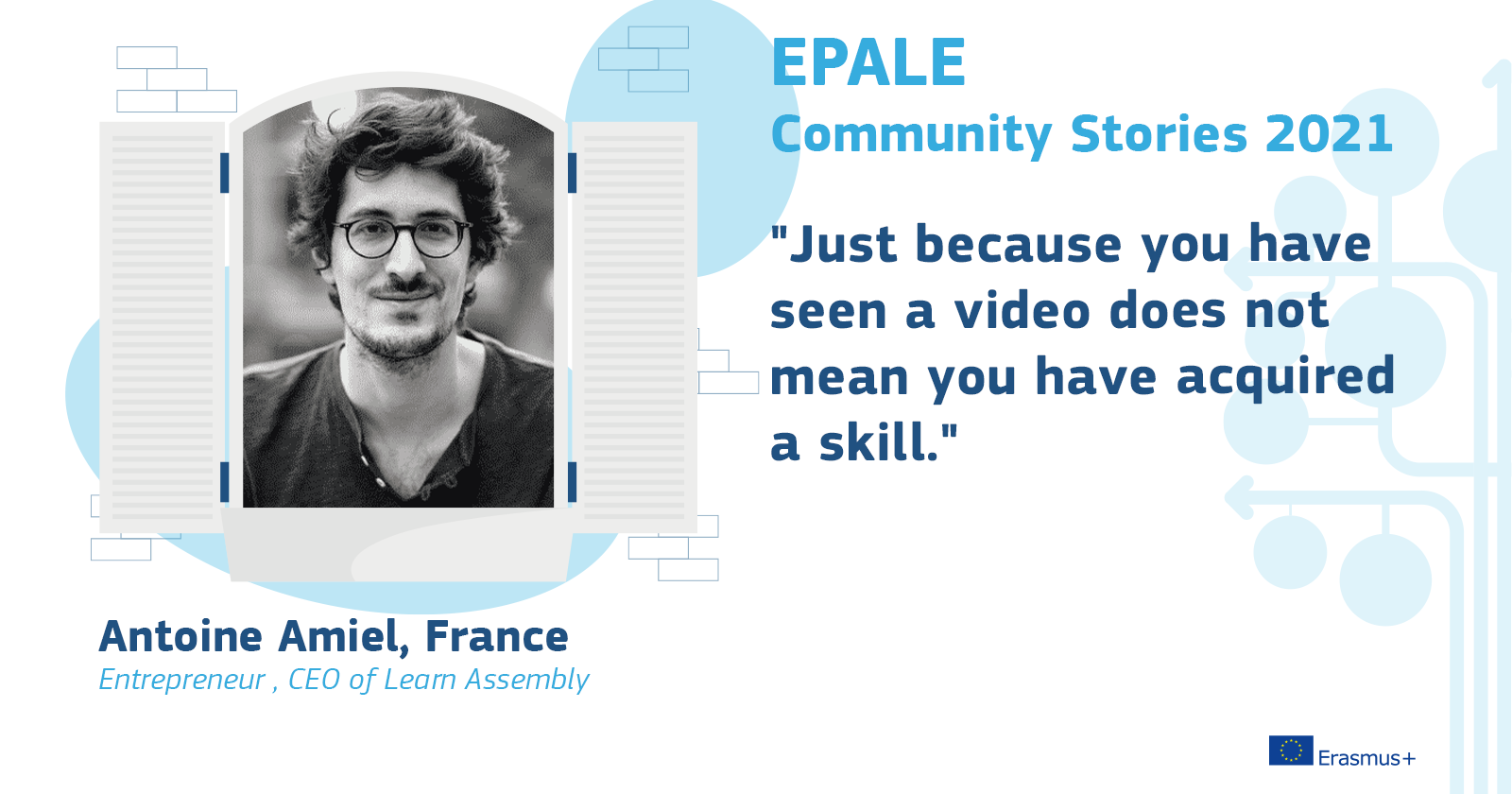 Short bio
I am an entrepreneur from the French EdTech. I am the co-founder of Learn Assembly a company that helps learning and employability optimists grow. Plus, I am also a member of the FFP's (Fédération de la Formation Professionnelle – Professional Learning Federation), and an EPALE expert.
My EPALE
I am an EPALE expert and Ambassador for EPALE France, and I constantly visit and contribute to the platform.
My Story
I first studied literature and as I didn't necessarily want to teach, at least not immediately, then I went on to business school. It was there that I discovered the world of digital technology and education. I realised that there is a lot of progress to be made in this field and this gave me the impetus to create my own company, Learn Assembly. I am also a director of the Fédération de la Formation Professionnelle which brings together training organisations. Learn Assembly specialises in educational innovation and learning pathways. Its mission is to develop and facilitate access to learning, to develop the desire to learn, to rethink the way we learn, whether in companies, universities or public administrations. We offer a consultancy service, to help rethink educational models and better respond to needs. We also offer training courses for trainers, teachers and, more generally, for all those who need to develop their skills in this area: 1,500 people were trained in 2020.
We are working with funding from the French National Research Agency to train undergraduate medical teachers, interns or professors to deliver interactive and lively distance learning courses and to design innovative digital resources. The aim is to improve their pedagogy, their way of teaching using digital technology to avoid the "black screen syndrome" on Zoom. We also work with companies, large groups, insurance companies and banks, faced with the new challenges of artificial intelligence, to help them retrain their employees whose jobs, which are currently manual, risk being automated.
Our goal is not to digitise on principle.
If we think it is not appropriate, we say so. Training on your own at a distance requires self-discipline, motivation and the ability to use the tools. Unless this is the case, there is a risk of losing interest or of learning only superficially: just because you have seen a video does not mean you have acquired a skill. Everyone was forced to use digital technology in a very improvised way. We discovered that it was possible, but it was suffered by many, which is a pity. Digital technology has been present in education for 15 years, but many people are still only discovering it. I believe there are several lessons to be learned from this:
Digital technology facilitates access to training and its democratisation, but if training is not designed to maintain social links it can be a factor that creates isolation. People should not be alone behind their screens.
We oppose face-to-face training and distance learning, when the best way is to use a mixture of the two, which works well.
Finally, there has been an increase in awareness of the possibility of professional development and retraining. The culture of professional mobility is developing, according to individual motivations. This change is gaining speed in the current period.
In France, training has been a market since the 1971 law regulating the governance of vocational training and obliging companies to contribute - in addition to the funding provided by the State and the Pôle Emploi jobseeker scheme. Over the past 10 years, we have seen an acceleration in distance learning with players such as Coursera and other American companies financed by investment funds. Coursera is going public to make profit, but it will not revolutionise education. There is a current trend towards digitalising training content to address a range of issues. But just because you have access to content doesn't mean you develop skills. A virtuous model includes a mix of content and practice, social, peer-to-peer learning that promotes experimentation and employability.
Education is a lever of soft power: education conveys a vision of society and values. It is a diplomatic instrument.
A European approach also responds to issues of digital sovereignty, freedom of thought, autonomy, and the promotion of European academic actors. It is in our interest to develop training solutions adapted to local issues and not just duplicate solutions from abroad.
Digital technology is often presented as a solution to environmental problems, but the reality is more complicated: information is stored somewhere, this digital economy is energy-intensive and what is saved on the one hand is not guaranteed not to be lost on the other. However, in the absence of a common reference framework, it remains complicated to have precise data to measure the reality of the digital carbon footprint. There is a need to make individuals and organisations responsible for digital pollution. The day will come when Netflix will be considered a polluter like the oil industry.