Annika Tahvanainen-Jaatinen: Exploring volunteering and liberal adult education success stories in Lelystad, Holland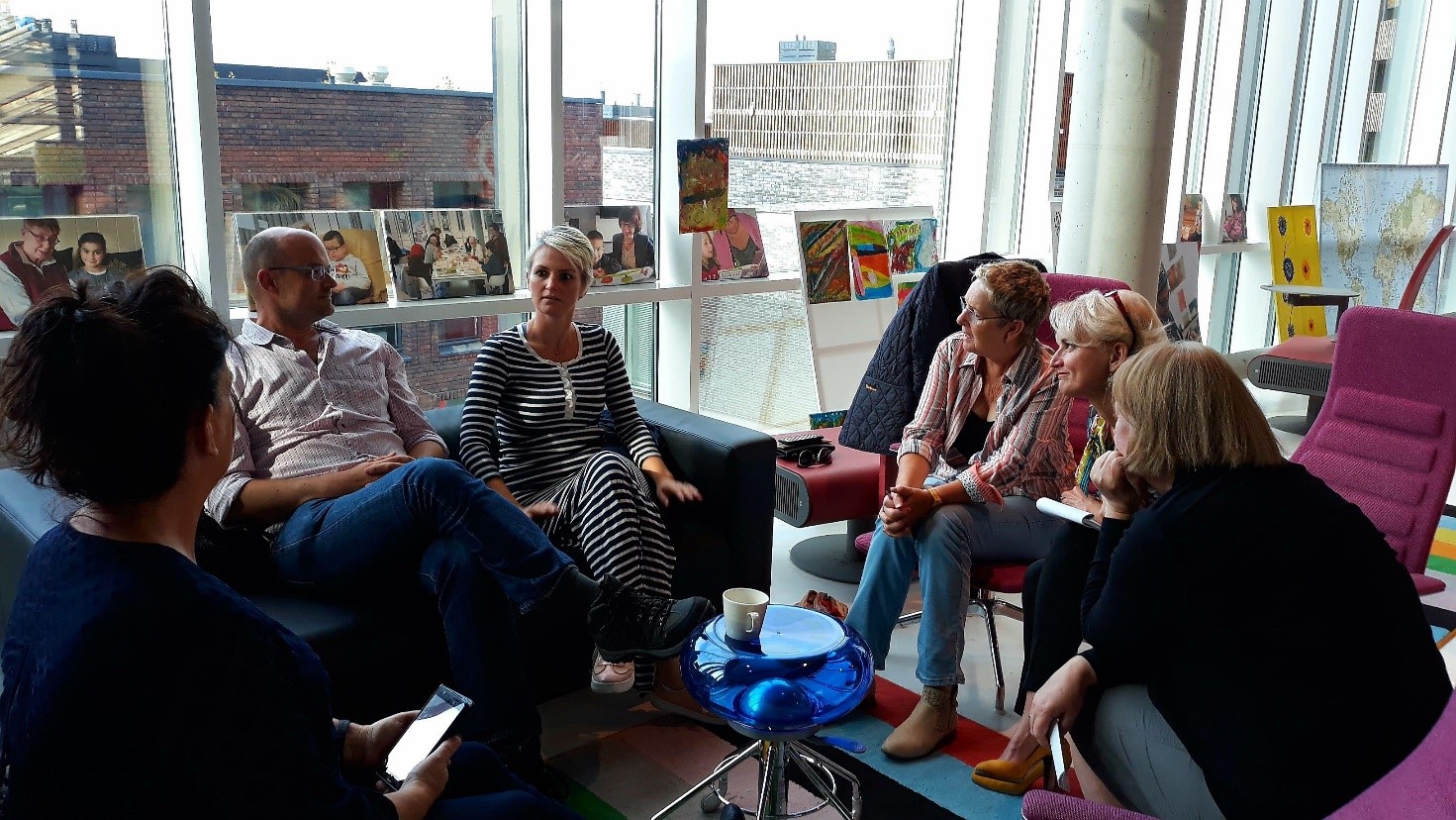 My visit to Holland in October 2018 as part of the Erasmus + staff mobility programme was a wonderful experience that exceeded all my expectations. I was delighted to return to a country where I had earlier spent time as a student. On this visit, my time was taken up with volunteering and liberal adult education activities. And instead of souvenirs, what I brought home with me was a wealth of incredibly useful information about how to create a successful volunteering scheme, which working methods and evaluation systems to use as well as an understanding of how to go about motivating volunteers, engaging in participative decision-making and conducting impact assessments.
The main purpose of my visit was to spend time at Welzijn Lelystad, an organisation responsible for running welfare, integration and cultural services as well as local volunteering and other third sector groups in Lelystad. Lelystad Welzijn staff and volunteers had put together a busy programme for my week-long visit that gave me ample opportunities for observing many aspects of the volunteering service and to chat to both the participants and volunteers. To get around the city, I of course travelled Dutch-style by bike. My hosts had given me a beautiful pink set of wheels, complete with a Welzijn Lelystad logo. I spent my week asking questions, including difficult ones, as I wanted to understand how Welzijn Lelystad had succeeded in creating such a thriving volunteering service capable of promoting wellbeing, skills development and creating a sense of community for everyone involved.
Social integration through volunteering
My week got off to a great start when I was invited to sit in with a group run by Welzijn Lelystad, FlevoMeer library and the Dutch Refugee Council, which provides support to immigrants seeking Dutch nationality. The group's activities focus on participation, training and integration. People can stop by for a one-off visit or continue to attend over a longer period of time. The group meets once a month at the local library, and together they visit various sites and locations across the city to give the participants a thorough introduction into the society they are now living in. Another purpose of the group is to facilitate discussion about Dutch customs and values and to give people a chance to talk about any problems or unexpected situations they might have found themselves in. Volunteers are always on hand to provide information and context. I was there to witness how the programme participants sat their citizenship examination and signed a declaration committing them to upholding Dutch values. At the end, having been presented with certificates recognising their participation in the exam, they were all one step closer to citizenship.  
Seamless teamwork
The first day of my visit had shown me what an integral role volunteers play in delivering services and how seamlessly they work together with the staff. That prompted me to wonder – how exactly do they do it? Crucially, many people in the Netherlands work part-time, making it easier for them to commit to volunteering. As four-day weeks are a common feature of working life in the Netherlands, many people have the fifth day free which they can dedicate to charitable and community activities. 
One afternoon I visited a joint project between Welzijn Lelystad, the local library and the Huis voor Taal language school, where volunteers are in charge of delivering "step in" Dutch language classes that are grouped by the students' ability. The way the classes work is that students are encouraged to bring in any official letters or forms they need to read or fill out, and the volunteers help them to work through them. I started my visit by sitting in on a conversational class, where each participant was asked to deliver a brief introduction on a topical issue. Afterwards, the entire group practiced using the new vocabulary they'd learned through role play and other exercises. It was amazing to see how enthusiastic and engaged the tutor was. She explained that she had picked up the teaching techniques she was using at a training course she'd been able to attend. She was clearly very proud of the two huge suitcases full of games and other resources that were available for the language learners to use. I was told that this tutor was particularly highly regarded within the organisation for the breadth of her experience and expertise. No one seemed to pay much attention to the fact that she happened to be a volunteer, as there are no real distinctions between volunteers and staff. In keeping with this approach, the volunteers also wear the same photo ID cards as the staff. They are also given a free library card, and each volunteer is allocated a small budget to spend.
Excitingly, I also got to take part as a non-Dutch speaking Finn, who had recently arrived in the Netherlands. I found it all a bit tricky at first, but the secondary school pupils doing their work experience at the Huis voor Taal came up with the idea of using drawing to help my learning, and I found myself quickly picking up lots of new Dutch vocabulary. There's no doubt in my mind that these girls are going to be brilliant volunteers. And there's no doubt in their minds either; they already know that they want to be working with immigrants in the future.
Volunteering as a remedy for social exclusion
Another aspect of this broad-based Dutch initiative is that they seek to involve people at risk of social excusion in volunteering, making it possible for them to give as much or as little as they can in terms of time and effort. During my stay, I visited the KWINTES organisation, which offers voluntary activities and a social space for people recovering from mental illness. The activities include cooking (which meant that I was able to pick up a delicious and very reasonably priced lunch on site) and there is a second hand shop, art and ceramics workshops and a printing press and shop. We also visited the De Groene Sluis recycling facility. It is almost entirely run by volunteers, who get a say in how the money raised will be allocated each year. The strength of these two organisations lies in their ability to deliver accessible services and a sense of community within their suburban locations. 
IDOis an ecumenical service run by the local churches in Lelystad. It provides meeting spaces and a range of volunteer activities, including lunch preparation. There is also a second hand shop and a citizens' advice clinic, and lunch is served daily at a cost of just EUR 2.
Perhaps the most touching encounter I experienced on my visit took place at the IDO, where I met one of their newest volunteer recruits and his mentor, a former bank worker. This recent recruit is a train conductor by training but he has not worked for the past ten years due to mental ill health. He explained that he has spent much of the past decade playing video games. In the end, his daily rhythm was badly disrupted, and he had developed a fear of meeting new people and even struggled to leave the house.
Someone at Welzijn Lelystad suggested he might benefit from working with a personal mentor who would encourage him to start volunteering and support him in the role. He now works at the IDO reception for three hours a week. For now, that is what he feels up to doing, but he's hoping that he'll be able to offer more in the future.
Volunteering has provided him with a safe space in which to practice his social skills and confront his fears. He admits that he came close to cancelling our interview. Apparently, he has not felt up to meeting people like this for the past ten years, and yet when we spoke he was smiley, spoke fluent English despite his nerves and was capable of analytically discussing his life situation and his relationship with his mentor. He says he really enjoyed our discussion and was keen to look at photos of Finland on my mobile. I sincerely hope his relationship with his mentor remains a positive one, and the volunteering offers him a route back into society.
The secret to running a successful volunteering programme
When I meet with Welzijn Lelystad's executive director and health and welfare services director, they explain to me that their highly successful volunteering concept and the multi-disciplinary collaboration are divided into four areas: Growing up in Lelystad, Lifelong learning, Befriending and Dynamic neighbourhoods.
Everyone working on the project, including in-house workers, volunteers, third sector bodies and local authority staff use this framework to build collaborative networks that are designed to allow Lelystad's residents to remain actively engaged in their community for as long as possible. Under the project's ethos, all residents are seen as having valuable skills and experience that they can contribute to benefit other residents or the community as a whole. The organisation maintains a volunteer register that is open to everyone. Volunteering is so popular in Lelystad that each and every volunteer now has their own volunteer agreement in place setting out the scope of their involvement. All volunteers are also invited to take part in an annual performance review and, every year, a committee made up of volunteers is involved in evaluating the work carried out by staff and the organisation as a whole. The volunteers are also involved in decision-making across all administrative areas, facilitated by the sociocratic method. Sociocracy has been implemented at all levels of the organisation. At Lelystad, this approach has brought improvements in terms of service quality and continuity, and local volunteers report that they are more committed and more satisfied with their roles.
Volunteers motivated by openness, opportunity to help others and chance to learn from everyday challenges
During my visit, I also had the chance to meet with the EDOS Foundation, our Improving Validation in the Voluntary Field partner. We had so many interesting discussions about best practice, how to recognise the contribution volunteers make and making sure they're valued. People also told me about the training they have attended and gave me useful tips on the best volunteering resources available.
I also got to observe the daily goings-on at the STIP Oud-West. Based on one of the local estates, STIP is an almost exclusively volunteer-led low threshold drop-in service where residents can access advice on any problems or issues they might be facing. Typically, visitors will need help with understanding official forms or filling them in, but if someone has been evicted from their home, STIP can help them with emergency accommodation and in the event of a divorce they can help parents negotiate custody arrangements. The first person that walks in might simply be looking for a friendly chat, while another needs legal advice and the third is hoping for some support with their everyday routines like shopping, parenting or health issues.
Volunteers are on hand to respond to any queries they feel comfortable dealing with, but will refer people to professional advisors whenever something more complex comes up. The mother and baby clinic, job centre and benefits office all run services at STIP several times a week.
Well run and highly organised, STIP is popular with volunteers as they know what their role is and are given training for it. All the new recruits work in pairs with more experienced volunteers until they've picked up the necessary skills and knowledge to work independently. When I ask the volunteers what drives them, they tell me about the centre's open and supportive atmosphere, the many opportunities for helping others and learning new things and the chance to learn more about everyday life.   
With each day, I found myself appreciating all that the team at Welzijn Lelystad were doing. The staff had clearly put a lot of effort into organising my visit. The week was a great way to pick up lots of new skills and ideas, and I can't wait to put everything I've learned into good use.
Annika Tahvanainen-Jaatinen
Sivis Study Centre
This article is part of a series of articles about learning experiences in the field of adult education in European context. Our ERASMUS+ KA1 project is called "European Educational Know-how Supporting Civil Society".