Anna Tolosa, a Community Story from Spain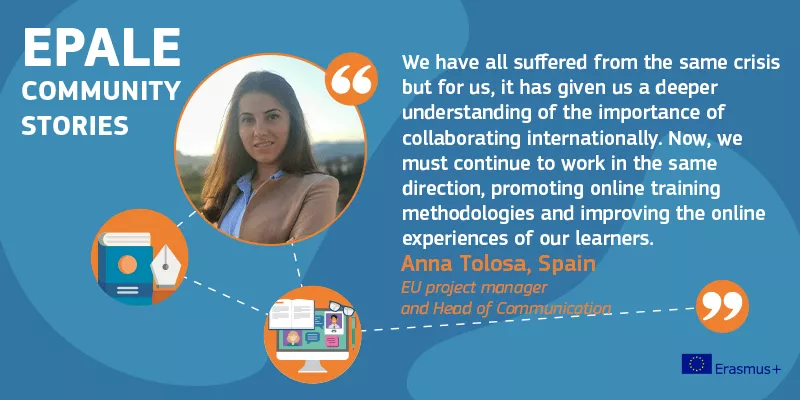 I am Responsible for the Communication of the European and International Projects Office of Jaume I University Business Foundation of the Valencian Region, Spain, as well as EU Project Manager. I have a Degree in Public Relations & Advertising, and a Masters in New Trends and Innovation Processes in Communication. At 26 years old, I have experience, not only as a partner but also as a project coordinator, in adult training because most of our projects require the implementation of training courses aimed at young  people and adults at risk of social exclusion.
I learned about the EPALE platform through the European Commission website and its extensive network of resources. I play an active role in the development of projects aimed at social inclusion, the fight against poverty, local and regional development and entrepreneurship, projects based on sustainability and environmental protection, etc. I therefore consider EPALE to be an important tool that helps me to develop training courses. I have recently registered on the platform and I am very happy to be part of this community as I get inspiration from other projects.
The COVID-19 pandemic has dramatically changed the way in which we work. In EuroFUE-UJI we have worked to adapt as quickly and efficiently as possible. Thanks to the teamwork and involvement of every member of both our entity and the consortiums of which we are part, we have managed to continue developing and implementing our projects.
We have rethought and refocused our work, putting emphasis on updating knowledge in each area following the new reality we find ourselves in, such as the new approach to education and training, the rebuilding of tourism, the importance of training in new technologies for those who have had fewer training opportunities, etc.
Due to the pandemic, our perspective on implementing education and training projects has changed. I would like to emphasise the work on two of our Erasmus + projects: Ecoblue Tourism project and CIA Project. The purpose of Project CIA is to improve the skills and employability of young people with a special focus on those who have fewer opportunities by creating Intergenerational Local Civic Councils. The Ecoblue Tourism project aims to increase business opportunities in blue ecotourism in coastal countries.
Both of these projects plan to implement trainings on their respective themes and have made every effort to add value with new content related to COVID-19. In the case of Ecoblue Tourism, one of its objectives is to implement an innovative training methodology to improve entrepreneurial skills of long-term unemployed adults. For this reason, we have developed an online training course in tourism entrepreneurship which teaches about the reconstruction of an ecological, sustainable and accessible tourism that promotes local and regional development after the COVID-19 crisis. We have also added new modules on the measures to reduce the spread of coronavirus SARS-COV-2, ways to make tourism more reliable and safer. This training course will be available for everyone interested through a mobile application, which makes it easier for the participants to follow and access the course. We have learnt that more people take part in training initiatives if they are online as they have more time to continue with their daily responsibilities but can still improve their skills and knowledge.
We believe in the need to reinvent and promote new learning methods that are practical, useful and adapted to the needs of participants, to provide the best results. Therefore, another added value of this course is the training of unemployed adults at risk of social exclusion through an online method to put their knowledge into practice in new technologies, which will teach them about social networks, web page creation, as well as training in entrepreneurship and business management. At least a basic knowledge on these online processes is essential for professional and personal development and even more important these days when online platforms and tools are so important in our working routines.
Moreover, despite previous experience in online communication between international partners due to geographical distance, online meetings have increased during these months and we have grown even closer. These coordination meetings have shown us the importance of regular communication and the need to adapt these meetings to the online format. This has given us more resources to work globally on future projects.
We have all suffered from the same crisis but for us, it has given us a deeper understanding of the importance of collaborating internationally.
Now, we must continue to work in the same direction, promoting online training methodologies and improving the online experiences of our learners. It is true anyway that the development of our society needs to focus on more sustainable and ecological practices that do not exploit our planet's resources and that give more chances to those with fewer opportunities.