Anna Soffía Óskarsdóttir, a Community Story from Iceland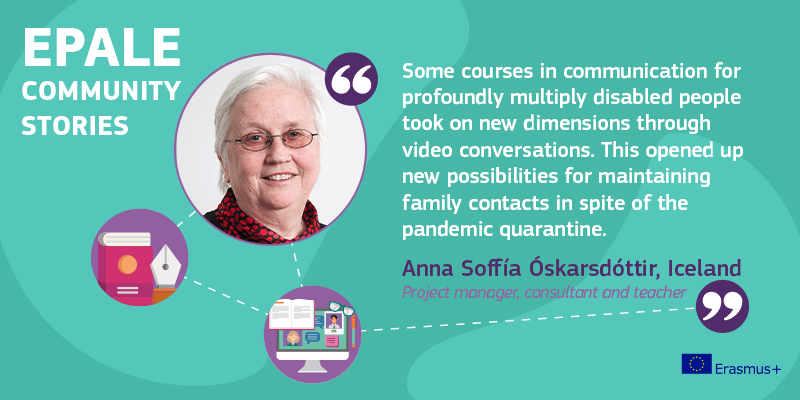 I am 67 and I am a project manager, consultant and teacher. I have worked in adult education teaching disabled people for 25 years. My main field of interest is severe to profound multiple disabled people with little or non-formal language. I have worked at the Fjölmennt adult education center for learning disabled people - Lifelong learning for 18 years. I found out about EPALE 6 years ago. I use the platform to look for partners in adult education for teaching disabled people.
Teachers at the Fjölmennt adult education centre for disabled people – Lifelong learning and their work during the COVID-19 lockdown
Fjölmennt provides a wide range of courses for teaching disabled people. Most of the Fjölmennts learners have severe to profound learning disabilities. Distance education has therefore been a great challenge.
When the center had to close during the months of lockdown, the group of 14 teachers consulted with home services and brainstormed about possibilities in distance learning for Fjölmennts learners. Many of the teachers have been publishing teaching material on the web for years or sending their learners material by email. Some teachers even use Facebook groups on some of their courses. Others had little or no experience of preparing their teaching material for publication in this way. All teachers tried new ways of working. Some took small steps, others were more adventurous. The teachers created new learning material and sent it to their learners once a week. Most of it was also published on the Fjölmennts website and under different categories. Some of the material is in the form of videos, other material is ready to print out for use, and some is directed at the assistants, to improve their knowledge or skills in how to assist their clients in the new activities. All learning material on the Fjölmennts website is accessible to all learning-disabled people and their assistants nationwide.
Some learners got direct teaching in video conversation through Messenger, Facetime or Zoom. The teaching was mostly one-to-one and in real time. Many music courses continued over the internet, so did some computer/tablet related courses. Some courses in communication for profoundly multiply disabled people took on new dimensions through video conversations. This opened up new possibilities for maintaining family contacts in spite of the pandemic quarantine. Some of the courses which focus more on perception and experience continued more in the form of ideas on how to spend quality time at home. Only half of the home services used the home teaching material and video lessons, since the pandemic confinement put significant strain on the services. For the other half use of the material varied from rather limited use to setting up special Fjolmennt hours working on the home material or helping their clients to participate in direct video lessons with their teacher. Some of the material was also used as a form of entertainment or leisure such as Zumba or ball games, or an opportunity for residents to create their own cooking books, choosing from the array of recipes.
Fjölmennt's work was well received by our learners and their spokespeople. Some learners would have liked to have had phone calls or videocalls more often even if it was not part of the direct teaching, but rather as a way of motivating them to use the material.
Teachers were cautious not to put pressure on the home services, knowing that many struggled.
In some instances teachers were too cautious, as most beneficiaries were pleased with the service they received from Fjölmennt which confirmed that we had managed to provide adequate support and not overwhelm the meagre resources of the home services. As a result, Fjölmennt has created 5 new online courses, offered for the autumn semester. Furthermore, the experience has encouraged the teachers to make more learning material accessible online.
Now only time will tell if distance learning will become part of Fjölmennt's annual offers for teaching disabled people.