Adult Learning European Digital Exhibition
For a second edition, EPALE is organizing a virtual European photo report for the #ErasmusDays, with a range of adult learning projects from 22 countries.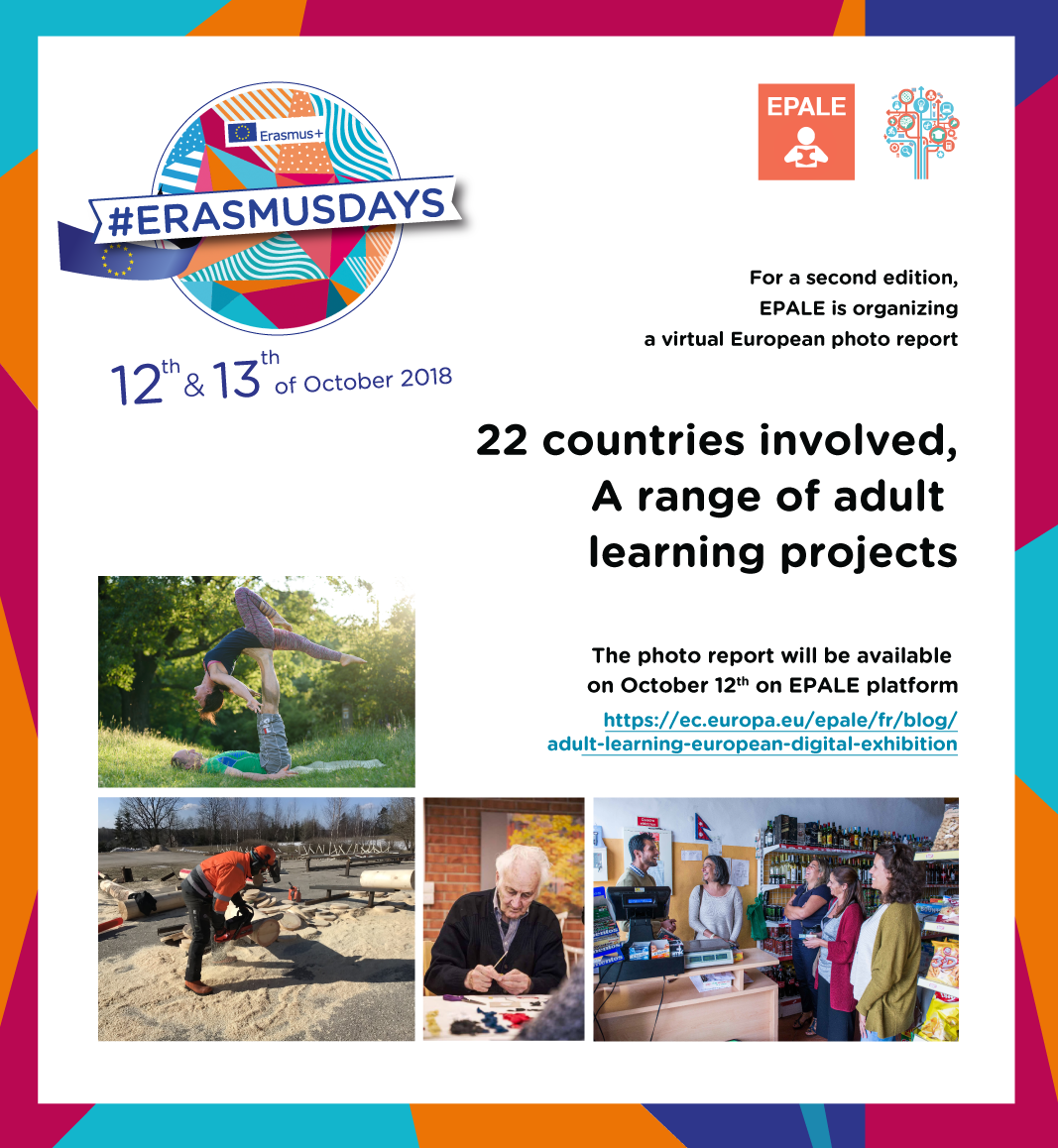 #ErasmusDays 2018
The #ErasmusDays taking place on October 12 and 13, celebrate the European Union and its citizens by introducing various Erasmus+ projects. With over 1 000 events registered in 30 countries dealing with education, training, youth and sport, this new European celebration is the occasion for Erasmus+ project holders to promote their mobility and cooperation actions – events are ranging from conferences to exhibitions, educational games and even sport gatherings.
The 9 million alumni of the former European mobility programs are also invited to participate by sharing their European experiences on social media with the hashtag #ErasmusDays. It is also the occasion to encourage citizens to vote and to have a say for the future of Europe.
To get more info, visit our www.erasmusday.eu website.
The exhibition
On this very occasion, the countries involved in EPALE wished to highlight the range of adult learning projects. As an outcome, the European digital exhibition displays in 22 photographs the diversity of the projects carried out across Europe.
Initiated by the Agence Erasmus+ France / Education et Formation, the EPALE European digital exhibition was led by the EPALE French national support team, in collaboration with the photographer Eugénie Baccot and will be promoted for the #ErasmusDays.
Together, they reached the National support services of EPALE, 21 of them were pleased to join this exhibition:  Albania, Belgium, Croatia, Cyprus, Czech Republic, Finland, Germany, Greece, Hungary, Iceland, Italy, Latvia, Luxembourg, Malta, Netherlands, Poland, Portugal, Serbia, Slovenia, Sweden, United Kingdom.
Each of them gathered one or several photos along with a description of a project led in their own country.